Chef of the national team Lubomyr Tosic: "Borsch is respected in every country, and we always cook it at meetings"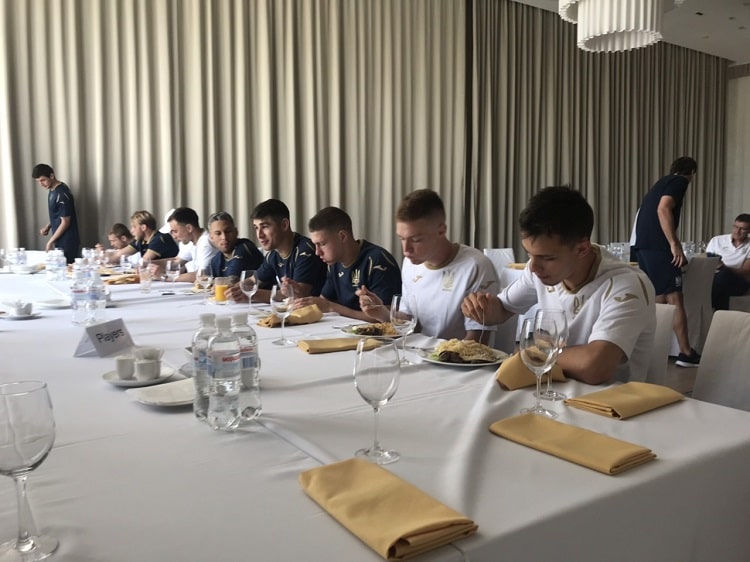 Chef of the national team of Ukraine Lubomir Tosic participated in the live broadcast of the project #GOnline on UAF's Instagram page, answering fans' questions and selecting the winners of #samsobichef challenge.
- Lubomir, the first question is this. Do footballers eat fast food?
- Footballers are also people, and sometimes they can afford fast food. How without it? There is a limit. If not to abuse, if the soul desires ... You can't forbid it.
— But you don't cook it?
- I'm not. In general, you need to understand what fast food is. If a hamburger is made from good meat ... Why is it considered fast food that it is harmful?
— Are there any vegetarian players within the team?
- Not now. The last was Bohdan Butko, who gave up meat a few years ago.
- Who in the national team most often comes for a supplement?
- You can't follow this (smiles). I do not go and see who eats and how much.
- Do you need to eat well to have muscles like Malinowski's?
- Yes. But that doesn't mean he has to eat four servings at a time. We have five meals a day.
— Seleznyov seems fat on TV screen, and in real life is much thinner...
- So. The way he has been training in recent months ... King!
- Do footballers believe in omens before matches? Maybe they don't eat something specific?
- No, there is no such thing.
- What can't players eat?
- Make sure there are not many poppies if they eat buns. Because if there is too much of it, there may be problems when they take a doping test. We also do not cook pork. Everything else is possible. We try to give the players a varied diet.
- Do you like Ukrainian cuisine yourself? Our borscht?
- Yes, I love and cook it very much. The same with buckwheat, to which he got used for two or three years. Borsch is respected in every country, and we always prepare it at meetings.
- Is football forbidden to football players?
- Coffee, like fast food, can not be banned. Although I read that Arsene Wenger banned her when she coached Arsenal.
- After the quarantine was announced, you started the #samsobishef challenge, offering fans something to cook at home. How did this idea come about?
- I started cooking at home, thought why not do it to others, and decided to offer such a challenge to the fans of the team, so that they also cook something at home, because people are still in quarantine.
- Were the winners chosen?
- This is a boy Vanya, who made a sponge cake. He will receive a gift - a T-shirt of the national team of Ukraine. Roman also cooked potatoes in an original way. We will also give him a prize.