National team's Hall of Fame. U-18: Euro 2000 silver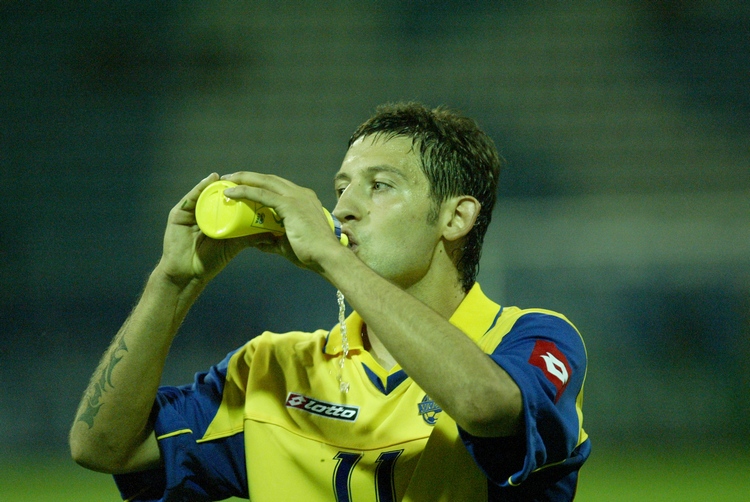 Recent successes of Ukrainian teams, in particular, of the national team - in the Nations League і European Championship qualifyingas well as Ukraine U-XNUMX at U-20 World Cup XNUMX, supplemented the history of domestic football new bright pages.
We suggest to mention previous medal swirls of blue-yellow.
Six years after winning bronze medals at Euro 1994 (U-16) Ukrainian football has again received international recognition. This time - in the older age category, U-18. Although it would be fairer to call it U-19, since some players were already 19 years old at the time of the final tournament. Subsequently, by the way, UEFA made adjustments to the category names, making them more relevant to the realities.
Anatoly Buznik began to care for the 1981 generation of football players. Under his leadership, the boys made it to the Euro-1998 (U-16) final tournament, where they scored four points in three matches and did not leave the group. But they gained some experience that came in handy in the future.
The Euro-2000 (U-18) Qualifying Tournament consisted of two stages. The first was held in the Romanian Ploiesti, where the hosts and the Ukrainian national team scored five points. In the last match, the rivals met and draw (0-0), which brought Ukraine first place and a pass to the next round. And before that, Anatoly Kroshchenko's wards defeated Bulgaria, which was played by future scorer Dimitar Berbatov, with a score of 4: 0 and split points with the team of Bosnia and Herzegovina - 1: 1. The goals were scored by: Andriy Matveyev (2), Ruslan Valeyev, Vladimir Bondarenko and Bogdan Shershun.
The second leg of the playoffs took place in the spring of 2000. In Kiev, Ukrainians with a minimal score, 1-0, won the Northern Ireland national team, in Belfast, the hosts restored their balance in the 4th minute, and the fate was resolved at the end of the duel: 83 minutes - 1: 1, 87th - 2: 1, 89-a - 2: 2.
Alexey Belik became the hero of these two duels, whose star at that time was in Shakhtar. He scored all three goals for the British and also scored in the final tournament. He may not have had enough of the team in the decisive match with the French team, as the top scorer of the Ukrainians earned disqualification because of an extra yellow card.
However, silver medals at the European Championships were at that time the most significant achievement for Ukrainian football. Performers instantly became famous, followed very closely and expected that in the future, most of them would become the main players of the national team.
But Belik played only 19 matches in 2004-2007 (five goals) in the country's main team. Vitaliy Lisitsky spent five fights for her (2001–2002), and Bogdan Shershun - four (2003–2006).
And the main star of Ukraine in 1981 was born Ruslan Rotan, who in total played for the national team of 100 matches and scored eight goals (2003-2018). However, he did not have a stable place in Kroshchenko's team. Serhiy Symonenko (two matches in the national team), who participated in other matches with Kroschenko - including in the first stage of Euro-2000 selection, did not reach the final part of Euro-2000.
But Ruslan Bidnenko, Sergey Danilovsky and Taras Kabanov (all - one match in the national team) were not invited to the national team in 2000. Bidnenko played until 1999 inclusive, and Danilovsky and Kabanov started playing only in 2001.
We will also note the players who helped the Ukrainian national team to the Euro-2000 final. In addition to Simonenko, who then represented Moscow's Torpedo, Alexander Batrachenko (Metalurh Zaporizhzhia), Pavlo Katkov (Kryvbas Kryvyi Rih), Mykola Nakonechny (Borispol Borispol) and Vladimir Petrovsky (Vladimir Petrovsky) at the first selection stage Kiev). The second stage was also played by Sergiy Levchenko (Borussia Mönchengladbach), Ruslan Rotan (Dnipro Dnipropetrovsk), Andrey Smalko (Borysphen Boryspil) and Sergei Histev (Stal Alchevsk).
In addition, in friendly matches in 2000, Serhiy Sernetsky (CSKA Kyiv) and 1999 - Ruslan Bidnenko (Borysphen Boryspil), Arthur Buzila (FC Vinnitsa), Sergey Galyuz (Zorya Lugansk), Dmitry Kozachenko (Obolon-PPO Kyiv), Volodymyr Kravchenko (Metalist Kharkiv), Andriy Mikhailov (Dynamo Kyiv), Vitaliy Sidorenko (Obolon-PPO Kyiv) and Alexander Shevelyukhin (Dynamo Kiev).
Ukraine at Euro-2000 (U-18)
Step by step
Germany - Ukraine - 0-1
Goal: Belik (63).
Ukraine: Rudenko, Pasichnichenko, Shershun, Lisitsky, Komarnitsky, Bandovsky (Stoyan, 46), Belik, Valeyev (Monakhov, 88), Gerasimenko (Matveev, 84), Kondratovich, Berezovchuk.
Referee: T. H. Orebo (Norway). Booked: Belik (52). Sent off: Lisitsky (90).
July 17th. Mannheim. Karl-Benz-Stadion. 16 viewers. Group Tournament.
Croatia - Ukraine - 1: 2
Goals: Babich (44) - Belik (40), Bondarenko (76).
Ukraine: Rudenko, Pasichnichenko, Shershun, Komarnitsky, Stoyan (Prokhorov, 67), Belik, Valeyev, Gerasimenko (Kutas, 85), Kondratovich, Monakhov (Bondarenko, 21), Berezovchuk.
Referee: M.-E. M. Gonzalez (Spain). Booked: Stoyan (57).
July 19th. Forst. Waldstadion. 3 spectators. Group Tournament.
Netherlands - Ukraine - 0: 0
Ukraine: Rudenko, Pasichnichenko, Shershun, Lisitsky, Komarnitsky, Bondarenko, Belik, Valeyev (Matveev, 72; Stoyan, 89), Prokhorov, Kondratovich (Gerasimenko, 46), Berezovchuk.
Referee: C. Amarilla (Paraguay). Warned: Knoll (41), Mustafa (87) - Belik (85).
July 21st. Goffenheim. Dittmar-Hopp-Stadion. 4 spectators. Group Tournament.
France - Ukraine - 1: 0
Goal: Bounier (81).
Ukraine: Rudenko, Pasichnichenko (Kutas, 83), Shershun, Lisitsky (Stoyan, 64), Komarnitsky, Bondarenko, Valeev (Bendovsky, 67), Gerasimenko, Prokhorov, Kondratovich, Berezovchuk.
Referee: Erdemir (Turkey). Warned: Vinyal (67), Mendy (85), Ahamada (90) - Stoyan (75), Kondratovich (83), Bondarenko (85).
July 24th. Nuremberg. Frankenstadion. 32 viewers. Final.
It should be noted that future players of national teams of our countries also played in the teams of our rivals. For example, Anna Balic and Benjamin Laut (Germany), Dario Srna, Marko Babic, Nikola Safaric, Marjan Buljat, Dino Drpic (Croatia), Rafael van der Wart (Netherlands). Later Said Butahar, the Dutchman, played for Morocco. The Czech team was represented by Petr Cech, Milan Barosz, Tomasz Hubschman and David Lafata. And under the direction of coach Jacques Crevoissier, the champions of Europe have become the future players of the national team of France - Jibril Cissé (41 matches, nine goals), Philippe Mexes (29, 1), Gael Zivet (12) and Bernard Mendy (3). Some of them have become international stars.
The composition of the national team of Ukraine (U-18) at Euro-2000
Goalkeepers

Vitaliy RUDENKO

26.01.1981

Chornomorets Odesa

4

2c

Artem KUSLIY

07.07.1981

Dnipro Dnipropetrovsk

0

0

Defenders

Vitaliy Komarnitsky

02.08.1981

Irony Rishon-le-Zion (Israel)

4

0

Roman PASICHNYCHENKO

17.06.1981

Dnipro Dnipropetrovsk

4

0

Denis STOYAN

24.08.1981

Borysfen Boryspil

4

0

Bohdan Shershun

14.05.1981

Dnipro Dnipropetrovsk

4

0

Fedor PROKHOROV

24.04.1981

Obolon-PPO Kyiv

3

0

Pavel KUTAS

03.09.1982

Dynamo Kyiv

2

0

Anton MONAKHOV

31.01.1982

Kryvbas Kryvyi Rih

2

0

Midfielders

Andrey BEREZOVCHUK

16.04.1981

"Mykolayiv"

4

0

Ruslan VALEYEV

31.10.1981

Borussia Monchengladbach (Germany)

4

0

Dmitry Kondratovich

24.06.1981

Dnipro Dnipropetrovsk

4

0

Vladimir BONDARENKO

06.07.1981

CSKA Kyiv

3

1

Vitaliy LYSYTSKY

16.04.1982

Dynamo Kyiv

3

0

Igor BENDOVSKY

06.10.1981

Borussia Dortmund (Germany)

2

0

Forwards

Andrey HERASYMENKO

08.01.1981

Dynamo Kyiv

4

0

Alexey BELIK

15.02.1981

Shakhtar Donetsk

3

2

Andrey MATVEYEV

06.05.1981

Dnipro Dnipropetrovsk

2

0

Coach

Anatoly KROSHCHENKO

26.10.1937

4