Euro 2020. Eight Steps of Ukraine to the final round: heavy success in Luxembourg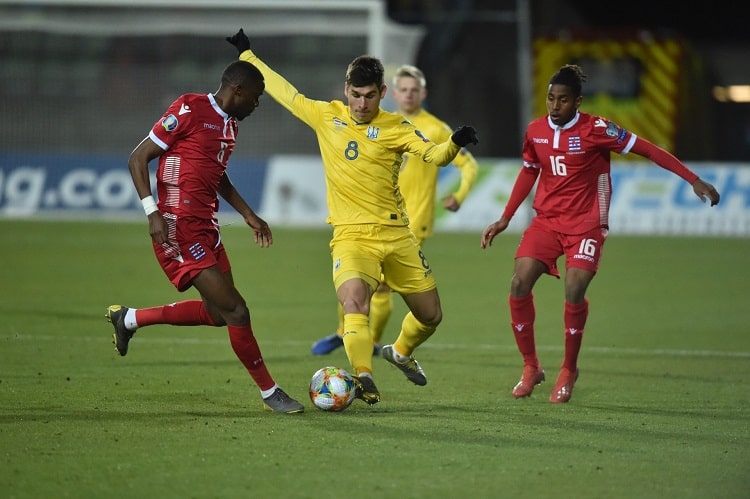 In the second match of the qualifying tournament for the 2020 European Championship, which has already been officially postponed to 2021, the national team of Ukraine defeated Luxembourg in a very difficult fight.
Looking at the selection of players, it was obvious that the coaching staff placed a bet on ball control. The intentions of the guests to secure dominance were outlined rather quickly.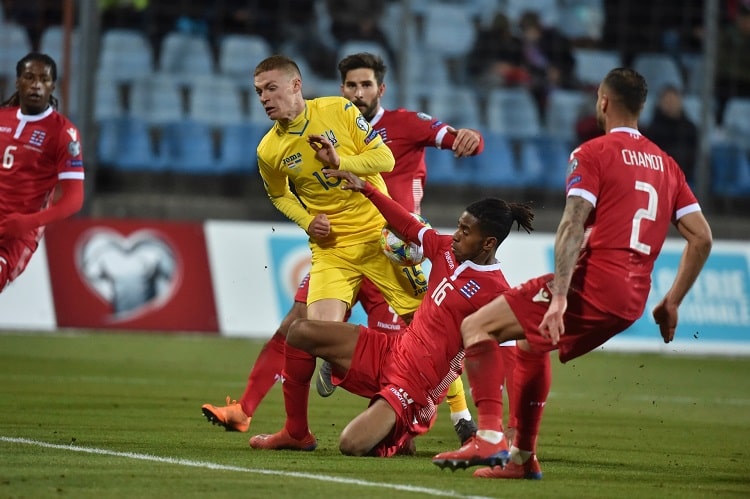 Photo by Pavlo Kubanov
At first Konoplyanka made a dangerous shot from the penalty area, then Pyatov saved his team after the home side set piece, and immediately Luxembourg opened the score. Olivier Till shot from the right wing, but the ball from Butko bounced to Turpel, and he did not miss from close range. But the Luxembourg leadership did not last long. Within six minutes Zinchenko flawlessly threw the ball at Tsygankov's move, he got one-on-one with Moris and skillfully realized the moment, striking under the goalkeeper.
The decisive effective attack Shevchenko's team created on injury time. Malinovskyi delivered a free kick and Rodriguez cut the ball into his own net. 1: 2.
Luxembourg - Ukraine - 1: 2 (1: 1)
Goals: Thurpel (34) - Tsyhankov (40), Rodriguez (90 + 3, own goal).
Luxembourg: Moris, Carlson, Chano, Malger, Jans (k), O. Till (Mutsch, 90 + 2), Rodriguez, K. Martins, Barreiro Martins, V. Till (Bensy, 73), Thurpel. Substitutions: Makhmutovic, Bonert, Gerson, Da Mota, Sean, Xinani, Janisz, Skenderovic, Joachim, Kips.
Ukraine: Pyatov (k), Butko, Burda (Karavayev, 78, Buyalskyi, 87), Matviyenko, Mykolenko, Malinovskyi, Bezus (Yaremchuk, 64), Konoplyanka, Tsyhankov, Zinchenko, Moraes. Substitutions: Boyko, Sobol, Kryvtsov, Stepanenko, Shaparenko, Shabanov, Sydorchuk, Bolbat, Lunin.
Referee: Matthias Gestranius (Finland).
Booked: Barreiro Martins (45), Chano (51), Malge (62), Carlson (90 + 2) - Burda (48), Butko (64).
March 25nd. Luxembourg. Josie Barthel Stadium. 4 653 spectators.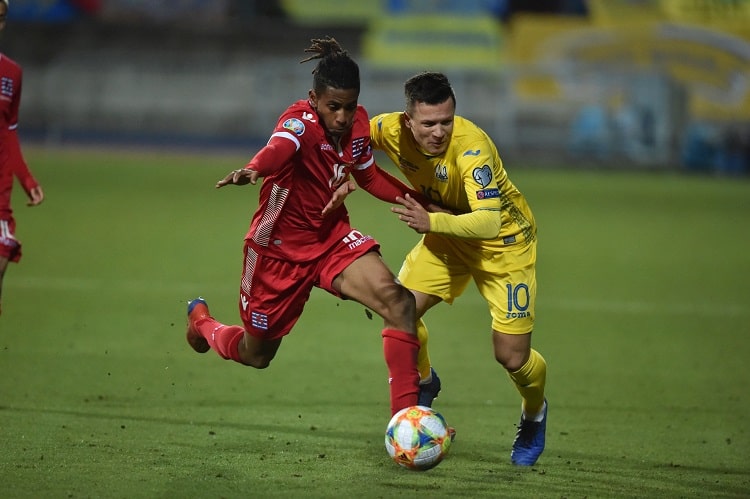 Photo by Pavlo Kubanov
After the match
Andrii Shevchenko (head coach of the national team of Ukraine): "This match can be evaluated in different ways. It's hard to talk about a hot trail, you need to review it again. Passing it all through yourself is the difficulty of coaching. Especially such difficult games ...
The most important thing today is the result. Also a huge thank to the fans who came to support our team. Their presence helped the boys to go through. As a result, Tsyhankov earned a free kick, after which we came forward. Yes, it was an own goal, but luck has to be earned. "
Ruslan Malinovskyi (Ukraine midfielder): "We made mistakes in simple situations because the field was of inadequate quality. I agree, the game on our part was unclear, but at the moment it was important for us to take three points. Our main goal was to get three points, and we achieved it. The national team of Ukraine wants to get to the Euro ".