Breakfast with Champions: Zinchenko and Malinovskyi - about Euro XNUMX, Nations League, souvenirs, series and quarantine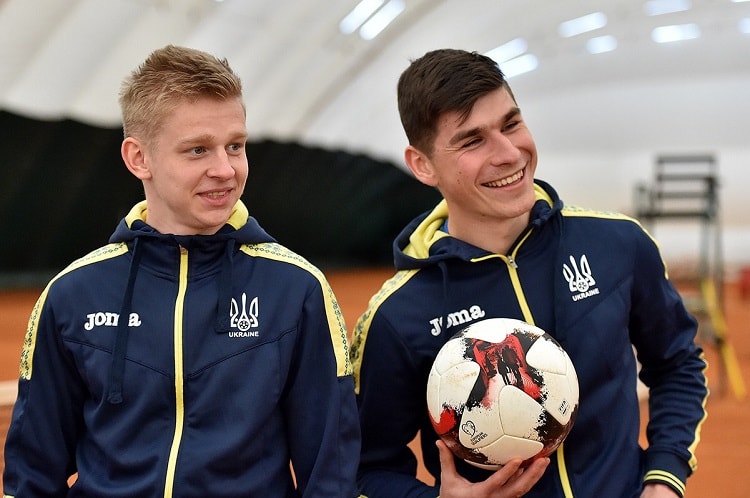 Today, within the Breakfast with Champions project of TM Parimatch and the Ukrainian Association of Football, online communication with the players of the national team of Ukraine - Oleksandr Zinchenko and Ruslan Malinovskyi took place.
The players answered live questions from journalists and fans about quarantine, EURO XNUMX postponement, spoke about their life preferences and mentioned memorable moments in their sports careers. The author of the best question got a book about Manchester City head coach Josep Guardiola "Pep's City", published by TM Parimatch.
Before the conversation, which was moderated by the press attaché of the national team of Ukraine Oleksandr Hlyvynsky, the representative of TM Parimatch Vadym Misyura traditionally said the introductory word:
"Our brand keeps supporting Ukrainian sport. We continue a series of online meetings with our sportsmen. We have already had quite a few famous Ukrainian sports celebrities. It is a pleasure to congratulate the world-class masters Ruslan Malinovskyi and Oleksandr Zinchenko who have announced their participation in our project.
We are proud of the fact that Ukraine's national team, including these players, made it to the European Championship. Its name may have changed somewhat, but I'm sure the tournament will take place. It is a great pride for us to be a partner of the national team of Ukraine. We need to support the guys who are currently abroad. So today, we get together for breakfast and talk.
We would like to see you more and more often. TM Parimatch's task is to make such meetings possible. We will try to overcome together this crisis situation brought to us by the pandemic. I want to thank our partner, the Ukrainian Football Association, for doing such a good project together. "
About quarantine, daily routine and nutrition
— What did you have for breakfast today?
Ruslan Malinovskyi: - The main course was oatmeal with banana and syrup. We cook quickly because there is no way to sit for half an hour and have breakfast. We have a little kid that must be constantly monitored. My wife and I are preparing breakfast in turn. The one who has slept more is cooking.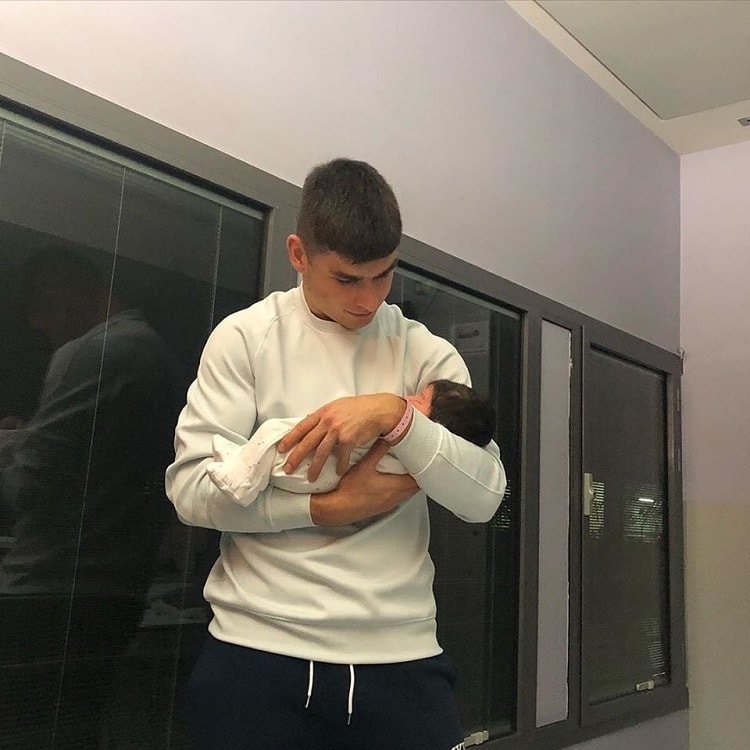 Oleksandr Zinchenko: - These days you have to eat Easter cakes. Unfortunately, it does not work to give the body the usual load, so I try to eat twice a day. Although I usually have a very hearty breakfast. In general, I follow the rules "Eat breakfast alone, have lunch with a friend, and give dinner to the enemy."
— Ruslan, has there anything changed in terms of quarantine in Italy?
Ruslan Malinovskyi: - The situation has become much better, as the load on the main hospital in Bergamo has decreased significantly. There were fewer victims. But you can't just go out for a walk with a child. My wife and I only go shopping to the store, to the pharmacy. We are waiting for May 4, when certain restrictions may be lifted.
— Oleksandr, first there was no hard quarantine in England. How has everything changed there?
Oleksandr Zinchenko: - At first, the British decided to do without quarantine, they wanted to sacrifice people for the sake of the economy. Then they faced reality and saw what was happening all over the world. In my opinion, quarantine in England was introduced a little late, so now there are such figures.
I found quarantine. I have never seen such an empty Manchester. I live in the center, where there are usually a lot of people. Nowadays, many police officers wear civilian clothes, so they can stop you, find out the reason why you are walking, and write a fine on the spot. In stores, everyone follows the rules - wear masks and gloves.
— And how do you build your schedule now?
Oleksandr Zinchenko: - In Manchester, I also had an early rise, as well as Ruslan. I have two "piglets" who also wake up at about six. But now I came to Vinnytsia, gave my pets to my mother-in-law. Now I wake up around 10 o'clock.
— Ruslan, what are your current benchmarks in Atalanta?
Ruslan Malinovskyi: - Every football player has been bought treadmills, we are sent a program every week, which is becoming more and more difficult. This time the material of classes was provided until May 3. A decision will be made on the 4th. In general, there is an assumption that the Italian championship will continue without fans. It is also said that spectators will be able to return to the stadiums only next year. I think the problem is not in the suspension of football, but in them. When we played with Valencia in the Champions League away from the stands, about 10 Spanish fans gathered near the stadium. I am confident that with the right approach, teams can provide high-level security. But a lot depends on the fans. You need to understand the situation, not gather companies.
About the head coaches and opponents
— Name the toughest and calmest coach in your career.
Ruslan Malinovskyi: - The toughest is Atalanta head coach GianPiero Gasperini. The calmest is Oleр Kononov, with whom I worked in Sevastopol.
Oleksandr Zinchenko: - The calmest was PSV head coach Phillip Cocu. I can not distinguish the most impulsive at the adult level. Sometimes coaches showed character and aggression, but mostly did it according to the situation.
— Ruslan, how are you doing with Gasperini?
Ruslan Malinovskyi: - In terms of tactics, he has specific ideas - not everyone plays such football. It is very interesting and informative for footballers who come to Atalanta. I think everyone understands that physical training must be at a high level, otherwise it is difficult to profess the style of football in which our team plays. The main thing is to be functionally ready. So in three weeks I ran 168 kilometers on the treadmill. Sometimes the distance is shorter, sometimes longer. There are high-speed workouts. We continue to prepare. I hope we will start training soon.
— Oleksandr, what Josep Guardiola told you about the quarantine training process??
Oleksandr Zinchenko: - You will not invent anything new here. All coaches gave the players similar attitudes - try not to gain weight, keep yourself in good physical and psychological shape.
— Do you have a football field in Vinnytsia where you can practice?
Oleksandr Zinchenko: - Unfortunately, there is no football field. But the territory is such that it is possible to keep fit and perform whatever is necessary.
— Ruslana, how has your life changed after moving to Italy?
Ruslan Malinovskyi: - I really like Italy. There are also memories of Belgium, but there was always gloomy weather. In Italy, it is usually sunny. Besides, my daughter was born here.
— Have you already got used to the Italian way of life?
Ruslan Malinovskyi: — In football terms, everything is clear to me, but it is difficult to communicate in everyday life. There are many dialects here. If they speak Bergamian, nothing is clear at all. I can speak Italian, but not perfectly. The wife knows the language better. If I need to call somewhere, she talks.
— Which of your teammates are you most comfortable with?
Ruslan Malinovskyi: - Remo Freuler, Marten de Roon, Timothy Castagne, Berat Djimsiti, Mario Pasalic. I'm more in touch with European guys who speak English.
— Oleksandr, could you describe the Manchester derby in three words?
Oleksandr Zinchenko: - Manchester. Is. Blue.
— Has the Manchester derby already become a landmark game for you?
Oleksandr Zinchenko: - Derby is always interesting. When you enter the pitch, the emotions are awesome ... Being at Old Trafford and Etihad is something else than watching a match on TV. In such games you always want to make the most of yourself.
- Ruslan, who is the principle rival for Atalanta?
Ruslan Malinovskyi: - "Brescia", of course. She is fighting for survival this season, we beat her on the road. As for the iconic matches, on the eve of the New Year holidays we beat AC Milan 5-0, I played the whole match. It was nice to win such a victory on the eve of the holidays. Double the fun.
About the national team of Ukraine and its prospects
— Name the three most memorable matches for the national team of Ukraine.
Ruslan Malinovskyi: — I will even name four. When I scored a goal for Italy in Genoa, when I scored for the Czech Republic in the League of Nations. It is also a duel with Serbia in Lviv and with Portugal in Kyiv.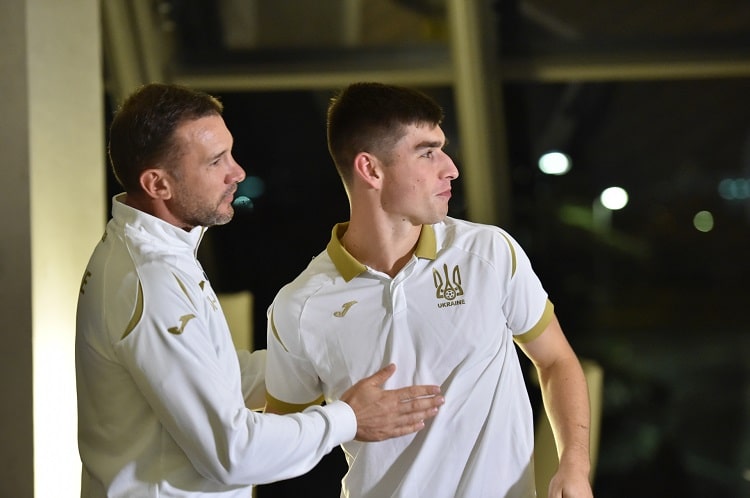 Photo by Pavlo Kubanov
Oleksandr Zinchenko: - The first thing that comes to mind is a recent home match against Portugal. The second match was against the Romanian national team, when I scored my debut goal. The third - against the German national team at the U-17 level in the elite round, when we were coached by Alexander Golovko. Julian Brandt, Jonathan Ta and Timo Werner played for rivals then. The Germans were satisfied with both the victory and the draw, but we needed to win. The elite round games were held in Germany. Opponents "carried" us throughout the match, in the first half we were in the minority. But in the end we won thanks to a goal by Andriy Boryachuk, who came on as a substitute. And we made it to the final stage of the European Championship, but the Germans did not. These were incredible emotions. He couldn't sleep for a week after that fight.
— The postponement of Euro-2020 has saddened everyone. What are your thoughts on this?
Ruslan Malinovskyi: - In football you never know what will happen tomorrow. This is about possible injuries. The European Championship was not canceled, but postponed, so it is good that we did not start it. I hope everything will be over by next year, we will hold a tournament. The fact that the national team of Ukraine will not become weaker is one hundred percent. I hope there will be matches at this level in the fall.
Oleksandr Zinchenko: - The most important thing now is people's health. As for the national team game, it is a shame, because the team was on the move. On the other hand, Roman Yaremchuk and Taras Stepanenko are injured. During this time, they will recover and return to their shape.
However, I believe that the more often the players meet in the national team, the better. I would like more training for the European Championship. Because in many other national teams, high-level performers, individually strong, can gain form in a month. They will not be strongly affected by the transfer of the Euro. The national team of Ukraine builds its game through the team, looks like one fist, where no one falls. That is why time spent together is so important for us.
— After the resumption of matches, an intense season awaits you — duel after duel…
Oleksandr Zinchenko: - Yes, there will be no time for pumping. The faster the player gets the optimal condition, the better.
— How do you see the prospects of the Ukrainian national team in the League of Nations?
Ruslan Malinovskyi: - You should not look so far now. The League of Nations can be postponed for two years, given how many games we have ahead. Selection for the World Cup, national championships, European Cups… In short, our opponents are very good, high level, top teams. It would be interesting to play with them, but it is still a long way off.
— You deserve to be in the group with Spain, Germany and Switzerland with your level of play...
Oleksandr Zinchenko: - After the draw, I talked to partners in "Manchester City" - representatives of these teams. We agreed that many top teams are currently experiencing problems. They don't have those generations now. Now you can play with them, especially if the national team of Ukraine is on the move. Today's Spain and Germany are no longer what they used to be. In turn, Switzerland also differs from the model of 2006, when we played with it. Now almost all of its members play in the top championships. Every performer is a world-class player.
I think Nations League will be interesting for our fans, so this is a good test for us too. Many say that the Ukrainian national team has become a "top". So this is perhaps the best opportunity to confirm such words in practice.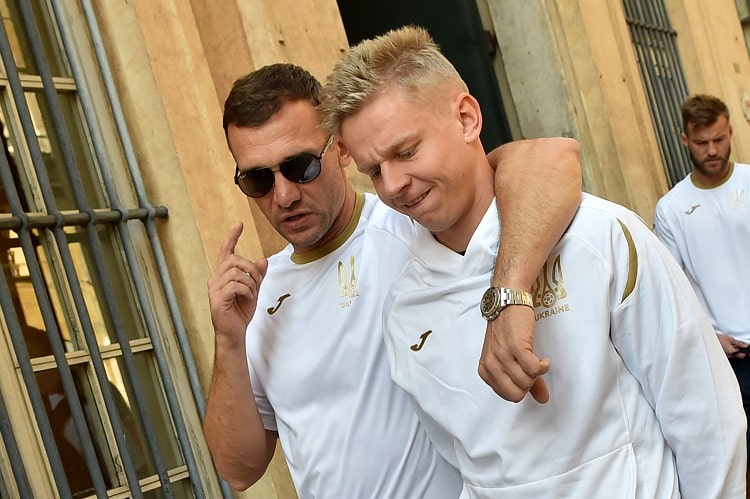 Photo by Pavlo Kubanov
— Is it worth playing out this season?
Ruslan Malinovskyi: - If it is not finished, then next season there may be no football at all. Clubs incur financial losses, they need to pay salaries. Football is not just about teams and players. Millions of people work in this structure. With heavy losses, some clubs may simply disappear. All security measures must be observed, television and journalists must be allowed to cover the matches, but the season must be completed.
Oleksandr Zinchenko: - Playing in empty stands is a way out of the situation. Everything rests on finances, few people look at the situation from a sports point of view. Take, for example, Crystal Palace, which signs contracts before the start of the season and counts on a certain amount. If the season is not completed, he will receive only 70% of the funds, and salaries must be paid. The new season may simply not start - clubs will go bankrupt. From a sports point of view, it is necessary to determine who will play in the European Cups, who will fly out and rise in the class.
Ruslan Malinovskyi: - For getting to the European Cups, the team receives a lot of money from sponsors, UEFA, for broadcasts. I repeat, football is a large structure, due to the violation of which there are problems not only for teams but also for people.
- Did your clubs review the salaries of football players for the quarantine period?
Ruslan Malinovskyi: - We have bonuses for qualifying from Champions League group. Atalanta's salaries are not so high, so everything is stable so far. Payments may be cut in April. I think it is unlikely that anyone will argue what decision they make.
Oleksandr Zinchenko: - We discussed it with the management. I hope everyone will come to a common wise decision.
— Have you joined any charity events?to tackle the COVID-XNUMX?
Ruslan Malinovskyi: - Last month, every football player was deducted from his salary to support the hospital in Bergamo. There's a pretty substantial amount.
Oleksandr Zinchenko: - In "City" try to do the same, think over the decision. I am sure that the submarine players will not stay away. We plan to purchase five ventilators from the Ukrainian national team.
About football formation and motivation
— Which goalie was the hardest to score against?
Oleksandr Zinchenko: - This issue is more for Ruslan, because I do not hit the ball towards the net often. I think it's Andrii Pyatov for him. He can not score on trainings.
- Ruslan, somehow you and Maksym Malyshev were photographed together while in the national team of Ukraine…
Ruslan Malinovskyi: - Yes, this was the first photo. It is a pity that he is still unable to recover from a number of injuries, to show the football as before, to return to the main squad at the club, to play for the national team. At the moment, Maxim is recovering. I hope that something will change, and it will be possible to solve his problem medically. We corresponded a few days ago. He still feels discomfort in his knee. I hope someone will help him with this problem.
- Both of you - an example of how to overcome difficult periods in career. What advice do you have for young guys who are looking to become professionals??
Ruslan Malinovskyi: - First, you need to go to your goal. When we were little, we played in the yard, then in the evening we watched the Champions League matches. They happened late, but I wanted to see. It was a dream we all went for.
Secondly, at a certain age there comes a period when you have to sacrifice something, make a choice. Very often young boys make the wrong choice, and in adulthood regret it. Football is not just about training and games. In life, as in the field, you always have to make the right decisions. You should train, go to your dreams, work on yourself, study, lead the right lifestyle, make the choice that will help you become a footballer.
Oleksandr Zinchenko: - I fully support Ruslan's words. A person really needs to sacrifice something for what he wants to achieve. You have to really strive for it. This is connected not only with football, but also with any other goals. You have to go to training in order to look even better today than yesterday.
— Ruslan, do you see yourself in English football?
Ruslan Malinovskyi: - I don't think that clubs think much about transfers now. Atalanta and I held a training camp in England, played friendly matches. Of course, the fields and the atmosphere there are luxurious. I like the Premier League, but I didn't even think about it.
- Oleksandr, how do you think whether Ruslan could play in England?
Oleksandr Zinchenko: - I'm generally waiting for him in "City" instead of David Silva. Ruslan has all the qualities to perform in different leagues of the world. I have seen many foreigners in my life, but Ukrainians are different in character. Throw us anywhere - we'll get out of here. I would look at how foreigners would evolve in the conditions in which we grew up.
- What motivates you when things are not going as you would like?
Oleksandr Zinchenko: - I remember the situation when I spent six months without football. It immediately motivates and puts me in the position. It is worth mentioning the times when you felt bad.
Ruslan Malinovskyi: - When my stay at the academy ended, I had to play in the district championship in the Zhytomyr region. My brother and I played at this level, because we had to play somewhere.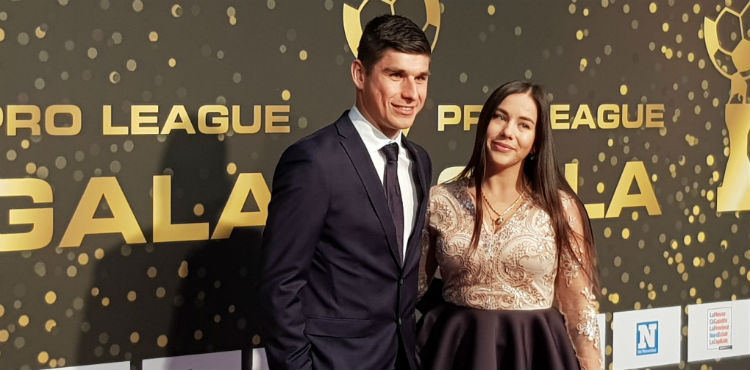 It was also a difficult moment when I tore the cruciate ligament in my knee. My wife told me it was okay, her sister came and helped me when I was alone in Belgium. It was a difficult period of uncertainty with the team. Due to the injury I dropped out for eight months, it was psychologically difficult. I knew I had to work hard to get back. For me, motivation is family support. My wife will always go with me wherever I am. She was always there.
About souvenirs and series
- Your most memorable gift from the fans.
Ruslan Malinovskyi: - I left a very beautiful poster with my mother in Zhytomyr. It's just professionally drawn.
Oleksandr Zinchenko: - I remember the moment when I left the City base. There were fans who had a lot of cartoon-style keychains, including me holding the Premier League Cup. One girl who gave me these keychains had a tattoo with my signature on her arm.
- What superpower you wish you would have?
Oleksandr Zinchenko: - I would like to use a teleport, to turn back time.
Ruslan Malinovskyi: - Ability to treat people with your touch. Now a lot of people are sick, including children ...
- What interesting movies did you watch in quarantine?
Oleksandr Zinchenko: - I would recommend the series "Paper House".
Ruslan Malinovskyi: - Look for the 20th time "Gladiator", "Law Abiding Citizen" or "Titanic". My wife and I are now watching "The Dynasty" series tonight.
— The first thing you will do after quarantine is complete.
Oleksandr Zinchenko: - I want to finally get back to training. This is the first thing that comes to mind.
Ruslan Malinovskyi: - I would like to take my family to the sea this year. And first of all after quarantine it would be desirable to return to a training rhythm, fuss, movement, game. Every footballer misses it.
- Both of your clubs continue to play in the Champions League. Would you be interested in playing against each other in the playoffs?
Ruslan Malinovskyi: - We have already faced Manchester City in the group stage. I don't think everyone wants to play against this team. Of course, it will be interesting in any case. But first you need to at least find out if the matches will take place at all.
- What do you wish the fans?
Ruslan Malinovskyi: - Thank you to all the fans who watched our broadcast today. These are the ones we play for in the first place, so it's very important to stay in touch with them. I hope everything will be fine in the near future. But you also need self-discipline, through which you can achieve many things. I wish everyone endurance and health, I hope to see you on the football fields soon.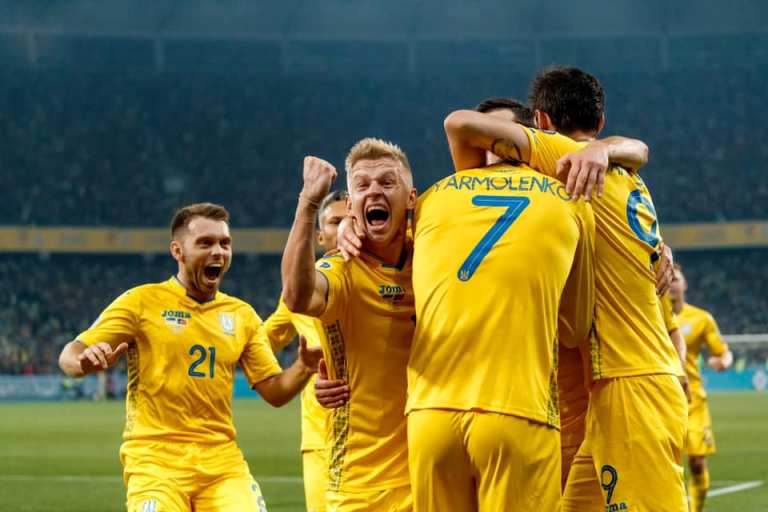 Photo by Pavlo Kubanov
Oleksandr Zinchenko: - It is always a pleasure to communicate with our fans, because without them we are nobody. They have demonstrated this during the European Championship qualifying. It is a pleasure to play with such support. Even in such difficult times, you stay with us. I wish you good health, patience. Of course, we can handle everything. Football is a difficult time ahead, and without your support we can not cope. Together we are strength!