Euro 2020. Eight Steps of Ukraine to the final tournament: Once again, Luxembourg's Hard Exam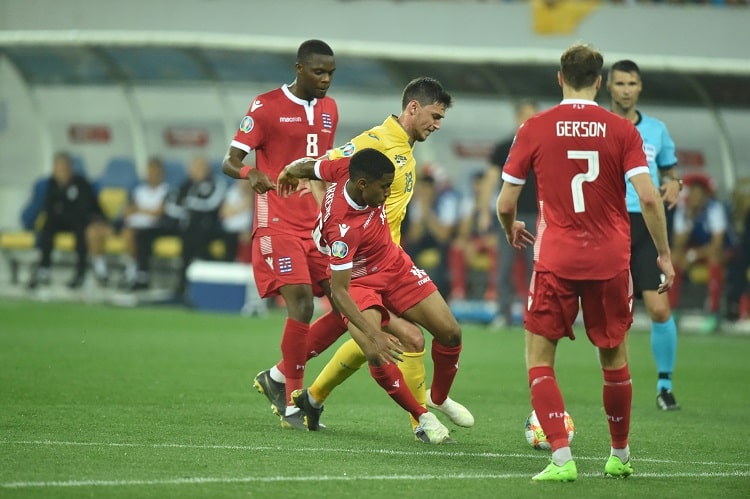 In the fourth match of the European Championship qualifying tournament 2020, which has already been officially postponed to 2021, the Ukrainian national team in Lviv, with the help of Roman Yaremchuk's quick goal, got a minimal win over Luxembourg.
Considering how difficult it was for the blue-yellow to play the first match with Luxembourg, in March, it was no wonder that they tried not to repeat the mistakes and to provide a favorable outcome as early as possible. And the home invasion of the hosts brought them success. After a corner kick, Malinovskyi made a perfect pass to the box, and Yaremchuk, winning the challenge in the air, headed the ball to the net.
Photo by Pavlo Kubanov
It was noticeable that after a long season and a game that had taken a lot of physical strength and emotions three days earlier, it was difficult for Ukraine to add and demonstrate high speeds or apply pressure. And if Stepanenko had hit the post after Konoplyanka crossed a free kick, the final minutes of the match might have been quieter, but it didn't happen.
Ukraine vs Luxembourg - 1-0 (1-0)
Goal: Yaremchuk (6).
Ukraine: Pyatov (k), Mykolenko, Matviyenko, Kryvtsov, Karavayev, Stepanenko, Zinchenko, Malinovskyi, Konoplyanka (Kovalenko, 80), Tsyhankov (Sobol, 88), Yaremchuk. Substitutions: Pankov, Lunin, Shepelev, Burda, Shaparenko, A. Kravets, Marlos, Bezus, Plastun, Sweden.
Luxembourg: Morris, Chano, Gerson, K. Martins, Da Mota (Bensey, 52), W. Thill, O. Thill (Thurpel, 77), Barreiro Martins, Rodriguez, Jans (k), Martens. Substitutions: Sean, Kips, Makhmutovich, Malzhe, Selimovich, K. Holtz, Sinani, Janisz, Skenderovic.
Referee: Peter Kralovic (Slovakia).
Booked: Nikolenko (56), Karavayev (67), Zinchenko (81) - O. Till (29), Da Mota (31), Rodriguez (51), V. Till (90 + 4).
June 10, 2019. Lviv. Arena Arena Lviv. 34 117 spectators.
After the match
Andrii Shevchenko (head coach of the national team of Ukraine): "The guys were in good shape. Yes, I understood that someone would get tired and we tried to make substitutions. There were problems on the right wing, Karavayev was tired, and we missed Butko, so breaking the structure of the game and introducing a new player would be a mistake.
First of all, it was the second game of two doubles, and it is always difficult. It was the last time we played with Portugal before Luxembourg. But the most important thing is the result, the victory we have gained. "
Roman Yaremchuk (striker of the national team of Ukraine): «Of course, it is very enjoyable to score, and it is even more enjoyable to do it in my native Lviv. I'm very happy to win, although unlike the previous game with Serbia, our performance left much to be desired.
We were hoping for a quick goal. We knew that the Luxembourg play not very often to such a large audience. Raising the pace, it was necessary to try to use this factor in the debut. It happened. The only bad thing is that, after opening the score, we did not realize two more goals. "