A working meeting of Ukrainian sports associations and federations chaired by the Minister of Youth and Sports of Ukraine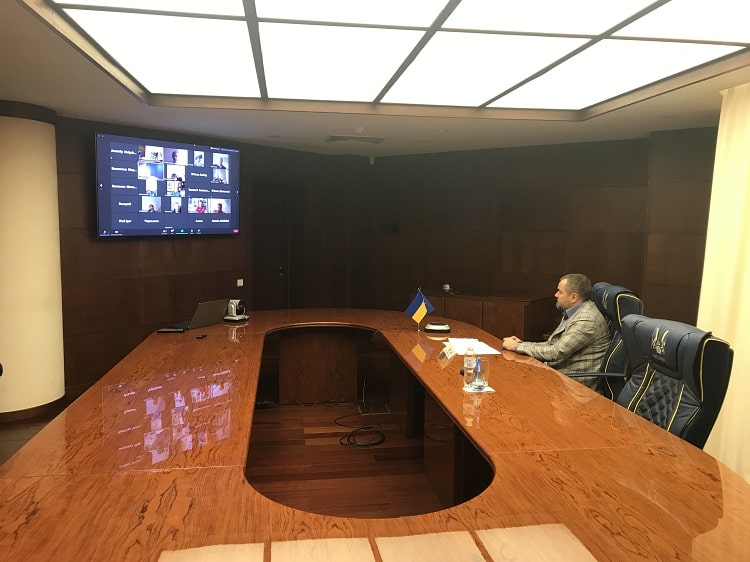 Today, under the chairmanship of the Minister of Youth and Sports of Ukraine Vadym Huttsayt, a video conference on the situation with COVID-19 and the issue of resumption of sports competitions in the country after the quarantine has taken place. President of Ukrainian Association of Football, member of the UEFA Executive Committee Andrii Pavelko and heads of other sports federations took part in its work.
A preliminary discussion of possible options for quarantine football's withdrawal between Andrii Pavelko and Vadum Huttsayt was held yesterday during a telephone conversation. Also yesterday UAF president exchanged views on the resumption of sports activities in Ukraine with Minister of Health Maksym Stepanov during a personal meeting and with NOC of Ukraine president Serhii Bubka - in a telephone conversation.
Photo by Pavlo Kubanov
During the video conference, the participants shared with their colleagues from other sports associations the current problems faced by the sports communities with the beginning of quarantine, reflections on possible ways of overcoming them and options for gradual lifting of restrictions for restoration of a full-fledged sports life in our country.
In particular, Andrii Pavelko suggested that all sports associations develop their own protocols of gradual resumption of competitions, taking into account the experience of other countries, and submit appropriate proposals for consideration and approval to the Ministry of Health of Ukraine. "We are all now responsible for the health and life of Ukrainian athletes, so it is extremely important that we work together to develop optimal quarantine exit protocols that will be agreed with the ministry, including all possible risks," said UAF president.
Photo by Pavlo Kubanov
Andrii Pavelko also called on the regional head to pay attention to the problems faced by the sports community, because the challenges that have arisen since the beginning of the pandemic have often reduced costs in the regional budgets due to reduced funding for sports. "It is important for the regional leaders to understand the responsibility for maintaining sports funding, and we are ready to work together with the regional authorities, the government and the parliament for optimal solutions that will be useful for the development of Ukrainian sport," Andrii Pavelko emphasized.