Euro 2020. Eight steps of the national team to the final tournament: Kharkiv benefit of Ruslan Malinovskyi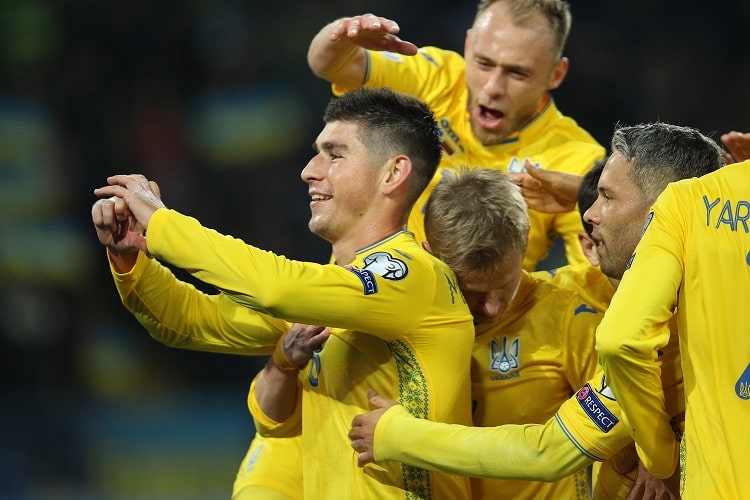 In the sixth match of 2020 European Championship qualifying, the national team of Ukraine in Kharkiv defeated Lithuania for the second time in a row.
The starting line-up of the national team of Ukraine confirmed the serious attitude of the hosts to the next clash with their opponent, whom they confidently beat a month ago in away game (3:0). Despite the upcoming match with the European champions, Portugal, almost all the main players were involved at OSC Metalist on Friday.
However, Ukraine managed to overcome the tight defense of Lithuania only in the 29th minute. Finally, one of the many shots was accurate: Malinovskyi and Moraes passed each other in the center, and Ruslan irresistibly hit the target.
Photo by Pavlo Kubanov
In the second half, Ukraine slightly reduced the intensity of action, but in general continued to keep the course of events under control. And in the 58th minute Malinovskyi managed another effective shot. Yarmolenko earned a free kick, and Ruslan scored from a set-piece.
Ukraine - Lithuania - 2: 0
Goals: Malinovskyi(29, 58).
Ukraine: Pyatov (k), Sobol, Kryvtsov, Matviyenko, Bolbat, Stepanenko (Sydorchuk, 73), Malinovskyi, Zinchenko, Yarmolenko (Tsyhankov, 64), Marlos (Konoplyanka, 59), Moraes. Substitutions: Pankov, Plastun, Yaremchuk, Shabanov, Buyalsky, Mykolenko, Kovalenko, Karavayev, Lunin.
Lithuania: Chernyauskas, Mikolunas (k), Klimavicius, Gerdweinis, Andryushkjavicus (Shimkus, 62), Vorobyovas, Verbitskas, Novikovas, Zulpa, Golubitskas (Lasitskas, 73), Lauksemis (D. 77). Substitutions: Bartkus, Adamonis, Yankauskas, Kozlauskas, Vaitkunas, G. Matulevicius, Kasparovicius, Baravikas.
Referee: Harald Lehner (Austria).
Booked: Stepanenko (55) - Novikovas (54), Zhulpa (57).
October 11, 2019. Kharkiv. OSC Metalist. 32 500 spectators.
Photo by Pavlo Kubanov
After the match
Andrii Shevchenko (head coach of the national team of Ukraine): "I want to express my gratitude to the fans. A full stadium gathered today. Guys are always happy to play with such support.
I liked how the team reacted to the game. There was a balance, we didn't do anything to the opponent, we switched well from attack to defense. I said the day before that the match would be difficult. There may have been nervousness after a series of unrealized moments, but it did not happen. Our players moved the ball well from wide areas and created moments. Implementation, however, failed a bit, we need to make better use of our capabilities. In games with the best teams, there will not be as many of them as today, so we need to learn to squeeze the maximum.
Ruslan Malinovskyi (Ukraine midfielder): "I agree that Lithuania is to some extent my team. After all, I scored five goals for the national team, and three of them were scored to Lithuania. In fact, I had two moments, and both were realized. But we don't need to make something supernatural out of it, because we had to win this match. What, in fact, we did - we won and took three points. "