The national team of Ukraine in cyber football made it to the quarterfinals of the European Nations Cup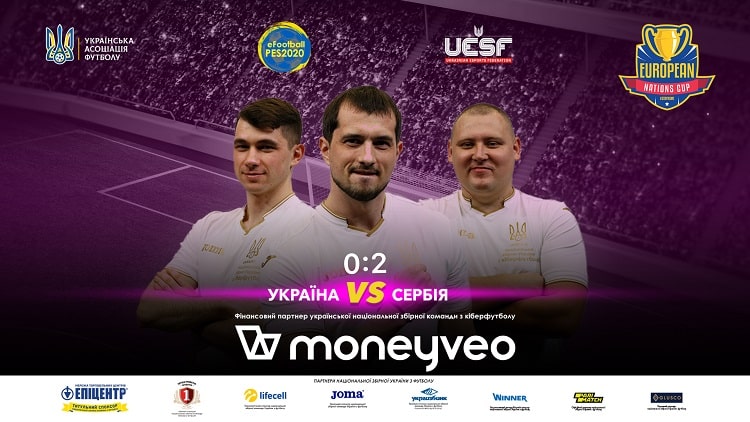 In the third match of the #StayHome European Nations Cup online competition, the Ukrainian cyber football team lost to the Serbian team in the PES discipline.
Teams from 12 countries take part in the tournament, which was organized by Ukrainian E-Sports Federation together with the European E-Sports Federation. It takes place in three disciplines - CS:GO, League of Legends and Pro Evolution Soccer (PES).
The cyber football team of Ukraine is represented at these competitions by three players - Vitalii Budb_proshe Lytvynov, Maksym Makson Andrasyuk and Ihor Ighor_8 Lyubchak.
In the first group match Ukraine left no chances to Azerbaijan - 2: 0 (3: 0, 6: 2), and in the second pressed Georgia - 2: 1 (0: 1, 4: 2, 3: 2).
In the third match of the group round, the Ukrainians were opposed by the vice-champion of eEuro-2020, the national team of Serbia, which lost to the Italians in the final of the European Championship.
In the first meeting of this series, Vitaliy Budb_proshe Litvinov lost to the Serbian opponent with a minimal score - everything was decided by a goal at the end of the first half.
The next game turned out to be more productive. In the second half, our player was in the lead with a score of 5: 2, but the Serb managed to play three goals. The match went into the stage of extra time, in which the "golden goal" was scored by the Balkans.
Ukraine - Serbia - 0: 2
Vitaly Budb_proshe Litvinov - Kepa_PFC - 0: 1 (0: 1)
Kepa_PFC - Vitaly Budb_proshe Litvinov - 6: 5 d.ch. (2: 3, 5: 5)
As a result of three confrontations, the national team of Ukraine scored six points in Group 1. Together with the team of Serbia, the blue and yellows made their way to the playoffs of the European Nations Cup. The next series on the virtual football fields of PES Ukrainians will hold on June 3 or 4 in the quarterfinal stage.
It will be recalled that in the group round of this tournament, cyber football players play three series, each of which lasts up to two victories (a total of six to nine games can be played). Participants are awarded three points for winning the series, and zero for losing.
The two best teams from each group and two best third-placed teams, will qualify for the playoff round. In the future, the teams will compete in the relegation series to two victories, and the final challenge will last up to three victories.
All games of the Ukrainian national team will be broadcast on the YouTube channel of the Ukrainian Association of Football.
Join online battles and support Ukraine at the prestigious international tournament #StayHome European Nations Cup!