FIFA President Gianni Infantino congratulates participants of the XXIII Congress of the Ukrainian Association of Football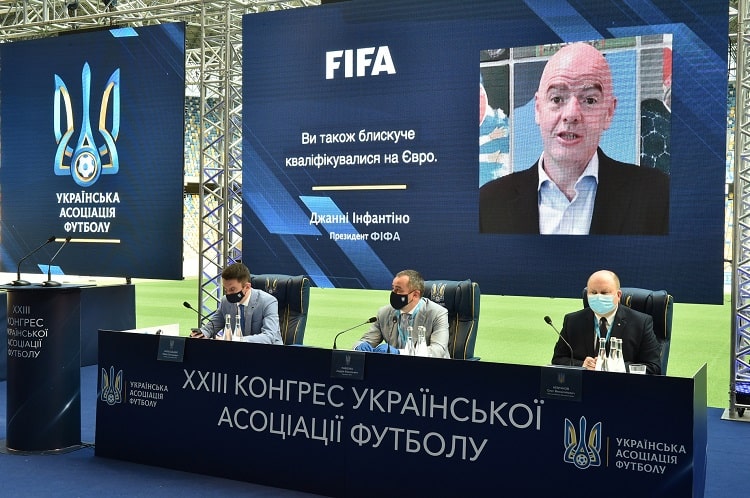 FIFA President Gianni Infantino addressed the participants of the XXIII Congress of the UAF:
«Dear friends of Ukrainian football, dear President! Today I am very pleased to say a few words on the occasion of the 23rd Congress of the Association.
The past year has been incredible for you, for your football association, for your football. You are world champions! You won the 20-year-old title in the final against South Korea in Poland. We all remember the game and emotions of several months ago, which you gave to all the Ukrainian people. And not only to him, but to the whole world.
You also brilliantly qualified for the Euro. For the next Euro, which will take place in a year. Your head coach Shevchenko is a fantastic player and an extraordinary person who embodies football values.
Dear friends, this is obviously also a very difficult time due to the crisis due to COVID-19. At FIFA, we try to help, draw up a support plan, providing funds, in particular, from the FIFA Forward program. And we are working to help even more the Ukrainian Association of Football and other associations around the world.
But we must also look to the future. You are already doing this, you have already resumed your league matches. You have a project to build a home for national teams - a project that we at FIFA also support.
And my wish for you, in addition to the work that is already being done in the context of clubs and the national team at the men's and youth levels, is to work just as well as you are already doing, at the women's and girls' levels. Because these specific areas of football have huge potential!
You also know about my memories of Ukraine, where I was with you, organizing the European Championship a few years ago. That is why I am looking forward to the opportunity to return to Ukraine again. Visit you, discuss Ukrainian football and see how we can help you make it better.
With that in mind, I wish you a wonderful and fruitful congress. And most importantly - first of all health! So take care of yourself, be healthy, and I hope to see you soon!»