Ukraine vs Portugal: support the blue-yellows in the European Nations Cup semifinal!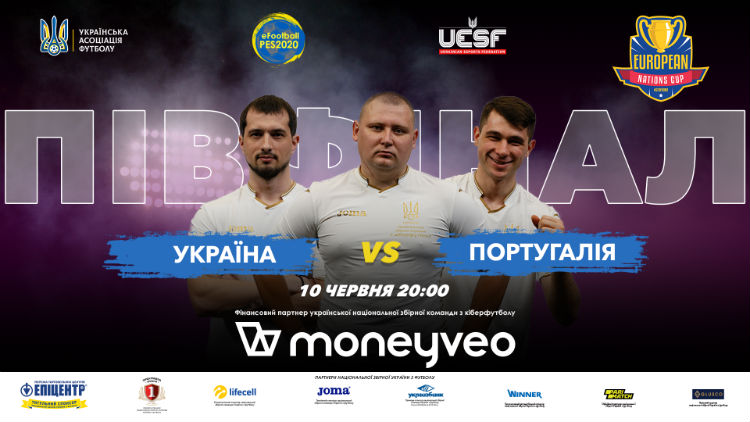 On June 10, the eFootball national team of Ukraine in the semifinals of the international online competition #StayHome European Nations Cup will meet the team of Portugal (the match starts at 20.00).
The start of Ukrainian gamers in the playoffs was successful, in a series of three matches our guys got a strong-willed victory over eFootball players from Northern Macedonia - 4: 9, 5: 2 and 7: 2.
The next step is the semi-final confrontation with the national team of Portugal, which in the previous stage unexpectedly knocked out Belgium. Interestingly, in the eEuro-2020 selection, the Portuguese took second place in Group B, but failed to qualify for the final tournament via the playoffs.
The playoff format provides a series of matches with up to two victories. The national teams of Ukraine and Portugal will play football clubs at the choice of the players themselves.
It should be recalled that the #StayHome European Nations Cup tournament is held under the auspices of the Ukrainian Association of Football at the initiative of the Ukrainian E-Sports Federation and the European E-Sports Federation. Teams from 12 countries take part in it. Competitions take place in three disciplines - CS:GO, League of Legends and Pro Evolution Soccer (PES).
The eFootball national team of Ukraine in the PES discipline is represented by Vitalii Budb_proshe Lytvynov, Maksym Makson Andrasyuk and Ihor Ighor_8 Lyubchak.
Following the results of the group stage, the Ukrainian e-sportsmen took the second place in their quartet, gaining six points. Maksym Makson Andrasyuk did not leave chances to Firuz Buksayev from Azerbaijan in the starting series - 3: 0 and 6: 2, Igor Ighor_8 Lyubchak organized a comeback in the confrontation with the team of Georgia - 0: 1, 4: 2 and 3: 2, and the final match of Vitalii Budb_proshe Lytvynov from Kepa_PFC from Serbia ended in favor of the current vice-champion of Europe - 0: 1 and 5: 6.
All games of the Ukrainian national team are broadcast on the YouTube channel of the Ukrainian Association of Football. So join the show of online battles and support the eFootball national team of Ukraine at the prestigious international tournament #StayHome European Nations Cup!
June 10. 20.00. Semifinal. Ukraine - Portugal. Ukrainian cyber football players are already in the top four!
But to reach the top, they need your support!