The Ukraine eFootball team stopped in the European Nations Cup semifinal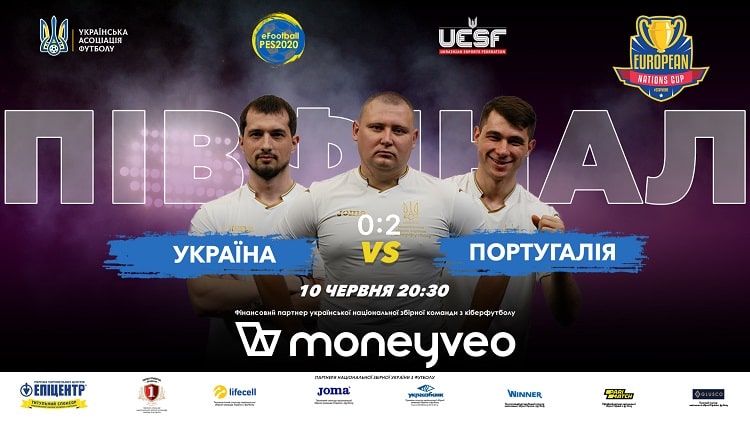 In the semifinal match of the international online competition #StayHome European Nations Cup, the national team of Ukraine in cyber football lost to Portugal.
In the semifinals of the European Nations Cup, the Ukrainians met Portugal, which in the previous stage unexpectedly knocked out a powerful team from Belgium. The national team of Ukraine in cyber football in the PES discipline is represented by Vitaliy Budb_proshe Litvinov, Maksym Makson Andrasyuk and Ihor Ighor_8 Lyubchak.
Both Ukraine and Portugal played a series of matches for two victories by football clubs of their choice.
In the first match, Vitaly Litvinov chose Barcelona as his club, and his Portuguese rival - Juventus. The first half passed in mutual attacks, but did not bring success to any of the opponents. Immediately after the break, the Portuguese came forward, and in the middle of the second half of the match gamers exchanged goals. In the end, 1: 2 - the defeat of the Ukrainian.
In the second match, the Portuguese gamer Barboza12 chose Juventus, and our Maxim Andrasyuk chose Bayern. Unfortunately, this time too the Ukrainian failed to defeat his opponent. The whole matter was actually decided by two goals of the opponent in the first half. At the end of the second half of the match, the players scored on the ball and set the final score - 3: 1 in favor of the Portuguese.
Thus, in the confrontation with a score of 2: 0, Portugal won, and reached the final of the European Nations Cup.
EFootball. European Nations Cup. Semifinal
Ukraine - Portugal - 0: 2
Vitaly Budb_proshe Litvinov - Clapped_by_mv - 1: 2 (0: 0)
Barboza12 - Maxim Makson Andrasyuk - 3: 1 (2: 0)
It will be recalled that the #StayHome European Nations Cup tournament is held under the auspices of the Ukrainian Football Association at the initiative of the Federation of E-Sports of Ukraine and the European E-Sports Federation. Teams from 12 countries take part in it. Competitions take place in three disciplines - CS: GO, League of Legends and Pro Evolution Soccer (PES).