Premier League. Victories of "Mariupol" and "Vorskla", doubles of Fomin and Stepaniuk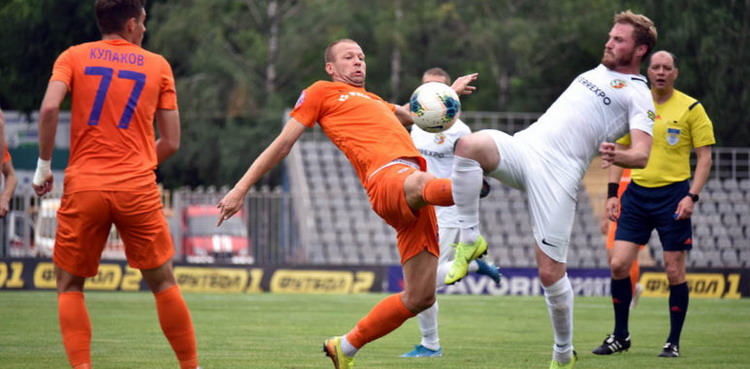 In pThe 27th round of the Premier League started with two matches with the participation of the teams of the second six'air leagues. The fights took place without spectators, with observance of the corresponding ones recommendations and protocol.
"Mariupol", which is waiting for five days cup semifinal match with Vorskla, successfully held the last rehearsal. Priazovtsy broke their four-match series without victories, scoring three dry goals for the guests from Lviv. Experienced forward Fomin scored a double, first responding to Polegenko's shot, and then accurately punching after Myshnev's canopy. The final score in overtime was set by U-20 world champion Kashchuk, who was led by Yavorsky.
The second semifinalist of the Cup of Ukraine also won his match. Vorskla defeated Dnipro-1. The double was scored by Stepaniuk, who finished the ball in the first half after Kulach's shot, and in the second half he finished Kane's pass with an accurate shot.
27 round
Tournament for 7-12 places
19.06.2020
Mariupol - Lviv - 3: 0 (2: 0)
Goals: Fomin (5, 27), Kashchuk (90 + 3).
Vorskla - Dnipro-1 - 2: 0 (1: 0)
Goals: Stepaniuk (19, 49).
Sent off: Maximov (head coach of Vorskla, 7).
Standings
| | | | | | | | |
| --- | --- | --- | --- | --- | --- | --- | --- |
| | | G | W | D | L | GD | О |
| 7. | Dnipro-1 | 26 | 10 | 4 | 12 | 33-38 | 34 |
| 8. | Mariupol | 26 | 7 | 9 | 10 | 27-40 | 30 |
| 9. | Vorskla | 26 | 7 | 5 | 14 | 20-41 | 26 |
| 10. | Olimpik | 26 | 6 | 5 | 15 | 23-43 | 23 |
| 11. | Lviv | 27 | 5 | 7 | 15 | 19-44 | 22 |
| 12. | Karpaty | 23 | 2 | 8 | 13 | 18-41 | 14 |
21.06.2020

Karpaty - Olimpik

17.00
Tournament for 1-6 places
20.06.2020

Shakhtar - Oleksandriya

19.30

21.06.2020

Desna - Zorya

19.30

22.06.2020

Dynamo - Kolos

19.30
Standings
| | | | | | | | |
| --- | --- | --- | --- | --- | --- | --- | --- |
| | | G | W | D | L | GD | О |
| 1. | Shakhtar | 26 | 22 | 2 | 2 | 66-18 | 68 |
| 2. | Dynamo | 26 | 16 | 4 | 6 | 54-23 | 52 |
| 3. | Desna | 26 | 15 | 4 | 7 | 46-20 | 49 |
| 4. | Zorya | 26 | 15 | 4 | 7 | 42-22 | 49 |
| 5. | Oleksandriya | 26 | 13 | 4 | 9 | 37-35 | 43 |
| 6. | Kolos | 26 | 8 | 2 | 16 | 27-47 | 26 |