Premier League. Dynamo beat Kolos in the match with four penalties and secured the second place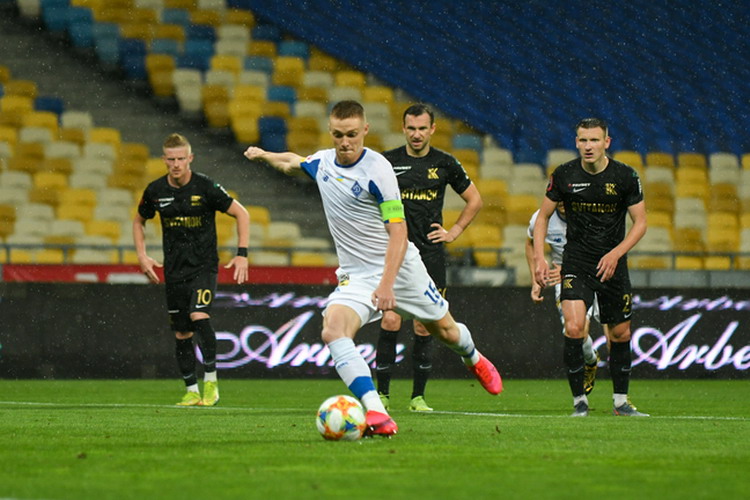 After yesterday's victory of "Zorya" over "Desna", Dynamo had to earn points to break away from the pursuer again.
Kovalivka had a great chance to be the first to score, when at the beginning of the second half Dynamo was awarded an 11-meter kick by Popov. But Bushchan parried Bogdanov's blow. Soon the Kolos player Petrov broke the rules in his penalty area, for which he received a second yellow card and a withdrawal. Tsygankov, who came on as a substitute, successfully executed the penalty. Soon the referee appointed the third 11-meter in the match - this time at the gate of the white and blue. Wilhamsson equalized from the mark.
During the remaining time, referee Boyko twice resorted to video replays with the help of the VAR system regarding the possible award of a penalty to the Kolos goal. In the first case, the suspicion of violation was not confirmed, and in the second - the penalty occurred, which allowed De Penny to set the final score - 2: 1.
As part of Dynamo, the players of the national team of Ukraine took part in the match: Mykolenko, Shabanov, Buyalsky (replaced in the 90th minute), Shepelev, Tsygankov (came on as a substitute in the 46th minute, goal).
Stage II
27 round
Tournament for 1-6 places
20.06.2020
Shakhtar vs Alexandria - 3: 2 (1: 0)
21.06.2020
"Desna" - "Zorya" - 1: 2 (0: 1)
22.06.2020
Dynamo - Kolos - 2: 1 (0: 0)
Goals: Tsygankov (64, from the penalty spot), De Pena (87, from the penalty spot) - Wilhamsson (69, from the penalty spot).
In the 53rd minute Bogdanov ("K") missed a penalty.
Sent off: Petrov (63, "K").
Standings
| | | | | | | | |
| --- | --- | --- | --- | --- | --- | --- | --- |
| | | G | W | D | L | GD | О |
| 1. | Shakhtar | 27 | 23 | 2 | 2 | 69-20 | 71 |
| 2. | Dynamo | 27 | 17 | 4 | 6 | 56-24 | 55 |
| 3. | Zorya | 27 | 16 | 4 | 7 | 44-23 | 52 |
| 4. | Desna | 27 | 15 | 4 | 8 | 47-22 | 49 |
| 5. | Oleksandriya | 27 | 13 | 4 | 10 | 39-38 | 43 |
| 6. | Kolos | 27 | 8 | 2 | 17 | 28-49 | 26 |
28 round

27.06.2020

Kolos - Alexandria

17.00

Shakhtar vs Zorya

19.30

28.06.2020

"Desna" - "Dynamo"

19.30
Tournament for 7-12 places
19.06.2020
Mariupol - Lviv - 3: 0 (2: 0)
Vorskla - Dnipro-1 - 2: 0 (1: 0)
"Karpaty" - "Olympic" - postponed
Standings
| | | | | | | | |
| --- | --- | --- | --- | --- | --- | --- | --- |
| | | G | W | D | L | GD | О |
| 7. | Dnipro-1 | 26 | 10 | 4 | 12 | 33-38 | 34 |
| 8. | Mariupol | 26 | 7 | 9 | 10 | 27-40 | 30 |
| 9. | Vorskla | 26 | 7 | 5 | 14 | 20-41 | 26 |
| 10. | Olimpik | 26 | 6 | 5 | 15 | 23-43 | 23 |
| 11. | Lviv | 27 | 5 | 7 | 15 | 19-44 | 22 |
| 12. | Karpaty | 23 | 2 | 8 | 13 | 18-41 | 14 |
28 round

27.06.2020

"Carpathians Lviv"

17.00

28.06.2020

Mariupol - Dnipro-1

17.00

Vorskla - Olympic

19.30