Vitaliy Mykolenko: "After a series of penalties I thanked Shabanov and Bushchan"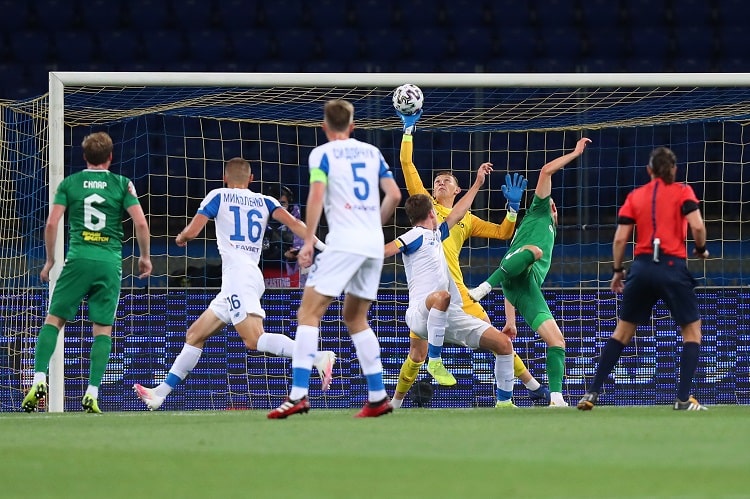 Defender of Kyiv Dynamo and the national team of Ukraine Vitaliy Mykolenko shared his impressions of winning the Cup of Ukraine 2019/2020.
In the decisive duel, Dynamo defeated Vorskla penalty shootout. Mykolenko spent all 120 minutes on the field, and also scored an 11-meter post-match, though unsuccessfully. After the game, the Kyiv defender shared his emotions.
- Vitaly, how did you want to execute your post-match penalty? Why failed to score?
- In fact, I scored well, but Riznyk, with whom we played together in the youth team, parried the blow well, with which I congratulate him.
- Fortunately, Shabanov used his chance. Did you tell him something before that?
- I didn't say anything before the penalty. Afterwards he thanked him and Bushchan.
- After your unsuccessful attempt, Sydorchuk came to support you. What he said?
- There were no words needed. It was just necessary to approach and support. Sergei is a good captain. I was glad that he came, it became easier.
- Why during the 120 minutes of the game "Dynamo" failed to realize their moments, which were enough?
- In fact, there were not so many moments. Vorskla played more openly in the first half, and in the second 45 minutes and extra time played on a penalty shootout. Well, at least I didn't go down without explaining myself first.
- Did the fight turn out to be exhausting?
- Yes, the game is exhausting. And in four days we will have the next match.
- This is the first final for you. Worried before the start?
- No, I can't say that I was worried. This is the same game as everyone else. You adjust to all fights in the same way.
- Will this victory add to the mood before the next Premier League matches, where Dynamo needs to solve the main issue? Did you solve the main question in the National Cup?
- Maybe someone thinks so. However, we have not decided everything this season. Our task now is to take the second place in the championship of Ukraine.
- Is there any joy in winning the Cup of Ukraine, which Dynamo did not win?yat years?
- Of course. Besides, for me this is the first cup won. I want to dedicate this victory to my beloved parents.