Georgy Bushchan: "During the penalty shootout, I kept calm, tried to influence the situation"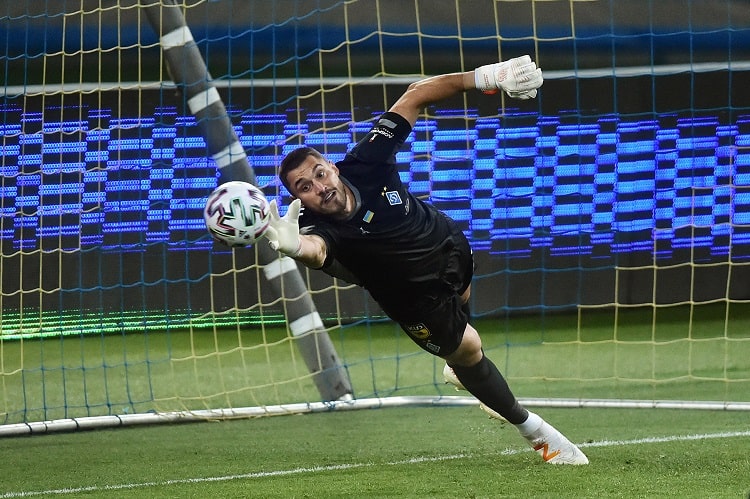 Dynamo Kyiv goalkeeper Heorhiy Bushchan commented on his team's victory in the 2019/2020 Ukrainian Cup final.
The fate of the trophy in the confrontation between Dynamo and Vorskla was decided penalty shootout. Georgy Bushchan did not allow two players of the Poltava team to break through, which was enough for Kyiv to win. After the game, the white-and-blue goalkeeper shared his impressions.
- George, how does the person who made the decisive save in the final feel?
- Absolute calm. We have fulfilled the task before us.
- Did you somehow influence the Vorskla player during his failed attempt?
- This is a lottery, we were more lucky in it. I tried to influence everyone, but the opponents scored great. Perhaps Baenko had more excitement, which was reflected in his blow.
- Were you preparing for the penalty shootout?
- Before each game, we review such moments on our own and with the coach.
- How did you feel when the series started to drag on? Was he willing to endure to the last?
- My psychological state remained stable, because it is a lottery, where not everything depends on me. I kept calm and tried to influence the situation.
- Already at the beginning of the match, Dynamo missed «
- There was a standard, there was confusion. The ball went to the striker, who did a good job. I will not say that the reason is the loss of concentration. We were preparing for this game. But there are no small things in football - someone underplayed, which affected the episode.
- Vorskla - a worthy opponent who had moments. Do you agree that the game was even and it was difficult to determine the winner?
- It was difficult to shake the opponent's defense, because he defended well, but from the second half we had full initiative. Poltava had quite dangerous counterattacks, they showed character and will to win. However, luck was on our side.
- This is your debut Cup. How do you feel after the victory?
- Most likely, pride.
- Dynamo has not won the National Cup for a long time. Will you celebrate winning the trophy?
- We do not have time, because we still have goals that we strive to get closer to. The main task is to win a place in the Champions League.