The UAF D-diplomas were awarded at the Football House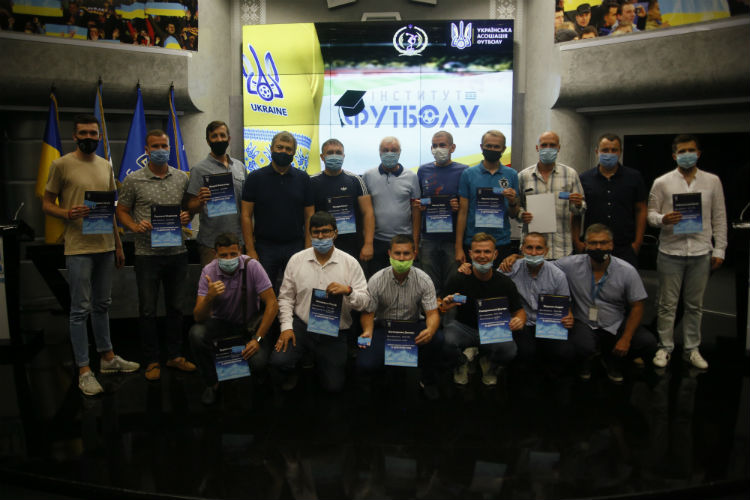 Today, July 25, the House of Football hosted a solemn presentation of D diplomas by UAF representatives, the first vice-presidents of the association Anatoliy Demyanenko and Vadym Kostyuchenko to students who have successfully completed the training course.
The UAF Football Institute and NUFVSU together with the Ukrainian Football Association conducted training under the UAF D-Diploma program.
Training was carried out remotely, using modern means of communication. Regional associations delegated their representatives as candidates for the course, who were then interviewed.
It will be recalled that the purpose of the curriculum for the course "D-diploma of UAF" is:
- provide training in accordance with UEFA requirements for coaches working with initial football groups;
- improve the knowledge, skills and qualifications of coaches working with elementary age children and youth teams.
Photo by Volodymyr Rasner
Anatoliy Demyanenko (First Vice-President of UAF): "First of all, I would like to congratulate you. Much will depend on you now - how our youth will grow and develop. The main thing is for the guys to progress, reach a high level, play in our top clubs, Dynamo and Shakhtar, and then join the ranks of the national team of Ukraine. "
Vadym Kostyuchenko (First Vice President of UAF): "We are very happy to see you in our Football House. I would like to convey congratulations from the President of the UAF Andriy Pavelko and the head coach of the national team of Ukraine Andriy Shevchenko.
I wish you to find yourself in football, so that your pets break through the thorns to the stars, so that you set the highest goals for them, and they achieve them. Here is an example of the youth national team of Ukraine U-20, which became the world champion in 2019, an example of the national team that won the current champion of the continent, Portugal, which allowed it to go directly to the European Championship.
Unfortunately, now, when the decisive matches of Euro 2020 were to take place, a disaster has occurred - a coronavirus pandemic. The football world is also struggling with this disease, clubs and footballers are helping doctors. One of the victories over the virus was the resumption of championships, another victory - the decision to allow a partial presence of fans at UPL matches. Therefore, we will do our best to soon have more than 25% of fans in the stands. We believe that we will have warm support in the stands at the national team games as well.
Photo by Volodymyr Rasner
I would like to say that this was our first project of this format, and thank you that in such a difficult time you were able to find opportunities to get an education remotely, and now you can pass this knowledge to your students. In the future we will continue to work in this direction.
The infrastructure created in our country today - more than two thousand artificial turf pitches, built on the latest technology - gives us hope that these pitches will come not only future players, but also future professionals. I wish you to bring up such football players as Andriy Yarmolenko, Oleksandr Zinchenko, Yevhen Konoplyanka ... "