U-18: playing practice of football players of the youth national team of Ukraine in the UPL season 2019/2020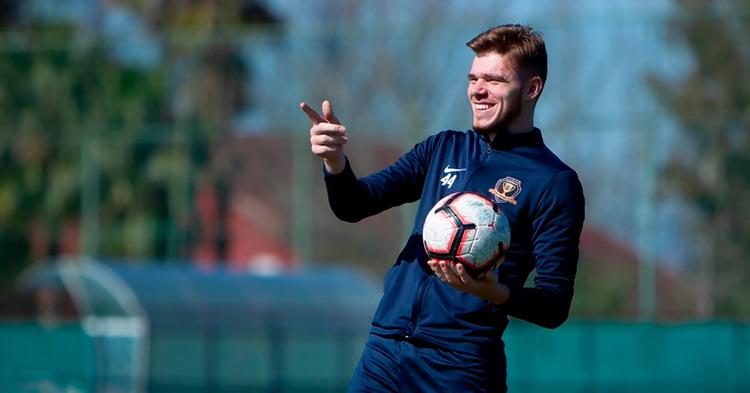 For almost six months, since February, the national teams of Ukraine have not been on the field. This break is especially difficult for the players of the youth national teams, because due to quarantine the DUFLU and UPL championships in the U-19 and U-21 categories ended ahead of schedule, and it is impossible to progress without playing practice.
But at the finish of the Ukrainian Premier League championship we saw the debuts of a large number of young players. We have already talked about boys born in 2003-2004, now it's the turn of players born in 2002.
The first representative of this generation, Maksym Brama (Lviv), made his debut in the UPL last season, on May 31, 2019, coming on as a substitute in the match against Shakhtar for five minutes. This season, he did not even get to the application of the first team.
But Arseniy Batagov (Dnipro-2019) picked up the baton at the start of the 2020/1 championship, playing 877 minutes in 14 matches. Plus 90 minutes - in the Cup of Ukraine. For a long time he was the only footballer born in 2002 who played in the UPL.
Theoretically, goalkeepers Ruslan Nescheret (Dynamo), Kyrylo Fesyun (Vorskla) and Andriy Chekotun (Olympic) had a chance to make their debut in the Premier League in autumn 2019. They were included in the application for the first team match, but remained in reserve. As a result, of the three, the first match at this level was held only by the last - in July 2020.
In February and March 2020, midfielder Yuriy Tlumak (Karpaty) and defender Ilya Zabarny (Dynamo) were included in the UPR protocol. And after the quarantine the process started. At the end of the season, young players in Vorskla (coaching decision) and Karpaty (especially due to financial problems and hopelessness) were given a particularly active chance.
In any case, Volodymyr Yezersky can be satisfied that the potential players of his youth team have received practice at the level of the elite division. Most of them - Batagov, Gadzhuk, Zabarny, Karabin, Komarets, Kulakovsky, Nescheret, Pavlyuk, Sass, Slyusar, Tlumak, Fesyun - have already been called up to the national team. But some - Bugaenko, Vlasov, Senko, Chekotun - not yet.
Footballers born in 2002 in UPL clubs in the championship of Ukraine of the 2019/2020 season
| | | | | | | |
| --- | --- | --- | --- | --- | --- | --- |
| Player | Date of birth | Club | Debut in UPL | Games | Minutes | Goals |
| Arseniy BATAGOV (pz) | 05.03.2002 | Dnipro-1 | 31.07.2019 | 14 | 877 | 0 |
| Eugene PAVLYUK (c) | 18.08.2002 | Vorskla | 19.06.2020 | 4 | 271 | 1 |
| Ilya GADZHUK (pz) | 02.08.2002 | Vorskla | 28.06.2020 | 4 | 268 | 0 |
| Oleg VLASOV (pz) | 25.10.2002 | Vorskla | 28.06.2020 | 4 | 235 | 0 |
| Artem KULAKOVSKY (pz) | 11.02.2002 | Vorskla | 03.07.2020 | 2 | 9 | 0 |
| Denis SLYUSAR (h) | 27.05.2002 | Karpaty | 27.06.2020 | 1 | 90 | 0 |
| Andriy CHEKOTUN (c) | 02.09.2002 | Donetsk | 05.07.2020 | 1 | 90 | 2c |
| Maksym KOMARETS (c) | 23.05.2002 | Lviv | 19.07.2020 | 1 | 78 | 0 |
| Cyril SENKO (n) | 19.11.2002 | Kolos | 15.07.2020 | 1 | 16 | 0 |
| Yuriy TLUMAK (pz) | 11.07.2002 | Karpaty | 27.06.2020 | 1 | 16 | 0 |
| Danilo BUGAYENKO (pz) | 04.10.2002 | Vorskla | 03.07.2020 | 1 | 8 | 0 |
| Illya ZABARNYI (c) | 01.09.2002 | Dynamo | | 0 | 0 | 0 |
| Yaroslav KARABIN (n) | 19.11.2002 | Karpaty | | 0 | 0 | 0 |
| Ruslan NESHCHERET (c) | 22.01.2002 | Dynamo | | 0 | 0 | 0 |
| Nazar-Stefan SASS (c) | 09.01.2002 | Karpaty | | 0 | 0 | 0 |
| Cyril FESYUN (c) | 07.08.2002 | Vorskla | | 0 | 0 | 0 |