Europa League. Shakhtar defeated Basel and will now meet Inter in the semifinals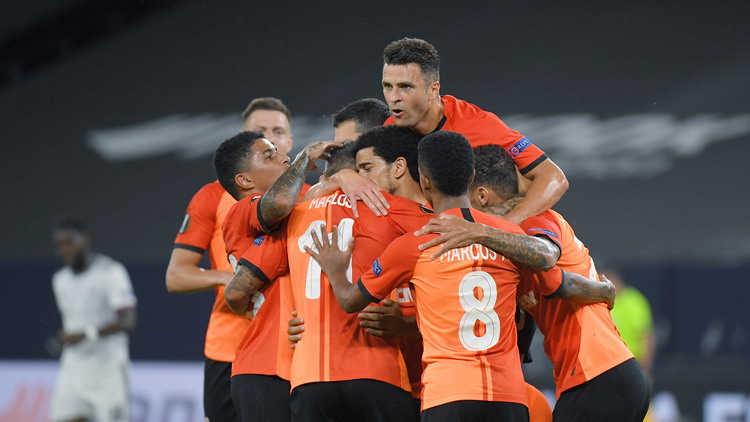 In the quarter-final match, which this season consisted of one match, the victory was brought to the Pitmen by accurate shots by Moraes, Tyson, Alan Patrick and Dodo, to which "Basel" responded with only one goal.
The match, which took place in Gelsenkirchen, Germany, started well for the miners. In the second minute, Marlos made a corner, and none of the Basel players prevented Moraes from opening the scoring in the match.
Despite Shakhtar's defensive line being rebuilt due to Ismaili's injury and Khocholava's disqualification, Donetsk did not allow much for the opponent at their gates. Puliula broke through dangerously, but his shot in the near corner was inaccurate. On the other hand, the orange-black counterattack in the middle of the half turned out to be the most productive. Matvienko intercepted the ball and started a multi-pass combination, which Tyson completed with a ricochet. 2: 0.
Even in the first half, Donetsk could make the score devastating, but Nikolic parried extremely dangerous shots by Moraes and Marlos, and Marcos Antonio hit the crossbar. In general, the first 45 minutes passed with the complete domination of the champion of Ukraine.
Photo by shakhtar.com
After the break, the Basel players more effectively destroyed the attacking combinations of the wards of Luis Castro. But Tyson still managed to earn an 11-meter, which was realized by Alan Patrick. In the last minutes, Dodo distinguished himself, realizing the transfer of Tete. "Basel" managed to score the ball of prestige, which appeared on the account of van Wolfswinkel.
Footballers from Shakhtar took part in the match extended list of candidates to the national team of Ukraine: Pyatov, Kryvtsov, Matvienko, Bondar (yellow card), Stepanenko, Marlos (two goal passes, replaced in the 72nd minute), Moraes (goal, replaced in the 85th minute), Kovalenko (substitute) on the 78th minute).
Europa League. 1/4 finals
Shakhtar (Ukraine) - Basel (Switzerland) - 4: 1 (2: 0)
Goals: Moraes (2), Tyson (22), Alan Patrick (75, from the penalty spot), Dodo (88) - van Wolfswinkel (90 + 2).
Shakhtar: Pyatov (k), Dodo, Krivtsov, Bondar, Matvienko, Marcos Antonio (Maicon, 85), Stepanenko, Marlos (Solomon, 72), Alan Patrick (Kovalenko, 78), Tyson (Tete, 85), Moraes (Fernando, 85) ).
Substitutions: Trubin, Bolbat, Vitao, Cipriano, Pihalonok, Konoplyanka, Dentinho.
Head coach: Louis Castro.
Basel: Nikolic, Vidmer, Alderete, van der Werff (Ramirez, 73), Petretta, Jack (Marshan, 60), Fry, Stocker (k) (van Wolfswinkel, 73), Pullu, Campo, Cabral (Ademi, 73).
Substitutions: Pukai, De Mole, Rivers, Isufi, Bunyaku, Vichy, Lurwink, Carcass.
Head coach: Marcel Koller.
Referee: Michael Oliver (England).
Booked: Alan Patrick (52), Cooper (87) - Fry (26), Cabral (64).
August 11. Gelsenkirchen. Auf Schalke Stadium.
Semi-final matches:
on 10 August
Manchester United (England) - Copenhagen (Denmark) - 1: 0, extra. time
Inter (Italy) - Bayer Leverkusen (Germany) - 2: 1
on 11 August
Shakhtar (Ukraine) - Basel (Switzerland) - 4: 1
Wolverhampton Wanderers (England) - Sevilla (Spain) - 0: 1
Semi-final matches:
on 16 August
Sevilla - Manchester United
on 17 August
"Inter" - Shakhtar
Final (Cologne)
on 21 August
This season's quarter-finals, semi-finals and final take place without spectators at four German stadiums (Cologne), Cologne (MSV Arena) (Duisburg), Düsseldorf Arena (Düsseldorf) and AufSchalke (Gelsenkirchen). All rounds consist of one match.