The national futsal team of Ukraine learned the names of rivals in the Euro-2022 qualifiers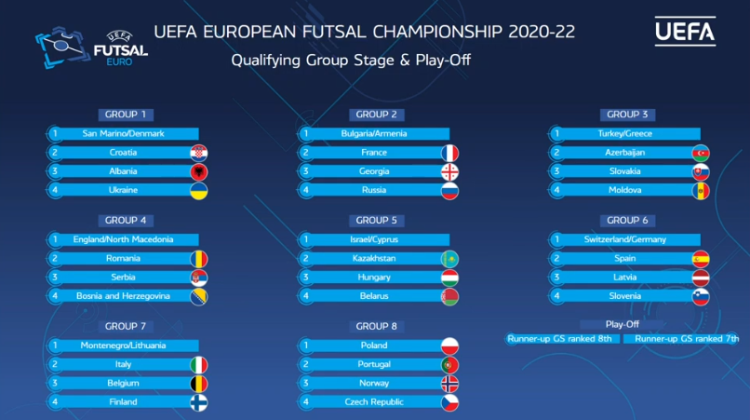 The draw for the group qualification round of the European Futsal Championship 2022 took place in Nyon, Switzerland.
Blue and yellow begin their journey in the group qualifying round. During the draw, our team was in the second basket.
As a result, Oleksandr Kosenko's charges are in Group 1, where they will play against Croatia, Albania and the winner of the clashes of the qualifying round between the teams of San Marino and Denmark (to be held on November 2-11 this year).
Euro-2022 from futsal. Group qualifying round
Group 1: San Marino / Denmark, Croatia, Albania, Ukraine.
Group 2: Bulgaria / Armenia, France, Georgia, Russia.
Group 3: Turkey / Greece, Azerbaijan, Slovakia, Moldova.
Group 4: England / Northern Macedonia, Romania, Serbia, Bosnia and Herzegovina.
Group 5: Israel / Cyprus, Kazakhstan, Hungary, Belarus.
Group 6: Switzerland / Germany, Spain, Latvia, Slovenia.
Group 7: Montenegro / Lithuania, Italy, Belgium, Finland.
Group 8: Poland, Portugal, Norway, Czech Republic.
In the group round, 32 teams (16 participants in the elite round of the 2020 World Cup qualifiers, nine winners of the qualifying round groups and seven winners of the butt matches) are divided into eight groups of four teams. For the first time in the history of the tournament, the teams at this stage will play against opponents at home and away, holding two matches against each opponent in the group. Eight group winners and six top runners-up will join the Netherlands in the final stage.
The two runners-up, who did not make it directly to the final tournament, will play in the playoffs. The first match will take place on the field of the eighth ranked team, the return match will be hosted by the seventh ranked team. The winner of the butt matches will join the other 15 participants of the final stage.
The matches of the final tournament will take place in Amsterdam and Groningen. 16 teams will be divided into four groups. The two best teams from each group will advance to the quarterfinals.
Euro-2022 from futsal. Tournament calendar
Group stage of qualification: November 2, 2020 - April 14, 2021.
Dates of group stage qualifiers:
November 2-11, 2020 *;
December 6-9, 2020;
January 25 - February 3, 2021;
March 1-10, 2021;
April 5-14, 2021.
* - without the participation of teams that will play head-to-head matches on these dates.
Play-offs: November 2021.
Final tournament draw: the end of 2021.
Final tournament: January 19 - February 6, 2022 (Amsterdam and Groningen, the Netherlands).