Premier League. Dynamo and Desna drew a goalless draw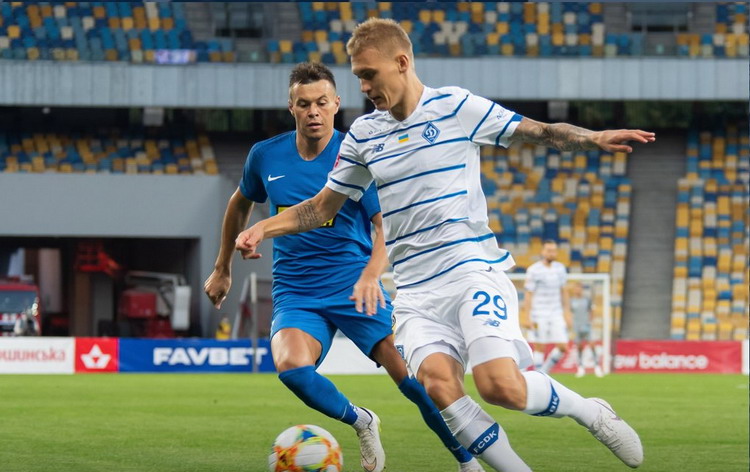 Перший матч у Прем'єр-лізі після перерви, викликаної матчами збірних, відбувся в Києві.
На відміну від динамівців, які делегували в національні команди майже два десятки футболістів, гравці «Десни» планомірно готувалися до поновлення клубного сезону, відтак мали в цьому плані перевагу. Гру на НСК «Олімпійський» можна було розглядати і як репетицію напередодні міжнародних випробувань, оскільки обидва суперники невдовзі проводитимуть поєдинки кваліфікаційних стадій єврокубків.
Через кадрові втрати динамівці суттєво перебудували лінію захисту, зокрема в центральній зоні діяли номінальні крайні оборонці Кендзьора й Миколенко. А в першому таймі травму отримав ще й Тимчик. Незважаючи на територіальну перевагу господарів, гравці «Десни» мали в першому таймі кілька шансів відзначитися. Будківський після передачі Картушова пробив у стійку, а після асисту Калитвинцева він же втратив навіть більш реальну нагоду, не влучивши як слід по м'ячу. Динамівці зуміли створити свої моменти лише під завісу тайму, коли в каркас воріт влучили Кендзьора й Де Пена.
У другому таймі біло-сині діяли в атаці більш активно, завдавши чимало ударів по воротах Паста. Але навіть попри вихід на заміну Родрігеса й Вербича захист «Десни» встояв.
The match was attended by players who were called to the last training camp of the national team of Ukraine: Bushchan, Tymchyk (replaced in the 36th minute), Mykolenko, Sidorchuk, Shaparenko, Buyalsky, Tsygankov (replaced in the 64th minute), Karavaev (replaced by 64 -th minute), Spouse (replaced in the 80th minute).
Решта матчів 2-го туру відбудеться в суботу й неділю, крім поєдинку «Рух» — «Шахтар», який перенесено через позитивні результати тестів на коронавірус у гравців львівського клубу.
2 round
11.09. 2020
Dynamo - Desna - 0: 0
Standings
| | | | | | | | |
| --- | --- | --- | --- | --- | --- | --- | --- |
| | | G | W | D | L | GD | О |
| 1. | Dynamo | 2 | 1 | 1 | 0 | 4-1 | 4 |
| 2. | Desna | 2 | 1 | 1 | 0 | 3-1 | 4 |
| 3. | Vorskla | 1 | 1 | 0 | 0 | 5-2 | 3 |
| 4. | Oleksandriya | 1 | 1 | 0 | 0 | 4-1 | 3 |
| 5. | Shakhtar | 1 | 1 | 0 | 0 | 3-1 | 3 |
| 6. | Dnipro-1 | 1 | 0 | 1 | 0 | 1-1 | 1 |
| 7. | Inhulets | 1 | 0 | 1 | 0 | 1-1 | 1 |
| 8. | Lviv | 0 | 0 | 0 | 0 | 0-0 | 0 |
| 9. | Mynai | 0 | 0 | 0 | 0 | 0-0 | 0 |
| 10. | Zorya | 1 | 0 | 0 | 1 | 1-3 | 0 |
| 11. | Kolos | 1 | 0 | 0 | 1 | 1-3 | 0 |
| 12. | Rukh | 1 | 0 | 0 | 1 | 2-5 | 0 |
| 13. | Mariupol | 1 | 0 | 0 | 1 | 1-4 | 0 |
| 14. | Olimpik | 1 | 0 | 0 | 1 | 1-4 | 0 |
12.09.2020
| | |
| --- | --- |
| Dnipro-1 - Olympic | 14.00 |
| «Колос» — «Львів» | 17.00 |
13.09.2020
| | |
| --- | --- |
| "Minai" - "Alexandria" | 14.00 |
| Zorya - Mariupol | 17.00 |
| Vorskla - Ingulets | 19.30 |
23.09.2020
Rukh - Shakhtar