Kharkiv region has started the season of "Open football lessons" in an adapted format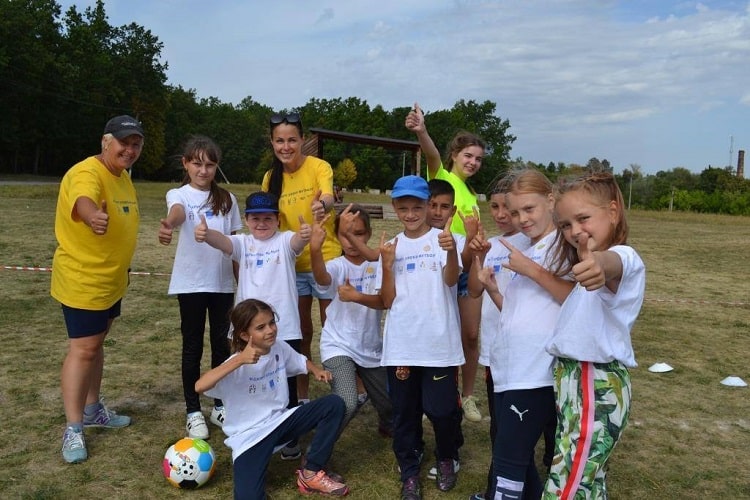 This year, the format of the Open Football Lessons festivals has been adapted to the norms of the anti-epidemic regime and social distancing. Thanks to the creativity of volunteers who were trained the day before, a contactless form of work was organized and the simultaneous stay of children on the playgrounds was limited.
On September 4, the Open Football Lessons festival started simultaneously at two venues in the city of Merefa, Kharkiv region. Two schools of young fans with police, team games with psychologists, two squares of fun games, two squares for a healthy lifestyle and six squares of football equipment brought together 96 young champions and 12 young leaders.
Photo by UAF
The next festival "Open Football Lessons" was hosted by Starosaltivska OTG. Thus, on September 8, the national coordinator of the project Yevhen Stolitenko, the head of the Kharkiv regional branch of the Committee on Physical Education and Sports of the Ministry of Education and Science of Ukraine Olena Kryventsova, the secretary of the Starosaltivka village council Lyudmyla Shtrykun, the head of the department of education, youth and sports for the sake of Irina Glazunova.
Photo by UAF
The September Kharkiv festivals ended with a big sports holiday on the Day of Physical Culture and Sports in the city of Zmiiv. For the students of secondary schools of Zmiiv district at the central stadium "Avangard" the project volunteers held sports relay races with elements of football game, and police officers and psychologists told about the rules of conduct and formation of team spirit.
Photo by UAF
All secondary schools that took part in the project received balls and sports equipment for training, and all participants received sweet gifts and certificates.
We remind you that the Open Football Lessons project is implemented in the framework of cooperation between civil society and the public sector for peace, social integration and protection of children in Ukraine with the financial support of the European Union. The main executors of the project are the Association of Cross-Cultural Projects (Denmark), the Ukrainian Football Association, the All-Ukrainian Foundation for the Protection of Children's Rights, StreetFootballWorld (Germany) in partnership with the Ministry of Education and Science of Ukraine and the National Police of Ukraine.