Premier League. Shakhtar failed to win in Lviv, Rukh collected the first point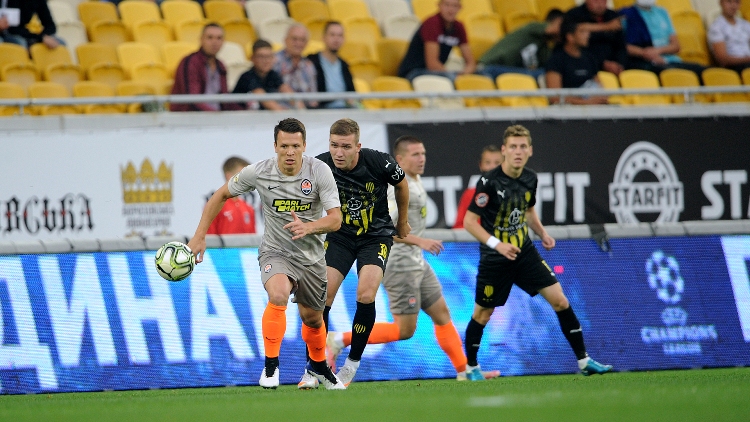 The last match of the 2nd round of the Premier League took place,which was postponed due to an outbreak of coronavirus in the state of Rukh Lviv .
Despite the a difficult Sunday game with Zorya, Luis Kashtru resorted to rotation - there were four shifts in the miners, and Kryvtsov did not even fly to Lviv. In addition, during the first half, the coach of Donetsk had to replace Konoplyanka with Marlos - Eugene was injured.
Rukh has not yet scored points in the Premier League, so it is serious about the match against the reigning champion. This was noticeable from the very beginning of the meeting - the newcomer of the elite was almost as good as the grand. Tyson lost a good opportunity in the 1st minute, later Tete finished the attack, but hit the post. Lviv responded with a goal by Mysyk, later Brickner and Dutz scored dangerous shots. The Orange and Blacks had a great chance to excel shortly before the break.
The beginning of the second 45 minutes was a cold shower for Shakhtar. First, Stepanenko after a shot from the flank cut the ball into his own net, and Trubin did not help. And then Bondar thwarted a dangerous attack of opponents, for which he received a second yellow card and was removed.
In the minority, the Pitmen only managed to snatch a draw - in the 67th minute Marlos took advantage of a great pass from Tyson. Neither team managed to score the second goal: Donetsk did not use their moments, and Kondrakov lost the opportunity to snatch the victory for the hosts in the time compensated by the referee. Therefore, Shakhtar is losing points for the second time this season, and Rukh is gaining its historic first point in the Premier League.
As part of Shakhtar, footballers took part in the match, called for the next collection national team of Ukraine: Matvienko, Konoplyanka (replaced in the 29th minute), Moraes (replaced in the 86th minute), Marlos (replaced in the 29th minute, goal), Stepanenko (replaced in the 46th minute , own goal, yellow card), Kovalenko (substituted in the 79th minute).
Postponed the match of the 2nd round
23.09.2020
Rukh - Shakhtar - 1: 1 (0: 0)
Goalи: Stepanenko (47, own goal) - Marlos (67).
Sent off: Cooper (50, "W").
Standings
| | | | | | | | |
| --- | --- | --- | --- | --- | --- | --- | --- |
|   |   | G | W | D | L | GD | О |
| 1. | Vorskla | 3 | 3 | 0 | 0 | 9—2 | 9 |
| 2. | Dynamo | 3 | 2 | 1 | 0 | 7—2 | 7 |
| 3. | Kolos | 3 | 2 | 0 | 1 | 7—4 | 6 |
| 4. | Olimpik | 3 | 2 | 0 | 1 | 7—5 | 6 |
| 5. | Mariupol | 3 | 2 | 0 | 1 | 4—5 | 6 |
| 6. | Shakhtar | 3 | 1 | 2 | 0 | 6—4 | 5 |
| 7. | Desna | 3 | 1 | 2 | 0 | 4—2 | 5 |
| 8. | Mynai | 2 | 1 | 0 | 1 | 1—3 | 3 |
| 9. | Oleksandriya | 3 | 1 | 0 | 2 | 4—4 | 3 |
| 10. | Inhulets | 3 | 0 | 2 | 1 | 2—4 | 2 |
| 11. | Dnipro-1 | 3 | 0 | 1 | 2 | 3—6 | 1 |
| 12. | Zorya | 3 | 0 | 1 | 2 | 3—6 | 1 |
| 13. | Rukh | 3 | 0 | 1 | 2 | 4—8 | 1 |
| 14. | Lviv | 2 | 0 | 0 | 2 | 1—7 | 0 |
4 round
26.09.2020
Mynai - Dynamo 14.00
Vorskla - Mariupol 17.00
Oleksandriya - Dnipro-1 19.30
27.09.2020
Lviv - Zorya 14.00
Shakhtar - Olimpik 17.00
Desna - Rukh 19.30
Kolos - Inhulets 19.30