World Cup-2022. UEFA has set new dates for qualifying matches in the European zone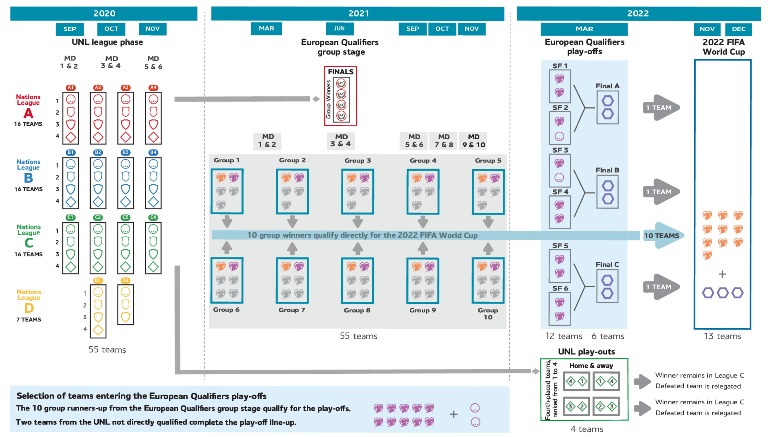 UEFA Executive Committee, which was attended by UAF President Andriy Pavelko, September 24 set new dates for the matches of the qualifying tournament for the 2022 World Cup in the European zone. The decision must now be ratified by FIFA.
It will be recalled that the calendar has changed due to the postponement of the final tournament of Euro 2020 to the summer of 2021, when the matches of the 3rd and 4th rounds of the 2022 World Cup qualifiers were to take place in the UEFA zone. It was decided that they will take place during the expanded windows in March and September 2021.
The 2022 World Cup qualifying in the European zone, where 13 places will be contested, should start in March 2021 and end with the playoffs in March 2022.
World Cup 2022. Qualifying. European zone
Group Round
All 55 teams representing UEFA associations will play in a two-round tournament in 10 groups (five for six teams and five for five). There are 10 windows from March to November 2021.
If approved by FIFA, the calendar of matches of the European national teams will look like this:
1 round. March 24-25, 2021.
2 round. March 27-28, 2021.
3 round. March 30-31, 2021.
4 round. September 1-2, 2021.
5 round. September 4-5, 2021.
6 round. September 7-8, 2021.
7 round. October 8-9, 2021.
8 round. October 11-12, 2021.
9 round. November 11-13, 2021.
10 round. November 14-16, 2021.
Before the draw, the place and time of which will be announced later, participants according to the FIFA rating after the finish of the group tournament of the League of Nations 2020/2021 (on 18.11.2020/10/XNUMX) will be divided into six baskets (five will have XNUMX teams, one - five).
10 group winners will go directly to the World Cup 2022. The other teams will continue to challenge in the next phase.
Playoff round
The 10 second teams of the qualifying groups and the two best teams among the winners of the groups of the League of Nations 2020/2021 (of those who will not get to the top two in the qualification groups of the 2022 World Cup) will play from 21 to 29 March 2022 in the playoffs, which will consist of two stages.
The 12 participants will first determine the six in the butt semifinal matches, and then in the finals - the three strongest. They will receive the remaining three tickets to Qatar. The World Cup will be held from November 21 to December 18, 2022.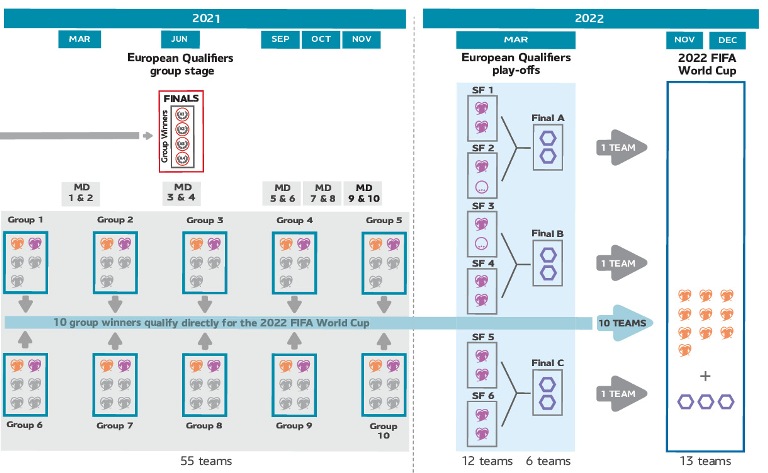 At the 2022 World Cup Europe has 13 representatives, Africa - 5, South America and Asia - 4,5, CONCACAF - 3,5, Oceania - 0,5. Another license went to Qatar as the host of the tournament.