Europa League. Sad premiere: "Desna" lost to "Wolfsburg" in the third qualifying round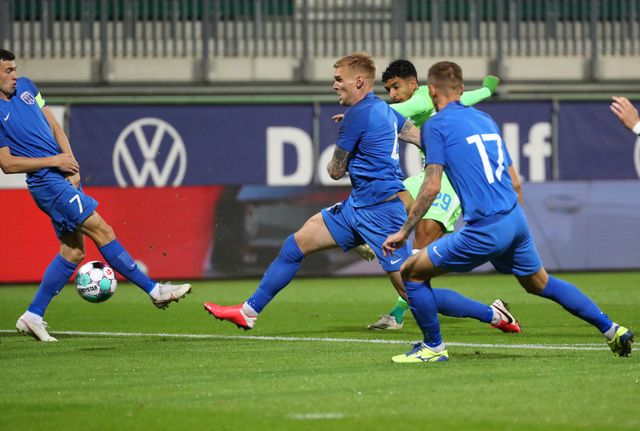 In the match of the third qualifying round of the Europa League, which became the premier in the European Cups for Chernihiv "Desna", she missed two dry balls, and the German "Wolfsburg" passed to the next stage.
The Germans opened the scoring in the 16th minute of the match. Mehmedi passed a corner from the left flank to the near corner of the goal area, and Steffen made a pass to Gilavog, who sent the ball into the net from two meters.
The second half began without sharp moments, but in the 61st minute the Ukrainians were left with one man missing after Tamm received a second yellow card.
However, even in the minority in "Desna" there was a chance to turn the game into overtime, but in one of the episodes in the last minutes Budkivsky headed past the goal. When the minutes added by the referee came to an end, Hinchek put an end to the match - 2: 0.
Europa League. 3nd qualifying round
Wolfsburg (Germany) - Desna (Ukraine) - 2: 0 (1: 0)
Goals: Guilavogui (16), Hinchek (90 + 2).
Wolfsburg: Castells, Steffen, Lacroix (Brooks, 63), Gilavogi, Roussillon, Schlager, Arnold, Marmush (Ottawa, 58), Mehmedi, Victor, Weghorst (Hinchek, 78).
Substitutions: Pervan, Gerhardt, Klaus, Mallich.
Head coach: Oliver Glasner.
Right: Past, Konoplya, Hitchenko, Tamm, Mostovy, Ogirya, Dombrovsky (Yermakov, 65), Kalitvintsev, Totovytsky, Kartushov (Gutsulyak, 46), Budkivsky (Shevtsov, 85).
Substitutions: Lithuanian, Polegenko, Starenky, Hlobas.
Head coach: Alexander Ryabokon.
Referee: L. Wiezer (Belgium).
Booked: Marmush (50) - Tamm (57), Hemp (66), Ogirya (70), Totovitsky (88).
Sent off: Tamm (61, second yellow card).
September 24. Wolfsburg. Gelamko Arena Stadium.