Europa League. Kolos complete their way into the tournament, losing to Rijeka in overtime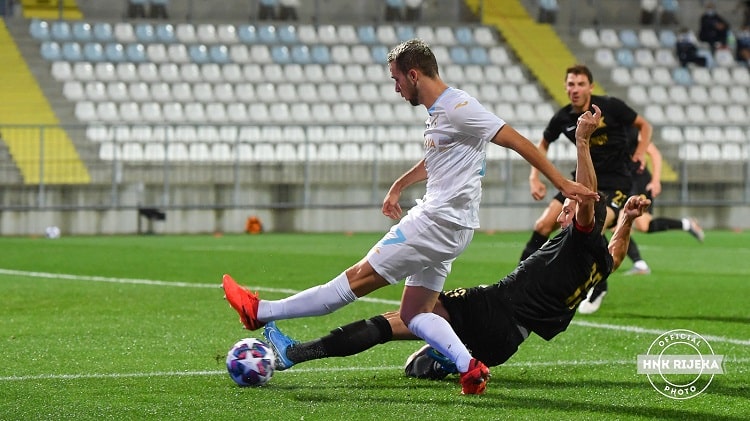 In the third qualifying round of the Europa League, Kovaliv's Kolos lost to Rijeka's Rijeka in extra time.
In their debut match in the European Cups «Колос» у гостях здолав грецький «Аріс». У третьому раунді кваліфікації Ліги Європи ковалівцям згідно із жеребом знову випало грати на виїзді, цього разу — проти хорватської «Рієки». Порівняно з попереднім поєдинком турніру Руслан Костишин зробив лише одну заміну, випустивши справа в обороні Кравченка.
«Рієка» на правах господаря розпочала матч із контролю м'яча, активніше діяла в атаці. У балканців били по воротах Павічич та Мурич, також небезпечно пробивав Гнезда-Черин, але Волинець зреагував. Ближче до завершення першого тайму «Колос» почав активніше діяти попереду, варто відзначити удар Новака вище воріт після стандарту.
У другому таймі «Рієка» продовжувала контролювати хід гри. Гравці хорватської команди завдали кількох небезпечних ударів, зокрема, можна згадати постріл Андріяшевича над поперечиною після відскоку, також свої шанси мали Лончар та Куленович. «Колос» часом непогано відповідав, на 90-й хвилині свій шанс втратив Селезньов, однак гостям не вдалося засмутити хорватів. У підсумку основний час пройшов без голів.
В овертаймі головним суперником футболістів став газон, зіпсований зливою. Проте навіть за несприятливих умов господарі зуміли забити — після подачі кутового м'яч відскочив від Новака, а Жоау Есковал влучно пробив під поперечину. «Колосу» не вдалося відігратися, а на 115-й хвилині після помилки Волинця Андріяшевич заштовхнув м'яч у порожні ворота, подвоївши перевагу хорватів. На цьому дебютний єврокубковий похід для ковалівців завершився.
Europa League. 3nd qualifying round
Rijeka (Croatia) — «Колос» (Україна) — 2:0 (0: 0, 0: 0)
Goals: Joao Escoval (102), Andriyashevich (115).
«Рієка»: Nevistic, Tsapan, Velkoski (Joao Escoval, 91), Smolcic, Tomechak (Raspopovich, 90 + 1), Gnezda-Cherin (Lepinica, 99), Pavicic (Kulenovic, 71), Steful, Muric, Andriyashevich (k), Lonchar.
Substitutions: Nvolokor, Galovich, Turchin.
Head coach: Simon Rozhman.
"Ear": Volynets, Kravchenko, Gavrish (k), Petrov, Novak, Yemets, Smyrny (D. Kostyshyn, 84), Bogdanov, Zadoya (Orikhovsky, 108), Antyukh (Morozko, 90 + 5), Lysenko (Seleznyov, 71).
Substitutions: Kucherenko, Chornomorets, Ilyin.
Head coach: Ruslan Kostyshyn.
Referee: Thiago Martins (Portugal).
Booked: Распопович (105), Куленович (105+2), Смолчич (107), Лепініца (120+2) — Кравченко (3), Задоя (37), Богданов (105+3).
September 24. Rijeka. Стадіон «Руєвіца».