First League. "Metalist 1925" did not take the opportunity to escape from persecutors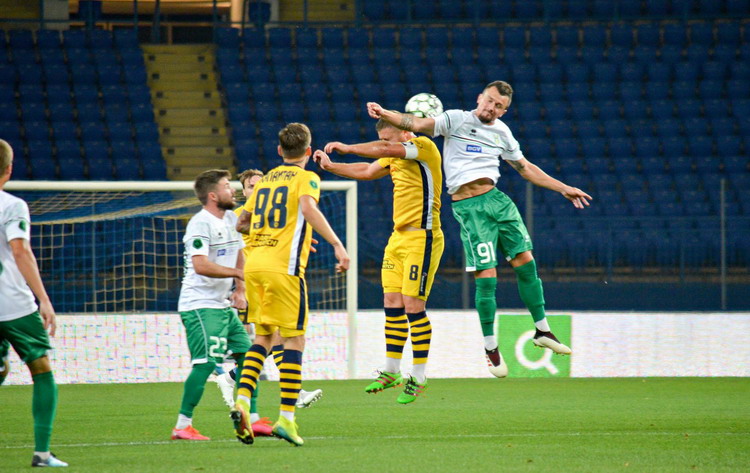 The fifth round started yesterday with a match between Metalist 1925 and Polissya, which ended with a rather unexpected loss of points by Slobozhans.
And let's be honest: the hosts did not play for victory. Polissya first of all took care of the reliability of defensive redoubts, acted compactly, limiting the owners in space. After the break, Kharkiv added some momentum, but the guests skillfully slowed down, not forgetting to go on the offensive at the first opportunity. That is why no one's result should be considered fair.
"I wanted to win at home, but I wasn't destined," Metalist 1925 head coach Valery Kryventsov said in a comment to the UAF's official website. - It is necessary to pay tribute to the Poles, over whom the result did not weigh, they acted loosely, unlike my wards. This is already in the field of psychology. You can't deny the diligence of Metalist 1925 players, but there are questions about the content of the game. "
And yet, the central match of the tour took place today in Lutsk, where teams met that do not hide their desire to rise in the class. Central striker Ihor Sikorskyi, who defended the colors of Agribusiness last season, was active in Volyn. In the 19th minute, the guests broke the rules in the fight against him, and he converted a penalty. And when soon after the game with his hand in the penalty area Podolyan were once again punished with an 11-meter, then Sikorsky approached the ball again and did not miss the second time.
Last week, Volyn also won the postponed match of the third round with Niva - 2: 0, but in the end it all ended with the signing of a peace agreement. Today, Vasyl Sachko's wards were already maximally concentrated and although, playing in the majority, they missed once, they still recorded their first victory.
Once again, the Veres players, who won a strong-willed victory over Kremen, were amused by their fighting spirit, and in Ivano-Frankivsk, Chornomorets was ahead of the leader, Metalist 1925, in case of victory. However, Prykarpattia had nowhere to retreat. Already in his debut Nazariy Vorobchak opened an account. This did not derail the residents of Odessa, and in the 31st minute Valery Likhovydko leveled the situation with an insidious shot under the crossbar. Almost the entire second half, the sailors played in the majority, but the Carpathians stood by the wall at their gates. 1: 1. Odessans caught up with Kharkiv and topped the standings, but only thanks to the best additional indicators.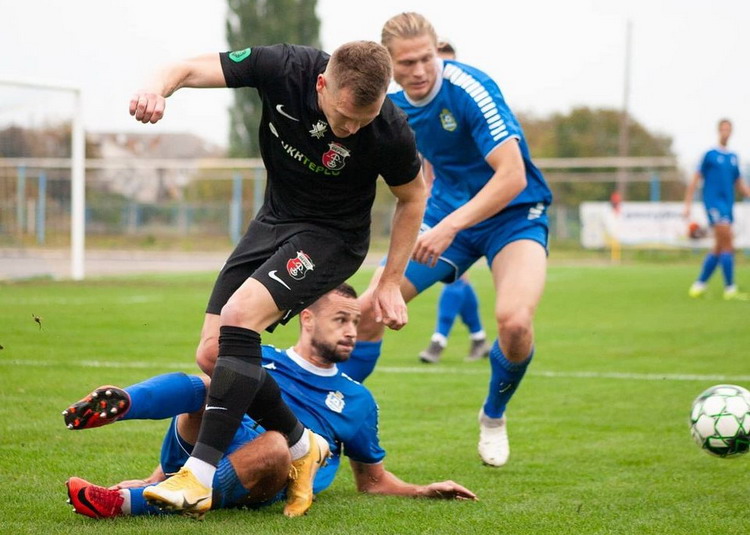 Veres footballers won a strong-willed victory over Kremen and established themselves in the leading group. Photo by FC Veres
First League. 5 round
05.10. 2020
Metalist 1925 - Polissya - 0: 0
Obolon - VPK-Agro - did not take place
06.10.2020
"Alliance" - "Crystal" - did not take place
"Miner-Sport" - "Field" - 4: 1
"Vanguard" - "Nikolaev" - 0: 1
"Heather" - "Flint" - 2: 1
"Volyn" - "Agribusiness" - 2: 1
"Prykarpattya" - "Chornomorets" - 1: 1
Postponed match of the 3rd round
01.10.2020
"Volyn" - "Niva" - 2: 2
Standings
| | | | | | | | |
| --- | --- | --- | --- | --- | --- | --- | --- |
| | | G | W | D | L | GD | О |
| 1. | Chornomorets | 5 | 3 | 2 | 0 | 8-5 | 11 |
| 2. | Metalist 1925 | 5 | 3 | 2 | 0 | 6-3 | 11 |
| 3. | Hirnyk Sport | 4 | 3 | 1 | 0 | 10-2 | 10 |
| 4. | Veres | 4 | 2 | 1 | 1 | 5-2 | 7 |
| 5. | Alliance | 4 | 2 | 1 | 1 | 6-5 | 7 |
| 6. | Kremin | 5 | 2 | 1 | 2 | 5-6 | 7 |
| 7. | Ahrobiznes | 4 | 2 | 0 | 2 | 7-6 | 6 |
| 8. | Polissya | 4 | 1 | 3 | 0 | 2-1 | 6 |
| 9. | Mykolayiv | 4 | 2 | 0 | 2 | 4-4 | 6 |
| 10. | Volyn | 4 | 1 | 2 | 1 | 7-7 | 5 |
| 11. | Nyva | 5 | 0 | 4 | 1 | 6-9 | 4 |
| 12. | VPK-Ahro | 4 | 1 | 1 | 2 | 6-9 | 4 |
| 13. | Obolon | 3 | 1 | 0 | 2 | 6-5 | 3 |
| 14. | Avanhard | 5 | 0 | 2 | 3 | 4-7 | 2 |
| 15. | Prykarpattya | 4 | 0 | 2 | 2 | 3-9 | 2 |
| 16. | Krystal | 4 | 0 | 0 | 4 | 4-9 | 0 |