Tickets for the U-21 Ukraine-Romania youth match are on sale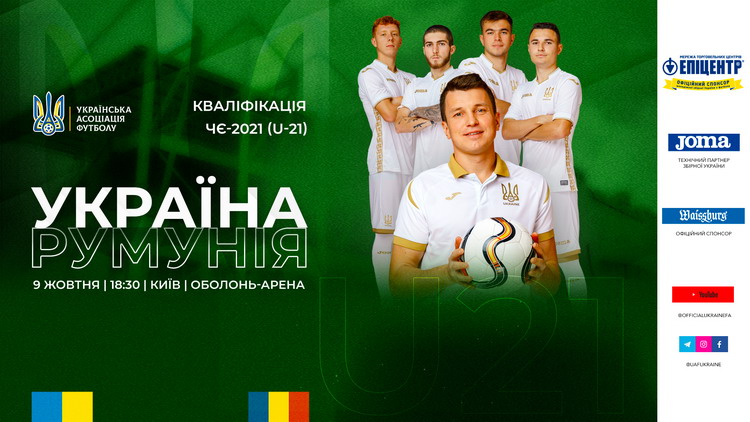 On October 9, the qualifying match of the European Championship-2021 U-21 between the national teams of Ukraine and Romania will take place at the Obolon Arena in Kyiv (starting at 18.30 pm). According to the decision of UEFA, this match will also be held in the presence of fans, in the amount of up to 30% of the arena capacity.
You can buy tickets for the match Ukraine - Romania (U-21) only on the website ticketsbox.com.
Tickets - electronic. The cost is UAH 30.
Terms of sale are as follows:
- one person can buy no more than four tickets;
- to purchase tickets you must agree to read the rules of purchase and use of tickets and enter: name, series and passport number, mobile phone number, email address, date of birth and place of residence of all persons for whom tickets are purchased;
- after the payment procedure, the customer's e-mail address will receive all registered e-tickets for each person separately;
- the fan buys a ticket for a certain sector, row, place;
- purchased tickets are not subject to exchange and return;
- tickets are exclusively electronic, paper will not be printed.
Tickets for the match are registered. Therefore, to enter the stadium you must have an official document with an identity card.
We remind you that the organization of matches and visits to the stadium is carried out in strict compliance with medical protocols! Therefore, we draw your attention to the need to:
- adhere to a social distance of at least 1,5 m;
- being on the perimeter of the stadium, always wear a mask, covering your nose and mouth;
- wash and disinfect your hands whenever possible;
- check the body temperature when entering the stadium (if the temperature is higher than 37.2, entry to the stadium will be prohibited);
- do not take a seat other than what is indicated in the ticket;
- avoid handshakes;
- avoid face-to-face contact with other spectators when moving to and from the place;
- cough and sneeze into a napkin or elbow joint;
- eat and drink, being exclusively in his place;
- follow all instructions of stewards and officers regarding sanitary and hygienic measures;
- follow the order of the queue at the stadium.
We hope everyone understands and we will be happy to support the blue and yellows in the match Ukraine - Romania (U-21)!