Andrii Shevchenko: We had to be patient and wait. And we used our chance!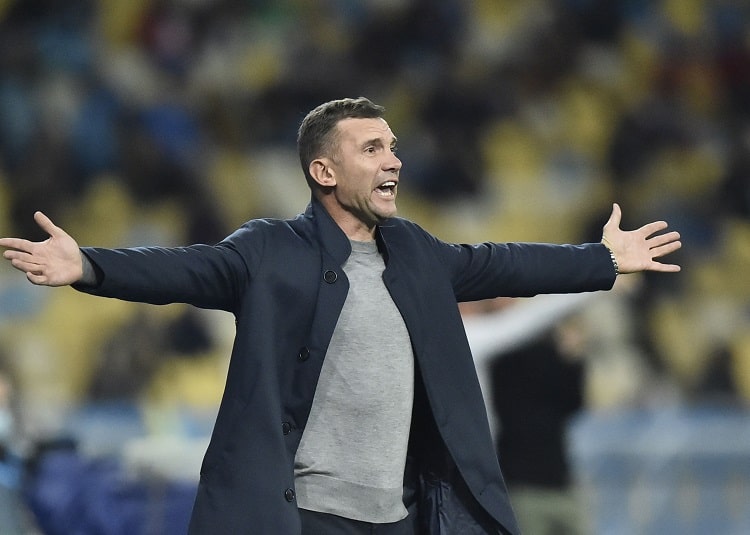 The head coach of the national team of Ukraine Andrii Shevchenko commented on the victory of his wards over Spain.
In the next match in the Nations League blue-and-yellows defeated Spain with a score of 1: 0. At the post-match press conference, the coach of the national team of Ukraine Andrii Shevchenko praised the performance of his wards:
- Thank you very much for your support. Thanks to the fans who came to support us at the stadium. I would like to thank my team for their dedication and desire to carry out the installation we gave. It was very difficult for the players today, because the amount of work we asked them to do was catastrophic. Without exaggeration, I can say that I am very happy. I'm glad for the attitude of the guys, because to play against such a team in the current circumstances, and in the end to achieve a result - it means a lot to us.
Spain is a great team with good performers and a coach. Playing against such an opponent is a pleasure.
— Is this your most important coaching victory?
- I am an optimist, so I hope that the most important victories are still ahead. In the situation in which we found ourselves, we could not play otherwise. I thank the guys for doing everything I told them.
— Can we say that a miracle happened today?
- I believe that this is not a miracle, but a job done. The players who went to the football field fulfilled the plan. For us, this is a well-deserved result for the return, for the desire to fight. We didn't just fight - we fought for every piece of the football field. In order to achieve the result, you need to go to every game with such a desire. The guys know about it.
— After the break, the national team of Ukraine began to play differently. What adjustments have you made?
- We practically did not make changes. Our plan for the game was to withstand the first half. We understood that a quality team like Spain would move very well with a reserve of strength. We knew that somewhere the Spaniards would be running out of patience, and we would have a chance. We used these chances.
— Why did you decide to replace Zubkov with Tsyhankov? Wasit the coaching instinct?
- We had planned replacements. We knew roughly which players to play. I watched the game, watched who lacked energy. In the middle of the field we asked the wards to play one on one, because we had to create pressure. If we didn't do that, it would be very difficult. Our extreme strikers and midfielders moved a lot, did a lot of rough work. That's why we introduced new artists.
— Did Sydorchuk's replacement help Shaparenko take the initiative more?
- Our team forced the Spaniards to hurry, to open certain opportunities for us. The game consisted of a moment when we had to be patient and wait. We used the chance we had. Football is an interesting game from all sides. This is not only a tactic, but also emotions, big emotions. The emotional uplift and desires of our footballers played a big role. I will repeat once again that the amount of work we did was incredible.
— Today, 10 Dynamo players or those who passed the club's structure were involved. Does this mean that they are more suitable for such a game?
- For me, all players are the same. Everyone, of course, has their own characteristics. Dynamo players would be great for other tactics. I do not single out Dynamo or Shakhtar players. We have one team, one family. We work as one.
— At the end of the match Sergio Ramos went ahead. Didn't you think of releasing someone against him for personal custody?
- My assistants constantly talked to me on this topic. But I felt after the game that we didn't need a replacement, the guys did great. Even if, say, Sable had problems on the left flank. It is impossible to play against each other against such a physically strong opponent. But I think he did it because he did what we asked.
— What did you say to Heorhii Bushchan after the match?
- I applauded him in the locker room in front of all the guys. Congratulations on the fact that he finally played "zero" for the national team (with a smile). He played unsurpassed! Everyone has difficult situations. We know the characteristics of George, he is a great goalkeeper. In this position we will have competition.
— Can Bushchan now claim the number one place in the national team of Ukraine?
- I planned to give everyone a chance in these fights, regardless of the situation. Bushchan would still play. Maybe not three matches, but one - for sure. I have already said that we have competition. Whoever shows himself better will play. This is the law in our team.
— Andriy Yarmolenko played with Spain as a real captain. Are there plans to give him a bandage on a regular basis?
- We have Andriy Pyatov. As long as he plays for the national team, he will be the captain. Next - Yarmolenko.
— How do you feel about such emotional swings: after defeats you were pressured, and today you are raised to heaven?
- I'm not the first day in football. Even as a player, I felt increased pressure and responsibility. I can control it. I understand that this is our football life. There are victories and defeats. I treat everything very carefully. I analyze, plan, constantly looking for a logical explanation for every defeat and victory. It helps me maintain a certain balance in life.
— On the road with Spain, you tried to play "Spanish" football, but at home our team showed "Ukrainian". Why did you decide to play like that?
- I am growing as a coach as well. I had a great coaching experience today. I had to adapt to the situation, completely change the structure of the game, demand something completely different from the players. I think we did very well. In general, it is ideal when we can do a mix. Today, we cannot compete with Germany and Spain in the football they play. We must find completely different actions, tactical schemes, ideas to confront them at this level.
— Last year, on the holiday of October 14, we beat Portugal 2: 1. Can this be called a pleasant tradition?
- It's nice. The most important thing is that the boys had a desire to play well, to prove something. Today we lacked eight or nine performers from the lineup that played with Portugal a year ago. For me, this is great news, because we have competition in the national team, young players who have the spirit, desire and skill. We need to work and raise our level.
— How do you see the tournament situation in the group?
- We have different tasks with our rivals. Spain and Germany will fight to leave the group, our task is to stay in it.
— Will your priorities in the Nations League change now? Maybe you want to try something bigger?
- Our tasks will not change. At the moment, we are not ready to compete at this level. We can play four or five matches against the same Spain, and it will be very difficult for us to achieve such a result again. I respect Ukrainian football, but I am a realist. In order to compete at this level, we need a strong championship that could give this competition. We must be able to overcome the extreme situations that arise. This is the same situation with injuries, with the coronavirus… But I can say that each of our players has a big heart and a great desire to play for the national team of Ukraine. This is what they demonstrated today.