Premier League. Vorskla defeated Olimpik on the road and overtook Dynamo in the table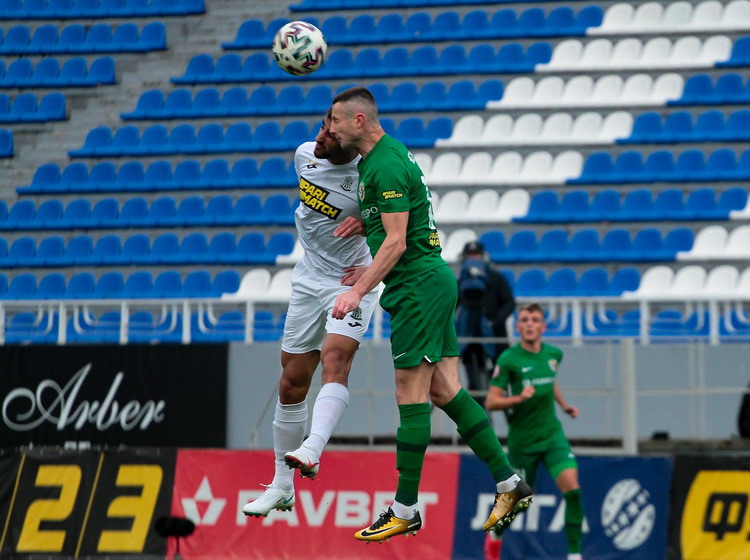 The personnel losses suffered by Vorskla and Oleksandriya due to the coronavirus outbreak did not prevent these teams from winning.
Vorskla arrived in Kyiv to play against Olimpik without head coach Yuri Maksimov and six key players who are in isolation due to positive tests at COVID-19. But the team led by Serhiy Dolgansky managed to win for the fourth time this season and catch up with Dynamo by points. Poltava scored the only goal in the 70th minute. Scherbak, who had just come on as a substitute, threw the ball under Kulach's shot, and he beat the goalkeeper with a close-range shot. In the last minutes, Yakubu was interrupted by Shahab's exit at the cost of a red card.
Vorskla goalkeeper Riznyk, who took part in the October meeting of the national team of Ukraine, played a full match.
The first Kirovohrad derby in the UPL between Oleksandriya and Ingulets turned out to be productive. The coach of the hosts Volodymyr Sharan had to involve youth players in the game due to the infection of a large group of performers. However, before the break, Alexandria upset the guests four times, to which they responded with one goal.
But in the second half, "Ingulets", gaining the advantage due to the withdrawal before the break Luchkevich, reduced the gap to a minimum. It is possible that the guests were able to do more, but they themselves remained incomplete due to Pavlov's red card.
In the sixth round, Dnipro-1 won for the first time in the championship. The third match in the UPL at the head of his new team was happy for Dnipro coach Ihor Yovichevych. Nazarenko, having beaten Kohut, scored in the top corner of Desna's goal in the 1st minute after losing the ball to the opponents and an instant counterattack. And at the beginning of the second half Dovbyk scored a penalty, scoring his first goal after returning to Ukraine from the Danish championship.
Desna defender Konoplya, who was called up for the last training camp of the national team of Ukraine, played a full match.
6 round
17.10.2020
Minai - Mariupol - 0: 1 (0: 0)
Shakhtar vs Lviv - 5: 1 (4: 1)
Rukh - Dynamo - 0: 2 (0: 1)
Zorya - Kolos - 1: 1 (1: 0)
18. 10.2020
"Olympic" - "Vorskla" - 0:1 (0:0)
Goal: Cam (70).
Sent off: Yakubu (90 + 2, "B").
"Alexandria" - "Ingulets" - 4:3 (4:1)
Goals: Hrytsuk (7), Ustymenko (10), Bondarenko (35), Dudka (41) - Kovalenko (41), Bartulovich (67, from the penalty spot), Yanakov (74, from the penalty spot).
Removed: Luckevich (45) - Pavlov (70).
Dnipro-1 - Desna — 2: 0 (1: 0)
Goals: Nazarenko (1), Dovbyk (50, from the penalty spot).
Standings
| | | | | | | | |
| --- | --- | --- | --- | --- | --- | --- | --- |
| | | G | W | D | L | GD | О |
| 1. | Dynamo | 6 | 4 | 2 | 0 | 14-3 | 14 |
| 2. | Vorskla | 6 | 4 | 2 | 0 | 12-4 | 14 |
| 3. | Shakhtar | 6 | 3 | 3 | 0 | 15-7 | 12 |
| 4. | Kolos | 6 | 3 | 2 | 1 | 9-5 | 11 |
| 5. | Mariupol | 6 | 3 | 1 | 2 | 5-6 | 10 |
| 6. | Olimpik | 6 | 3 | 0 | 3 | 10-10 | 9 |
| 7. | Desna | 6 | 2 | 3 | 1 | 9-7 | 9 |
| 8. | Oleksandriya | 6 | 3 | 0 | 3 | 14-11 | 9 |
| 9. | Zorya | 6 | 1 | 3 | 2 | 10-8 | 6 |
| 10. | Dnipro-1 | 6 | 1 | 2 | 3 | 8-12 | 5 |
| 11. | Inhulets | 6 | 0 | 4 | 2 | 6-9 | 4 |
| 12. | Mynai | 5 | 1 | 1 | 3 | 2-9 | 4 |
| 13. | Rukh | 6 | 0 | 2 | 4 | 5-13 | 2 |
| 14. | Lviv | 5 | 0 | 1 | 4 | 2-17 | 1 |
7 round
24.10.2020
"Desna" - "Olympic" 14.00
Vorskla - Shakhtar 17.00
Dynamo - Alexandria 17.00
Lviv - Dnipro-1 19.30
25.10.2020
Ingulets - Mariupol 14.00
"Colossus" - "Pass" 17.00
"Zorya" - "Rukh" 19.30