E-football: PES Autumn Cup won by Serhii Sergobibika Marchenko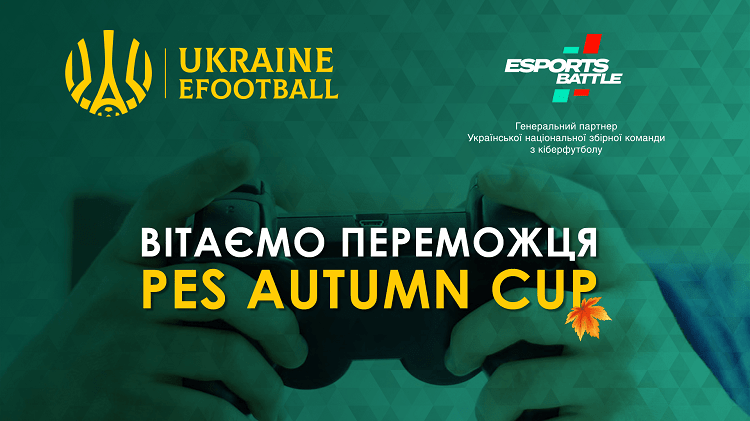 Serhii Sergobibika Marchenko became the winner of the first e-football tournament of the 2020/2021 season, organized by the Ukrainian Electronic Football Association, PES Autumn Cup.
Eight winners of online qualifications took part in the final part of the competition. In this eight were all the representatives of the premier national team of Ukraine in the discipline Pro Evolution Soccer, which in March this year participated in the qualification of the European Cyber ​​Football Championship - eEuro-2020.
On Saturday, the group stage matches took place: Serhiy Sergobibika Marchenko and Konstantin evolution_od Demyanenko advanced from Group A to the next round, who quite unexpectedly knocked out the player of the national team of Ukraine Vitaliy bydbprosche Litvinov from the tournament. But in group "B" there were no surprises - the players of the national team Maxim Makson_AAA Andrasyuk and Igor ighor_8 Lyubchak went further.
The decisive matches, which took place on Sunday, were played according to the Double Elimination system in the format of Best of 3 - a series of up to two victories.
In the first round, Serhiy Marchenko and Ihor Lyubchak, as well as Maksym Andrasyuk and Kostiantyn Demyanenko met.
Following the results of three games the winner of the first pair became Igor Lyubchak. As for the second couple, this series was full of real passions. Two matches ended in overtime, and the third and in general found the strongest only in a series of post-match penalties - the victory was celebrated by Konstantin Demyanenko.
Kostiantyn Demyanenko and Ihor Lyubchak met in the final of the upper grid, and Serhiy Marchenko and Maksym Andrasyuk met in the semifinal of the lower grid. Demyanenko defeated Lyubchak 2-0 in the series, and Marchenko knocked Andrasyuk out of the competition and had to meet his offender in the next round. This time Marchenko did not leave Lyubchak a chance and closed the series in two matches.
In the final of the tournament, Demyanenko, manager of the national team of Ukraine, and Marchenko, who is in the top 10 of the PES world rankings, met. The strongest in the decisive battle was Marchenko, who won the series with a score of 2: 0 and became the winner of the PES Autumn Cup.
UAEF thanks all the players and fans who took part in the first official tournament of the 2020/2021 season. It will be recalled that the current cyber football campaign will include three more PES tournaments. The competition will be divided into periods and will last from the winter of 2020 to the summer of 2021.
In the near future, UAEF is going to select the national team of Ukraine in e-football, which will take part in the eEURO-2021 qualification.
Expect detailed information in the coming days!