Premier League. Zorya defeated Mynai on the road, Ingulets sealed the first victory in the elite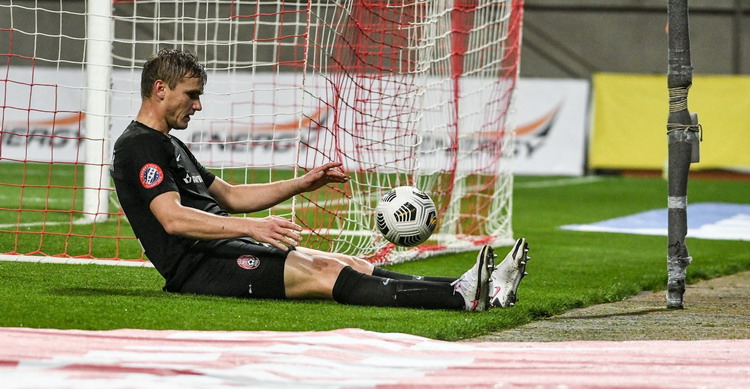 Participants of the Europa League this season played in two of the three matches of the Ukrainian Premier League that took place today.
The two of them met each other. Kolos and Desna, who did not qualify for the European Cup, scored each other on penalties. Both 11-meter throws were assigned to play by hand, in both cases VAR assistance was required. Chernihiv and Kovalivka continue to be in the standings side by side - just behind the top three.
Desna defender Konoplya, who took part in the November training camp of the national team of Ukraine, played a full match (yellow card).
Zorya, which is a member of the main grid of the Europa League, after its debut this season's victory in the international arena (over AEK - 3: 0) with the same score beat "Minai" on the road. The hosts held out until the 53rd minute, after which they showered.
If of the three goals of Zorya, by and large, only one is on the conscience of the rival goalkeeper (Minaya goalkeeper Kanibolotsky made a mistake on the way out, allowing Ivanisen to score), then both goals of Ingulets are the result of obvious mistakes of Betim, who defended the goal. "Olympic". The Balkan legionnaire in the first half, knocking the ball into the field, gave it to Sitchinavi, and after the break failed to serve Bartulovich from the penalty spot, turning it into a goal. At the end of the match, the guests played one ball from the penalty spot. 2: 1 in favor of the hosts - this is the first victory in the history of "Ingulets" in the Premier League.
11 round
27.11.2020
Lviv - Mariupol - 1: 3 (0: 2)
28.11.2020
Oleksandriya - Rukh - 0: 0
Dynamo - Vorskla - 2: 0 (2: 0)
Dnipro-1 - Shakhtar - 0: 1 (0: 0)
29.11.2020
Mynai - Zorya - 0: 3 (0: 0)
Goals: Kochergin (53), Ivanisenya (59), Gladky (61).
Kolos - Desna - 1-1 (1-1)
Goals: Lysenko (12, from the penalty spot) - Budkivsky (27, from the penalty spot).
Sent off: Imerekov (90 + 5, "D").
Ingulets - Olimpik - 2: 1 (1: 0)
Goal: Sitchinava (17), Bartulovich (54) - Shahab (90 + 6, from the penalty spot).
Standings
| | | | | | | | |
| --- | --- | --- | --- | --- | --- | --- | --- |
| | | G | W | D | L | GD | О |
| 1. | Dynamo | 11 | 8 | 2 | 1 | 21-7 | 26 |
| 2. | Shakhtar | 11 | 6 | 5 | 0 | 25-10 | 23 |
| 3. | Vorskla | 11 | 5 | 4 | 2 | 16-8 | 19 |
| 4. | Desna | 11 | 4 | 5 | 2 | 15-11 | 17 |
| 5. | Kolos | 11 | 4 | 4 | 3 | 15-13 | 16 |
| 6. | Mariupol | 11 | 4 | 4 | 3 | 13-15 | 16 |
| 7. | Oleksandriya | 11 | 4 | 3 | 4 | 18-15 | 15 |
| 8. | Zorya | 10 | 3 | 5 | 2 | 18-9 | 14 |
| 9. | Olimpik | 10 | 4 | 1 | 5 | 16-18 | 13 |
| 10. | Inhulets | 11 | 1 | 7 | 3 | 12-16 | 10 |
| 11. | Mynai | 10 | 2 | 3 | 5 | 7-17 | 9 |
| 12. | Dnipro-1 | 11 | 2 | 2 | 7 | 14-21 | 8 |
| 13. | Lviv | 10 | 2 | 1 | 7 | 6-24 | 7 |
| 14. | Rukh | 11 | 0 | 6 | 5 | 7-19 | 6 |
12 round
05.12.2020
Lviv - Ingulets 14.00
Shakhtar - Mynai 17.00
Mariupol - Dynamo 19.30
06.12.2020
Olimpik - Rukh 14.00
Zorya - Dnipro-1 17.00
Desna - Vorskla 17.00
Kolos - Oleksandriya 19.30