2020: results of the year for Ukraine U-17/18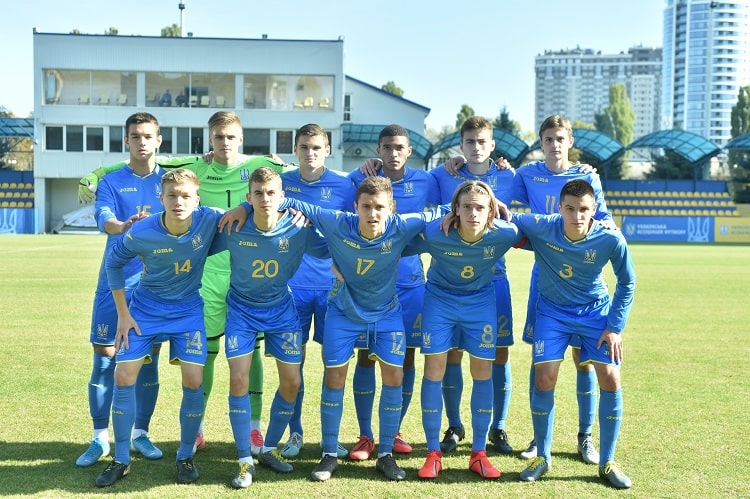 For the team of Alexander Petrakov, composed of young men born in 2003, in 2020 there was a very busy program. In February, an away training camp was to take place in Marbella, Spain, with sparring matches against England and Belgium. The second half of March was planned to be spent preparing for the elite round of the Euro 2020 qualifiers (U-17) and the actual matches of the elite round - with the national teams of Turkey (25th), Belarus (28th) and Greece (31st).
Everyone was counting on a positive result in the selection, so they planned to prepare for the final part of Euro 2020 (U-17) - in Estonia from May 21 to June 6. The Ukrainian national team was to meet on May 8.
And already in the autumn two away friendly matches were planned in September, two - in October with Romania. And in November, Petrakov's wards were to begin experimental qualifying tournament for Euro-2022 (U-19) in League A - against peers from Germany, Belgium and Sweden.
But everything was crossed by coronavirus quarantine - as in the teams led by Sergei Nagornyak and Oleg Kuznetsov, as in others. Petrakov's team still managed to play in Spain, and then its plans were rewritten, changed, until the 2020 program was canceled altogether.
Euro 2020 Final Tournament (U-17) UEFA abolished altogether, а selection for Euro-2022 (U-19) will take place in the old format, not in the experimental one.
Matches of the youth national team of Ukraine U-17/18 2020
| | | | | |
| --- | --- | --- | --- | --- |
| date | Status | Opponent | Score | Authors of the heads of Ukraine |
| 06.02.2020 | sociable | England | 0:0 | |
| 08.02.2020 | sociable | Belgium | 1:0 | Day. Sixth |
| 10.02.2020 | sociable | England | 0:4 | |
In 2020, we did not have time to see Dynamo players in this national team of Ukraine, although there are enough representatives of the main group among them. In general, the composition of the team is almost formed, but, of course, in adolescence, the differences can be very serious. And the selection never stops.
Oleh Ocheretko, a midfielder who played on loan for Mariupol in the first part of the 2020/2021 season and made a very good impression, was promoted to the expanded list of candidates for the youth national team of Ukraine. He even managed to score a goal, distinguished himself with sharp passes, among which is effective, and in total he played seven matches (451 minutes) in the championship and the Cup of Ukraine. However, Ocheretko has not yet made his debut in the youth team - unlike the younger Yegor Yarmolyuk (born in 2004, Dnipro-1). But in 2021, his debut is to be expected.
In addition to Ocheretko, two more played for the main teams of their UPL clubs in the 2020/2021 season - Oleg Alfiorov and Maksym Mudry (both - Lviv). Both came on as substitutes in the Ukrainian Cup match - for six and five minutes respectively.
The protocol of the match also included Pavlo Isenko (Vorskla), who made a fuss at the end of the 2019/2020 season - especially during semifinal penalty shootout in the Cup of Ukraine, Mark Mampassi and Denis Shostak (both Shakhtar).
In the 2019/2020 season, Isenko played three matches (181 minutes) for Vorskla. Jan Kostenko went out with him once for three minutes. And Maxim Khlan ("Carpathians") went out on the field for 16 minutes.
Personnel potential youth national team of Ukraine U-17/18 2020
| | | | | | |
| --- | --- | --- | --- | --- | --- |
| Goalkeepers | D.B. | Clubs | Games | Minutes | Goals |
| Pavlo ISENKO | 21.07.2003 | Vorskla | 3 | 224 | 4c |
| Tymur PUZANKOV | 04.03.2003 | Shakhtar | 2 | 46 | 0c |
| Defenders | D.B. | Clubs | Games | Minutes | Goals |
| Edward KOZIK | 19.04.2003 | Shakhtar | 3 | 270 | 0 |
| Andrii BULEZA | 25.01.2004 | Shakhtar | 3 | 255 | 0 |
| Vitalii ROMAN | 15.04.2003 | Karpaty | 3 | 201 | 0 |
| Dmytro KAPINUS | 28.04.2003 | Shakhtar | 3 | 139 | 0 |
| Mark MAMPASSY | 12.03.2003 | Shakhtar | 2 | 180 | 0 |
| Gleb SAVCHUK | 17.02.2003 | UFC-Karpaty | 2 | 159 | 0 |
| Midfielders | D.B. | Clubs | Games | Minutes | Goals |
| Bohdan SHUBIN | 28.02.2003 | Schalke (Germany) | 3 | 235 | 0 |
| Serhiy LEBEDYEV | 30.08.2003 | Dnipro-1 | 3 | 145 | 0 |
| Maksym KHLAN | 27.01.2003 | Karpaty | 3 | 145 | 0 |
| Oleh OCHERETKO | 25.05.2003 | Shakhtar | 3 | 134 | 0 |
| Mykyta KONONOV | 22.01.2003 | Dnipro-1 | 3 | 131 | 0 |
| Artur MYKYTYSHYN | 14.07.2003 | Shakhtar | 3 | 125 | 0 |
| Mykhailo KHROMEI | 19.11.2003 | Shakhtar | 3 | 71 | 0 |
| Vasyl TANCHAK | 13.01.2003 | Lviv | 2 | 15 | 0 |
| Forwards | D.B. | Clubs | Games | Minutes | Goals |
| Dmytro SHOSTAK | 03.11.2003 | Karpaty | 3 | 267 | 0 |
| Denys SHOSTAK | 24.01.2003 | Shakhtar | 3 | 199 | 1 |
| Nazarii DOVHAN | 22.09.2003 | Atletico Madrid (Spain) | 3 | 29 | 0 |
| Coach | D.B. | | Games | | |
| Oleksandr PETRAKOV | 06.08.1957 | | 3 | | |