Premier League. Shakhtar defeated Rukh and reduced the gap with Dynamo, which parted ways with Desna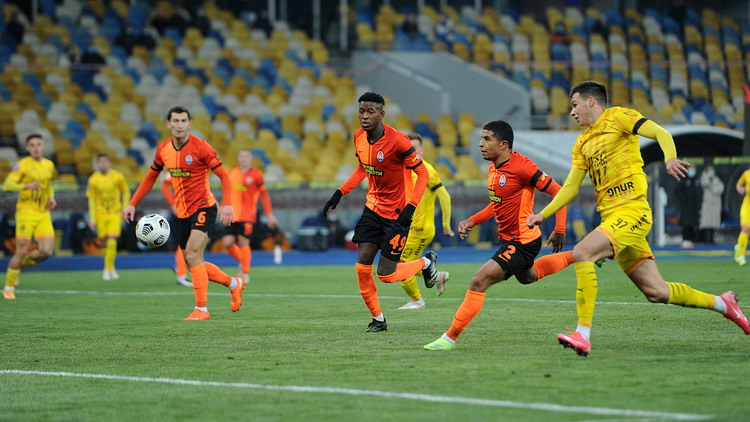 Three matches of the 15th round of the Premier League took place on Sunday, two of which were attended by teams that continue to play in the playoffs of the Europa League.
Shakhtar between two matches with Maccabi TA won over the "Movement". It is worth noting the return of miners Viktor Kornienko, who played his first match after an injury in the fall. In general, the orange and blacks kept the game under control, however, Lviv still periodically created scoring opportunities. But Donetsk residents used their opportunities better. Aunt scored from the game, and Maicon - from the penalty spot.
The Ukrainian national team players who were called up for the last training camp took part in the match as part of Shakhtar: Matvienko, Kornienko, Stepanenko (substituted in the 46th minute), Marlos (goal pass), Moraes (substituted in the 76th minute).
Dynamo, which failed last Thursday to win in Kyiv "Brugge", today drew with "Desna". The meeting, in which the nominal host was the Chernihiv team, by agreement between the clubs was held in the capital at the stadium. Valery Lobanovsky.
The account was opened by Budkivsky, who accurately scored with a header from the transfer of the former Dynamo player Kalitvintsev. Kyiv residents spent the last minutes in the majority after Bezborodko's removal and managed to win back. Hitchenko played with his hand in his own penalty area, and referee Pashal appointed an 11-meter penalty after watching the video replay. Tsygankov scored from the mark.
As part of Dynamo, players who were on the list called up for the November national team: Bushchan, Mykolenko (yellow card), Zabarny, Karavaev, Sidorchuk, Tsygankov (goal, yellow card), Shaparenko (came on as a substitute for 65) minute), Supryaga (came on as a substitute in the 86th minute).
After Shakhtar's victory and Dynamo's draw, the distance between the two leaders was reduced to one point.
In another match, Vorskla, as a guest team at its stadium in Poltava, escaped defeat from Ingulets thanks to an 11-meter penalty in the 76th minute. Poltava do not win in the last five rounds, however, still retain the fifth row in the table.
Vorskla goalkeeper Riznyk, who was called up to the national team of Ukraine in November, played a full match.
Tomorrow in the last match of the tour "Olympic" and "Dnipro-1" will meet.
15 round
20.02.2021
Mariupol - Zorya - 0: 1 (0: 1)
"Alexandria" - "Pass" - 3: 0 (1: 0)
Lviv - Kolos - 0: 2 (0: 1)
21.02.2021
Ingulets - Vorskla - 2: 2 (1: 0)
Goals: Bartulovich (22, from the penalty spot), Sitchinava (62) - Stepaniuk (49), Kulach (76, from the penalty spot).
Shakhtar - Rukh - 2: 0 (1: 0)
Goals: Aunt (9), Maicon (60, from the penalty spot).
Sent off: Bandura ("R", 90 + 6).
"Desna" - "Dynamo" - 1: 1 (0: 0)
Goals: Budkivsky (53) - Tsygankov (90 + 2, from the penalty spot).
Sent off: Bezborodko (Des, 87).
Standings
| | | | | | | | |
| --- | --- | --- | --- | --- | --- | --- | --- |
| | | G | W | D | L | GD | О |
| 1. | Dynamo | 15 | 10 | 4 | 1 | 29-12 | 34 |
| 2. | Shakhtar | 15 | 9 | 6 | 0 | 35-11 | 33 |
| 3. | Zorya | 14 | 7 | 5 | 2 | 26-11 | 26 |
| 4. | Desna | 15 | 6 | 6 | 3 | 20-14 | 24 |
| 5. | Vorskla | 15 | 5 | 7 | 3 | 20-13 | 22 |
| 6. | Oleksandriya | 15 | 6 | 4 | 5 | 23-18 | 22 |
| 7. | Kolos | 15 | 5 | 7 | 3 | 20-16 | 22 |
| 8. | Olimpik | 13 | 5 | 2 | 6 | 21-23 | 17 |
| 9. | Mariupol | 15 | 4 | 4 | 7 | 14-21 | 16 |
| 10. | Inhulets | 15 | 1 | 9 | 5 | 15-24 | 12 |
| 11. | Lviv | 14 | 3 | 3 | 8 | 10-29 | 12 |
| 12. | Dnipro-1 | 14 | 3 | 2 | 9 | 18-28 | 11 |
| 13. | Rukh | 15 | 1 | 7 | 7 | 13-26 | 10 |
| 14. | Mynai | 14 | 2 | 4 | 8 | 10-28 | 10 |
22.02.2021
"Olympic" - "Dnipro-1" (19.00)