Ukrainian Kateryna Monzul will be one of the first two female referees to hold matches of the Men's World Cup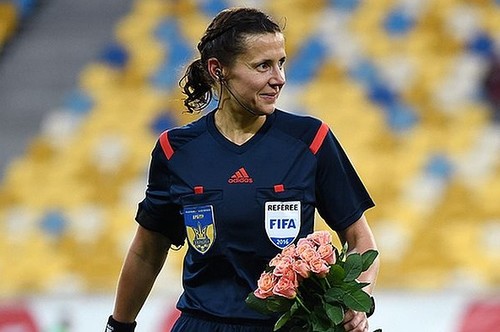 Ukrainian Kateryna Monzul will be one of the first female referees to work at the men's world championship matches.
The official site of FIFA in his publication attracted attention to the fact that for the first time in the history of the World Cup matches for men will be judged by female referees.
They will be Ukrainian Kateryna Monzul and Frenchwoman Stephanie Frappar. Interestingly, they will work on the matches of rivals of the national team of Ukraine in the group round of Euro 2020. So, on March 27 Frappar will hold a match of the World Cup-2022 Netherlands - Latvia in Amsterdam, and on the 28th Monzul will judge the match Austria - Faroe Islands in Vienna.
"Although they have already played in several important matches in men's competitions, it is a special event to qualify for the World Cup for the first time, and there is something to be proud of. Frappar and Monzul have worked very hard in recent years, and these appointments are a recognition of their excellent work, "said Pierluigi Collina, Chairman of the FIFA Referees Committee.
Over the last two years, Stephanie Frappar has played a number of important matches. For example, in 2019 she judged the final of the Women's World Cup between the national teams of the United States and the Netherlands. Frappar has gained valuable experience in European Cup matches and in the French Ligue 1.
Kateryna Monzul, who worked in the final of the Women's World Cup in 2015, plays many matches in the Premier League of Ukraine and is often invited to European Cup tournaments and national team competitions, according to the FIFA website.
We will add that in the Austria-Faroe Islands match Kateryna Monzul will be assisted on the lines by compatriots Oleksandr Zhukov and Viktor Matyash. The fourth judge is Denis Shurman. Referee observer - Darko Cheferin (Slovenia). FIFA delegate - František Laurinets (Slovakia).