First League. The victory of "Metalist 1925" over "Agribusiness" intensified the struggle for tickets to the elite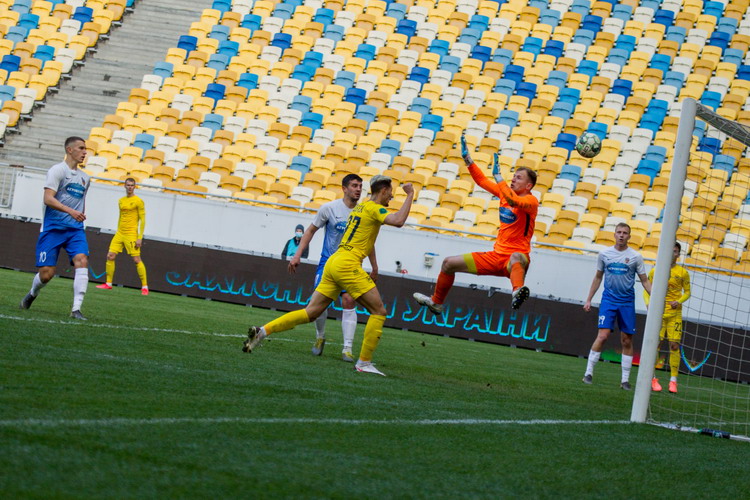 Central match of the 18th round "Agribusiness" - "MEtalist 1925 » took place on a neutral field - at the Arena Lviv. Due to unfavorable weather conditions, the lawn of the stadium in Volochysk does not yet meet the requirements.
A quick goal by Podolia (Ruslan Chernenko scored a penalty in the 18th minute and led the scoring race with nine goals) did not derail Kharkiv. Even before the break, they not only leveled the score, but also took the lead after strikes by Yuri Batyushin from the 11-meter mark and Brazilian legionnaire Derek.
In the second half, Slobozhany continued to control the course of events on the field, and therefore we can agree with their leader Valery Kriventsov, who after the final whistle called the victory of his wards deserved. This strong-willed victory allowed Kharkiv to gain a foothold in the leading group.
Among today's confrontations, we can single out Odesa, where Chornomorets hosted Obolon, as both teams do not hide their desire to rise in the class. Besides, today Chornomorets turned 85 years old, and the sailors wanted to celebrate this date with a victory. But the brewers had a different opinion, who took the lead in the 7th minute after Oleksiy Maidanevych's shot. In the 77th minute, for the second warning, Kyiv resident Serhiy Sukhanov was removed from the field, and soon Beka Vachiberadze, a newcomer from Odessa, realized a numerical advantage, forcing the visitors' goalkeeper to capitulate with an accurate free kick. In the future, despite all the efforts of rivals, the score did not change - 1: 1. Chornomorets continues to lead, but pursuers have reduced the gap.
18 round
25.03.2021
"Agribusiness" - "Metalist 1925" - 1: 2
26.03.2021
"Nikolaev" - "Alliance" - 2: 0
"Polissya" - "Crystal" - 1: 1
"Flint" - "Miner-Sport" - 1: 1
"Prykarpattya" - "Veres" - 0: 1
"Niva" - "Volyn" - 0: 2
"VPK-Agro" - "Avangard" - 2: 1
"Chernomorets" - "Obolon" - 1: 1
Standings
| | | | | | | | |
| --- | --- | --- | --- | --- | --- | --- | --- |
| | | G | W | D | L | GD | О |
| 1. | Chornomorets | 18 | 11 | 5 | 2 | 28-12 | 38 |
| 2. | Veres | 16 | 11 | 3 | 2 | 25-8 | 36 |
| 3. | Metalist 1925 | 18 | 10 | 4 | 4 | 17-14 | 34 |
| 4. | Ahrobiznes | 17 | 11 | 1 | 5 | 34-16 | 34 |
| 5. | Volyn | 16 | 9 | 3 | 4 | 24-13 | 30 |
| 6. | Mykolayiv | 17 | 8 | 4 | 5 | 28-13 | 28 |
| 7. | Hirnyk Sport | 18 | 8 | 4 | 6 | 27-24 | 28 |
| 8. | Obolon | 17 | 8 | 3 | 6 | 27-16 | 27 |
| 9. | Alliance | 17 | 8 | 2 | 7 | 22-17 | 26 |
| 10. | Polissya | 16 | 5 | 5 | 6 | 16-17 | 20 |
| 11. | Kremin | 17 | 5 | 4 | 8 | 16-24 | 19 |
| 12. | Nyva | 18 | 4 | 6 | 8 | 18-31 | 18 |
| 13. | VPK-Ahro | 17 | 5 | 2 | 10 | 16-33 | 17 |
| 14. | Prykarpattya | 16 | 3 | 4 | 9 | 11-23 | 13 |
| 15. | Avanhard | 16 | 2 | 2 | 12 | 10-32 | 8 |
| 16. | Krystal | 18 | 1 | 2 | 15 | 13-40 | 5 |