Rivals for Euro 2020. In the selection of the 2022 World Cup, Northern Macedonia sensationally defeated Germany, Austria defeated Denmark.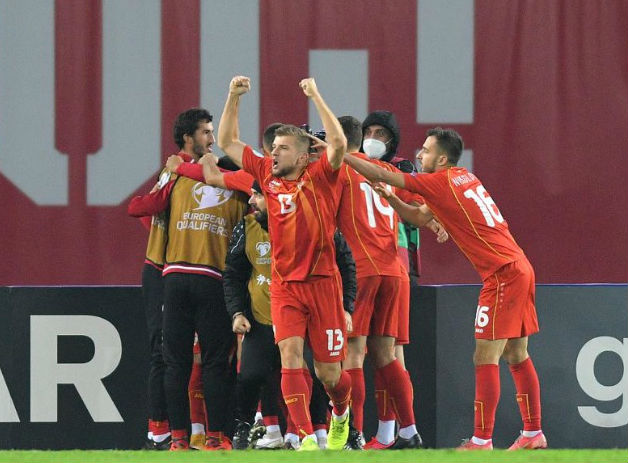 Austria and Northern Macedonia, rivals of the national team of Ukraine in the final part of Euro 2020, today held their third matches in the qualifying round of the 2022 World Cup.
Emergency Situations

-2022%

.

European qualification

.

Group F
Austria - Denmark - 0: 4 (0: 0)
Goals: Skov Olsen (58, 74), Mehle (64), Heiberg (67).
Austria: A. Schlager, Trauner (Posh, 82), Dragovic, Ilzanker (Lazaro, 65), Liner, Zabitzer, K. Schlager (Kara, 74), Ulmer (Friedl, 82), Baumgartner, Alaba, Kaladzic (Grbic, 82) .
In Group F, the Austrian national team hosted the Danish team at the Ernst Happel Stadium in Vienna. The first half of the meeting took place in an absolutely equal struggle with a clear emphasis on defense. The teams failed to strike a single shot into the goal area.
The break clearly benefited the guests, who scored four dry goals for the Austrians. Skov Olsen scored a double and Mehle and Heiberg scored one goal each. 0: 4 - Devastating defeat of the Austrian national team.
After this match, the wards of Franco Foda have four points and are in fourth place in Group F. In the next round of selection for the 2022 World Cup on September 1, Austria will play away against Moldova.
Emergency Situations

-2022%

.

European qualification

.

Group J
Germany - Northern Macedonia - 1: 2 (0: 1)
Goals: Gundogan (63, from the penalty spot) — Pandev (45 + 2), Elmas (85).
Northern Macedonia: Dmitrievsky, Ristovsky, Musliu, Alioski (Ristevsky, 90), Velkovsky, Nikolov (Beitulai, 59), Bardy, Elmas, Ademi, Traikovsky (Spirovsky, 72), Pandev (Stoyanovsky, 90).
The national team of Northern Macedonia in Duisburg played with the German team and was able to create a real sensation. At the end of the first half Goran Pandev received a pass from Enis Bardi and decided to strike in the left corner of the goal - 1: 0.
In the middle of the second half of the game Ilkay Gundogan equalized from the 11-meter mark, but the guests managed to get ahead again. In the 85th minute Elif Elmas scored the second goal for the Germans.
Currently, Igor Angelovsky's wards are in second place in Group J, with six points. On September 2, in the next round of the 2022 World Cup qualifiers, Northern Macedonia will host Armenia.