All debutants of the national team of Ukraine Andriy Shevchenko: Anatoliy Trubin - 32nd, Artem Dovbyk - 33rd
In the match of the qualifying tournament for the 2022 World Cup against Kazakhstan, which ended at the Kyiv NSC "Olympic" draw - 1:1, two debuts took place in the national team of Ukraine at once.
Shakhtar goalkeeper Anatoliy Trubin and Dnipro-1 striker Artem Dovbyk played their first matches for our national team. Now 33 performers have made their debut in the national team during the time coached by Andriy Shevchenko.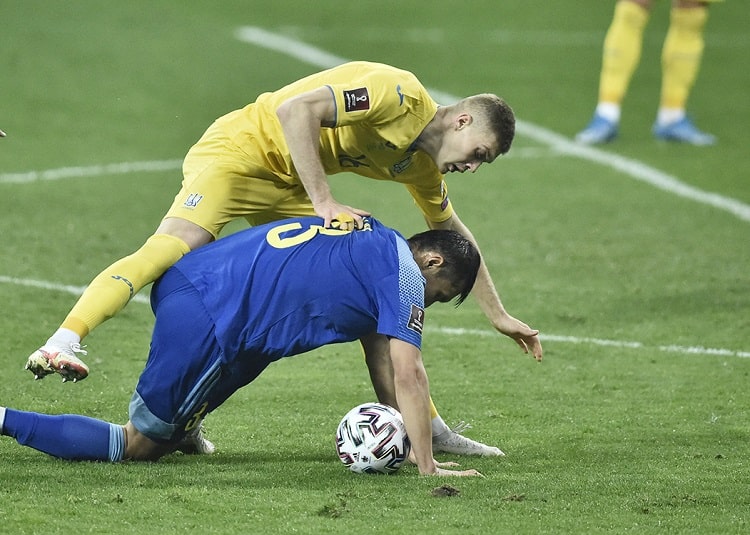 Photo by Pavlo Kubanov
All debutants with Andrii Shevchenko at the head
2016: Eduard Sobol, Yevhen Shakhov, Viktor Tsyhankov, Artem Besedin.
2017: Mykola Matviyenko, Volodymyr Shepelev, Marlos, Vitalii Buyalskyi, Yurii Kolomoyets, Oleksandr Andriyevskyi, Artem Shabanov, Serhii Myakushko.
2018: Andrii Lunin, Mykyta Burda, Mykola Shaparenko, Roman Yaremchuk, Andrii Boryachuk, Ihor Plastun, Vitalii Mykolenko, Marian Shved.
2019: Junior Moraes, Dmytro Ivanisenya.
2020: Oleksandr Tymchyk, Bohdan Mykhaylichenko, Ihor Kharatin, Heorhiy Bushchan, Yukhym Konoplya, Ilya Zabarny, Yevhen Cheberko, Oleksandr Zubkov, Valery Bondar.
2021: Anatoliy Trubin, Artem Dovbyk.