First League. "Agribusiness" did not overcome an awkward opponent, and "Metalist 1925" interrupted a long winning streak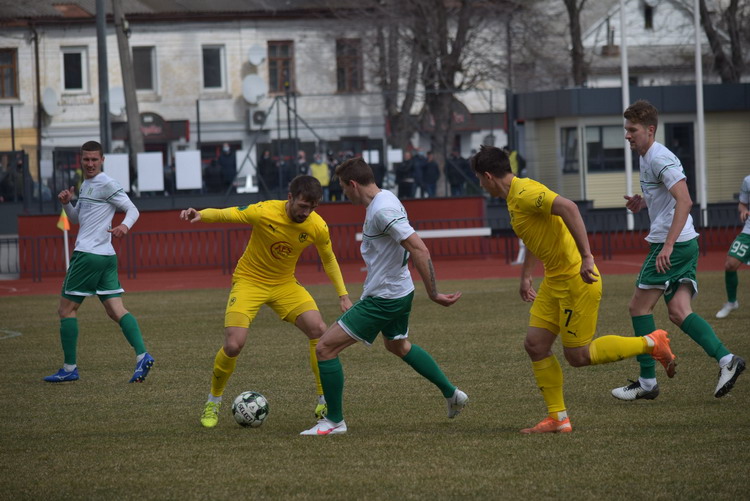 The next round in the first league started today with a match in Zhytomyr, where Polissya hosted Metalist 1925.
The signing of a peace agreement should be considered natural. By the way, the match of the first round of these teams also ended in a draw.
However, the central match of the tour took place in Volochysk, where "Agribusiness" met with an inconvenient opponent - "Volyn". After all, in previous matches Luhansk won three times in one draw and defeat. By the way, this was Oleksandr Chyzhevsky's 30th fight at the head of Agribusiness, but his wards never managed to tip the scales in their favor. 0: 0.
The Kremen footballers scored their 13th goal in home matches in the first league. In the match with the leader, Veres, Bohdan Bychkov did it in the 2th minute. However, this did not derail the people of Rivne, who even before the break leveled the situation after an accurate shot by Dmitry Nemchaninov. They continued to dictate the conditions in the second half and eventually celebrated a strong-willed victory (1: 75), realizing a penalty in the XNUMXth minute (Mikhail Sergiychuk scored).
In general, the 20th round will be remembered for low performance. In addition to Veres, we will pay tribute to the VPK-Agro players, who won for the third time in a row, but Obolon, having lost in Dnipro, has worsened its chances of promotion in the class.
The match between Ternopil's Niva and Girnyk-Sport did not take place. The fate of this confrontation will be decided by the UAF SCC.
20 round
05.04.2021
"Niva" - "Miner-Sport" - did not take place
"Polissya" - "Metalist 1925" - 0: 0
"Flint" - "Heather" - 1: 2
"Nikolaev" - "Vanguard" - 0: 0
"Crystal" - "Alliance" - 0: 0
"Agribusiness" - "Volyn" - 0: 0
"VPK-Agro" - "Obolon" - 1: 0
"Chernomorets" - "Prykarpattya" - 3: 0
Standings
| | | | | | | | |
| --- | --- | --- | --- | --- | --- | --- | --- |
| | | G | W | D | L | GD | О |
| 1. | Veres | 18 | 13 | 3 | 2 | 31-9 | 42 |
| 2. | Chornomorets | 20 | 12 | 5 | 3 | 31-16 | 41 |
| 3. | Metalist 1925 | 20 | 11 | 5 | 4 | 18-14 | 38 |
| 4. | Ahrobiznes | 19 | 11 | 3 | 5 | 35-17 | 36 |
| 5. | Volyn | 18 | 9 | 5 | 4 | 24-13 | 32 |
| 6. | Mykolayiv | 19 | 8 | 6 | 5 | 28-13 | 30 |
| 7. | Obolon | 19 | 9 | 3 | 7 | 30-17 | 30 |
| 8. | Hirnyk Sport | 19 | 8 | 4 | 7 | 28-26 | 28 |
| 9. | Alliance | 19 | 8 | 4 | 7 | 23-18 | 28 |
| 10. | VPK-Ahro | 19 | 7 | 2 | 10 | 19-34 | 23 |
| 11. | Polissya | 18 | 5 | 7 | 6 | 17-18 | 22 |
| 12. | Kremin | 19 | 5 | 4 | 10 | 17-29 | 19 |
| 13. | Nyva | 19 | 4 | 6 | 9 | 19-34 | 18 |
| 14. | Prykarpattya | 18 | 3 | 5 | 10 | 12-27 | 14 |
| 15. | Avanhard | 18 | 3 | 3 | 12 | 14-33 | 12 |
| 16. | Krystal | 20 | 1 | 3 | 16 | 13-41 | 6 |