First League. "Heather" rushes to elite division, and "Nikolaev" became fixed in the leading group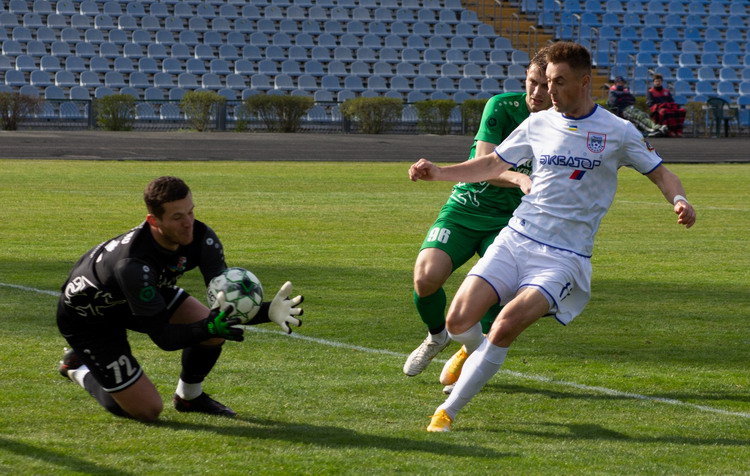 The Nikolaev marked the return to the main field of the Central city stadium which was put into operation after lawn replacement, effective performance.
Already in the 18th minute, Ilya Blyzniuk's charges won in Obolon - 3: 0. But this did not derail the brewers, who soon, thanks to a shot by Maxim Murza, interrupted the dry series of Andrei Bubentsov, who kept his goal at the castle for 457 minutes. And then the opponents were happy with the ability to realize the goal moments. The hosts took the lead (5: 3) and consolidated in the leading group, and "Obolon" worsened their chances of promotion in the class.
Agrobusiness also slowed down, which also does not hide its desire to win a ticket to the elite. After the fourth draw in a row, Oleksandr Chyzhevsky's wards squandered their advantage over competitors, which they had after the autumn part of the championship.
Kyiv and Podolia should follow the example of the leader - "Veres", which, having won the tenth victory in a row (this time over "Field", which was headed a few days ago by the former head of "Olympic" Igor Klimovsky), with each match increases the distance from persecutors.
And the central match of the tour took place today in Kharkiv, where Metalist 1925 hosted Volyn. Slobozhans failed to take advantage of the factor of native walls. In the 36th minute, Oleg Golodyuk opened the scoring, but in the middle of the second half, Artur Ryabov from Luhansk saved his team from defeat. 1: 1.
22 round
16.04.2021
"Flint" - "Chernomorets" - 1: 1
"VPK-Agro" - "Prykarpattya" - 1: 1
"Niva" - "Veres" - 0: 1
"Nikolaev" - "Obolon" - 5: 3
Polissya - Alliance - 1: 2
"Agribusiness" - "Miner-Sport" - 1: 1
17.04.2021
"Crystal" - "Vanguard" - 1: 2
"Metalist 1925" - "Volyn" - 1: 1
Standings
| | | | | | | | |
| --- | --- | --- | --- | --- | --- | --- | --- |
| | | G | W | D | L | GD | О |
| 1. | Veres | 20 | 15 | 3 | 2 | 33-9 | 48 |
| 2. | Chornomorets | 22 | 13 | 6 | 3 | 34-18 | 45 |
| 3. | Metalist 1925 | 22 | 11 | 7 | 4 | 19-15 | 40 |
| 4. | Ahrobiznes | 21 | 11 | 5 | 5 | 37-19 | 38 |
| 5. | Mykolayiv | 21 | 10 | 6 | 5 | 36-16 | 36 |
| 6. | Volyn | 20 | 10 | 6 | 4 | 27-14 | 36 |
| 7. | Obolon | 21 | 10 | 3 | 8 | 35-23 | 33 |
| 8. | Alliance | 21 | 9 | 5 | 7 | 25-19 | 32 |
| 9. | Hirnyk Sport | 21 | 8 | 5 | 8 | 29-30 | 29 |
| 10. | VPK-Ahro | 21 | 7 | 3 | 11 | 20-36 | 24 |
| 11. | Polissya | 20 | 5 | 7 | 8 | 19-22 | 22 |
| 12. | Kremin | 21 | 5 | 5 | 11 | 18-31 | 20 |
| 13. | Prykarpattya | 20 | 4 | 6 | 10 | 14-28 | 18 |
| 14. | Nyva | 22 | 4 | 6 | 12 | 20-40 | 18 |
| 15. | Avanhard | 20 | 4 | 4 | 12 | 17-35 | 16 |
| 16. | Krystal | 22 | 1 | 3 | 18 | 14-45 | 6 |