Alexander Cheferin: "European football is based on a clear model that has stood the test of time"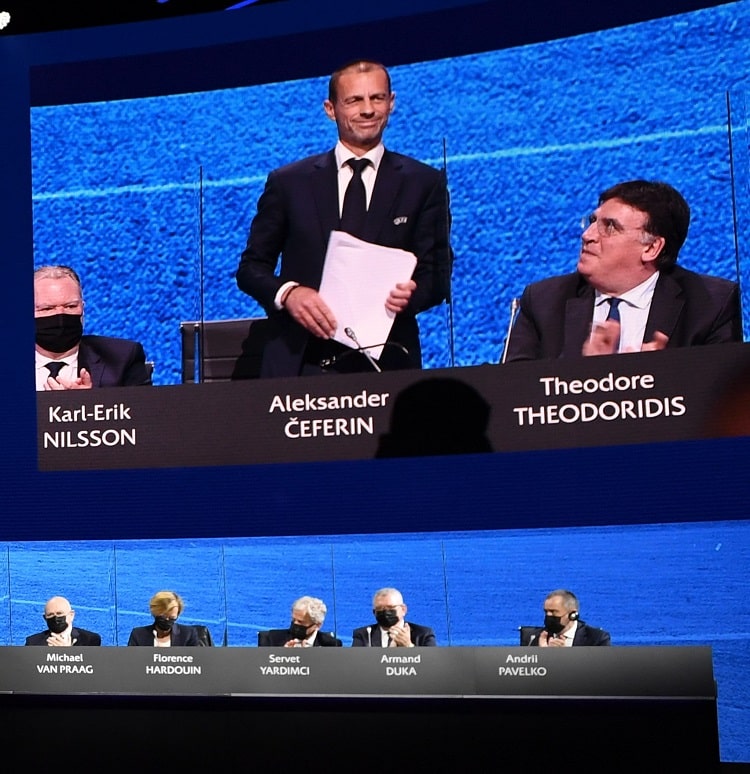 During his speech at the 45th UEFA Congress, in which the president of the Ukrainian football association took part, UEFA Executive Committee member Andriy Pavelko, UEFA President Alexander Cheferin, in particular, stressed the importance of the unity of European football in the fight against the COVID-19 pandemic and plans to establish a "European Super League".
Speaking on Tuesday to delegates to the 45th UEFA Congress in Montreux, Cheferin called for concerted actionto prevent "an attempt to destabilize our football by a small group of people who are determined to ignore and crush our common values."
Cheferin began the annual review by noting the united reaction of UEFA and the wider European football community to the unprecedented difficulties of the COVID-19 crisis. "The crisis that started a little over a year ago will only make us stronger," he said. - All football will come out of it stronger than ever. Why? Because football was the only one from the first day. This unity is not a facade. She is real, sincere and strong. We all stood for each other without exception. "
Among others, the UEFA President thanked FIFA, other continental football federations, national associations, clubs, leagues, football unions, fans and the government for jointly finding solutions that have allowed European football to overcome many problems. "We have shown that when football as a whole faces an unprecedented situation," he said, "we talk to each other, we listen to each other, and we find solutions. No secret plans. "
Cheferin especially thanked the medical workers who found themselves at the forefront of the fight against the coronavirus: "They have done and continue to do so for our society to function. We must be eternally grateful to them for their unwavering support. "
The UEFA president stressed that after the spread of the pandemic last summer halted many processes, the return of UEFA competitions "restored hope at a time when the whole world has stopped." "Football is unique," he said. - It's not just a hobby, it's much more than a game, and stronger than passion. It unites people and illuminates our lives. When football returned after several months of hibernation, it gave people resistance again. "
Cheferin called for resilience and foresight in overcoming new difficulties. Including in the organization of the final stage of Euro 2020, postponed from last summer. "Don't doubt, we will be ready," the UEFA president assured. - Thanks to the associations and the authorities of the countries, we were able to adapt. We will try to hold for you as "normal" Euro as possible. This will be the first global event since the pandemic began. And it will be the perfect opportunity to show the world that Europe is adapting. Europe is alive and enjoying life. "
The UEFA President also emphasized his determination to help clubs cope with the financial difficulties caused by the COVID-19 crisis. "I read that we plan to abolish financial fair play," he said. - Let me clarify: this will not happen. However, we must adapt financial fair play to the new reality. "
Cheferin commented on the plans announced by a group of European clubs to create a so-called "Super League". "There has been a shift in recent years," Cheferin said. - Meaningful and ideological. A shift that too often ignores what is happening on the field ignores the sporting principle. This shift needs to be stopped. The main goal for some was not to decorate the club collection with new trophies, but to fill a bank account… Selfishness changes solidarity. Money has become more important than fame, greed more important than fidelity, dividends more important than passion…
There is a reason why European teams and clubs occupy a leading position in the world. It is that European football is based on a clear model that has stood the test of time. Models based on diversity. It is diversity that makes European society unique. The same can be said about football. People need to know that anything is possible. People need to understand that everyone has a chance. We must keep these dreams. "
"Big clubs were not necessarily big in the past," the UEFA president continued. - And there is no guarantee that they will be great in the future. Football is dynamic and unpredictable. That's what makes it a great game. "
"Clubs that today consider themselves large and inviolable must remember their roots," Cheferin said. - And they must understand that the current status of European grandees they owe in part to UEFA, which for over 60 years has defended the ideals of tournaments based entirely on the principle of sport. Who knows where they would be now without UEFA. "
"During a crisis, people can choose between two options: self-interest or solidarity," Cheferin concluded. - You chose solidarity, we chose solidarity. At all levels. It is a choice that will help us get out of this crisis stronger and make football stronger than ever. "