First League. 11th consecutive victory of "Veres", swings in Lutsk, rematch in Volochysk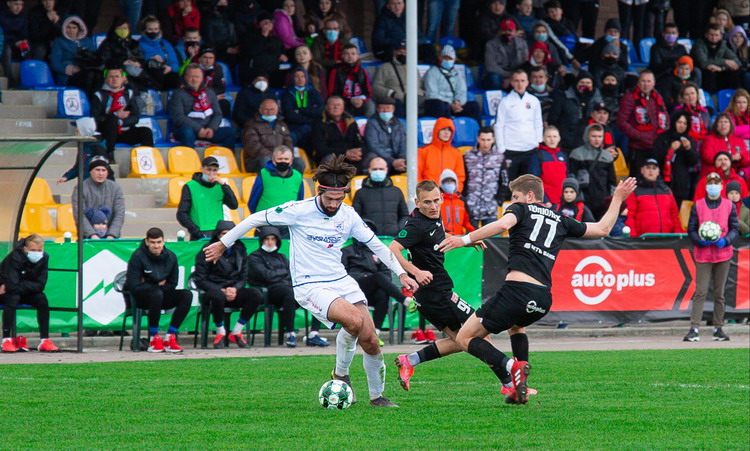 The match of the 23rd round with the participation of teams from the leading group, "Veres" and "Mykolayiv", took place in Mlyniv in the presence of spectators who witnessed spectacular football.
They especially remembered the second goal of the guests, when Rivne held an exemplary three-pass. After a final whistle the head coach of "Veres" Yury Wirt, having paid tribute to wards who celebrated the 11th victory in a row, praised for fighting spirit of Nikolayevshchina who, in his opinion, really apply for increase in a class. As for the guest manager Ilya Bliznyuk, he noted that a draw would be fairer.
But the geographical neighbors of Rivne, Luhansk from "Volyn", again lost important points in their field. Moreover, their rivals from the "Alliance" took the lead twice, and the hosts were lucky to escape defeat by scoring two penalties.
Another match, in which the relations of the team, which do not hide their desire to improve in the class, were clarified, took place today in Volochysk. The semi-finalist of the Cup of Ukraine, the local "Agribusiness", was very anxious to interrupt the five-match winless streak. And Oleksandr Chyzhevsky's wards succeeded in this in the confrontation with Obolon, although the beginning of the match was for the brewers. But Podolians gradually seized the initiative, and in the 36th minute Vladislav Shapoval hit the target from close range. 1: 0. It was his 10th goal scored in the first league. In the second half, the hosts repulsed all the attacks of Kiev, took revenge for the defeat in the first round and pulled up to the top three.
23 round
23.04.2021
"Volyn" - "Alliance" - 2: 2
Chornomorets - VPK-Agro - 2: 0
24.04.2021
"Veres" - "Nikolaev" - 3: 1
"Vanguard" - "Metalist 1925" - 0: 1
"Niva" - "Prykarpattia" - 2: 1
"Miner-Sport" - "Crystal" - 3: 0
"Flint" - "Polissya" - 0: 2
25.04.2021
"Agribusiness" - "Obolon" - 1: 0
Standings
| | | | | | | | |
| --- | --- | --- | --- | --- | --- | --- | --- |
| | | G | W | D | L | GD | О |
| 1. | Veres | 21 | 16 | 3 | 2 | 36-10 | 51 |
| 2. | Chornomorets | 23 | 14 | 6 | 3 | 36-18 | 48 |
| 3. | Metalist 1925 | 23 | 12 | 7 | 4 | 20-15 | 43 |
| 4. | Ahrobiznes | 22 | 12 | 5 | 5 | 38-19 | 41 |
| 5. | Volyn | 21 | 10 | 7 | 4 | 29-16 | 37 |
| 6. | Mykolaiv | 22 | 10 | 6 | 6 | 37-19 | 36 |
| 7. | Obolon | 22 | 10 | 3 | 9 | 35-24 | 33 |
| 8. | Alliance | 22 | 9 | 6 | 7 | 27-21 | 33 |
| 9. | Hirnyk Sport | 22 | 9 | 5 | 8 | 32-30 | 32 |
| 10. | Polissya | 21 | 6 | 7 | 8 | 21-22 | 25 |
| 11. | VPK-Ahro | 22 | 7 | 3 | 12 | 20-38 | 24 |
| 12. | Nyva | 22 | 5 | 6 | 11 | 22-38 | 21 |
| 13. | Kremin | 23 | 5 | 5 | 13 | 19-35 | 20 |
| 14. | Avanhard | 22 | 5 | 4 | 13 | 19-37 | 19 |
| 15. | Prykarpattya | 21 | 4 | 6 | 11 | 15-30 | 18 |
| 16. | Krystal | 23 | 1 | 3 | 19 | 14-48 | 6 |