Schedule of the project "Open football lessons" in 2021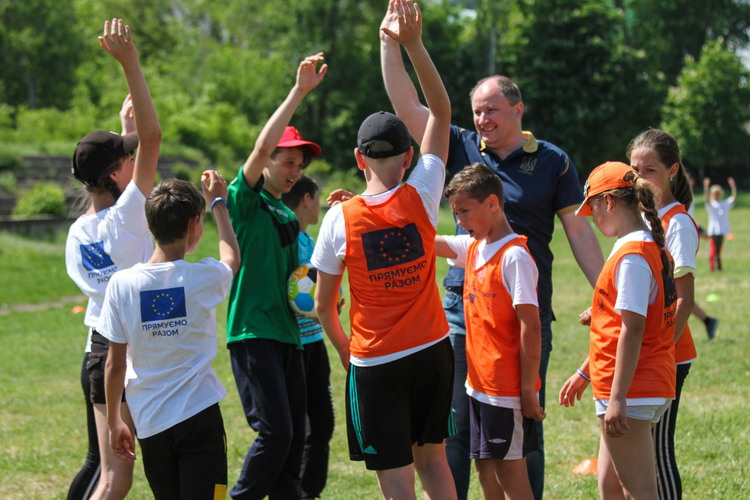 The dates of the Open Football Lessons in an adapted format, subject to anti-epidemic conditions and quarantine restrictions, are determined by the regional coordinators in agreement with the local authorities.
Scheduled agreed dates will be added to the schedule. The current information and the updated schedule can be found on the project page on the social network Facebook (in the news feed) by the link.
number

Day and time for media invitations

Terms of carrying out

Venue

DNIPROPETROVSK REGION:

1.

12.04.2021, 11.00

12-15.04.2021

Vilnohirsk, street Central, 28

2.

26.04.2021, 11.00

26-29.04.2021

Magdalinivka township, street Central, 12

3.

at the approval stage

May 2021

Verkhnodniprovsk, street Fedorovsky, 5

DONETSK REGION:

4.

26.04.2021

26-29.04.2021

Kramatorsk, Bernatsky Garden

5.

17.05.2021/XNUMX/XNUMX (time at the approval stage)

17-20.05.2021

Selidove, Shakhtar stadium

6.

at the approval stage

May 2021

Dobropillya, street Independence, Avangard Stadium

ZAPOROZHYE REGION:

7.

when the region leaves the "red" zone

Mykhailivskyi district, village Rozdol, Tavriya Scythian Stadium

8.

when the region leaves the "red" zone

Orikhiv, street Pokrovska, Orikhiv Stadium

9.

when the region leaves the "red" zone

Zaporozhye, street European, 14-a, gymnasium № 8 / or st. Promising,

2-b, Titan Stadium

KIEV REGION:

10.

when the region leaves the "red" zone

Obukhiv, street Kyivska, 142a, stadium named after V. Melnik

LUHANSK REGION:

11.

06.05.2021/XNUMX/XNUMX (time at the approval stage)

06-07.05, 11-12.05.2021

Belovodsk, street Kazyuminskoho, 18, Yunost Stadium

12.

at the approval stage

May 2021

Novopskov, street Partizanska, 7-b, stadium "Builder"

MYKOLAIV REGION:

13.

when the region leaves the "red" zone

Novy Bug, city stadium

14.

when the region leaves the "red" zone

Berezansky district, village Red, stadium

ODESSA REGION:

15.

at the approval stage

at the approval stage

Odessa district, village Mustache, lane Government, Hadjibey Stadium

KHARKIV REGION:

16.

07.05.2021, 12.00

07.05, 11-13.05.2021

(provided that the region leaves the "red" zone)

Two-year town

17.

12.05.2021, 12.00

12-15.05.2021

(provided that the region leaves the "red" zone)

Kharkiv district, Pisochyn township

18.

18.05.2021, 12.00

18-21.05.2021 (provided that the region leaves the "red" zone)

Lyubotyn

KHERSON REGION:

19.

18.05.2021/XNUMX/XNUMX (time at the approval stage)

18-21.05.2021

m. Nova Kakhovka, ave. Dniprovskyi, 28, Energia Stadium
Dissemination of the project experience in other regions of Ukraine in 2021
number

Day and time for media invitations

Terms of carrying out

Venue

VINNYTSIA REGION:

20.

at the approval stage

April-May 2021

Lipovets

VOLYN REGION:

21.

at the approval stage

April-May 2021

Kovel district, Holoby township

ZHYTOMYR REGION:

22.

when the region leaves the "red" zone

Berdychiv

TRANSCARPATHIAN REGION:

23.

at the approval stage

September-October 2021

at the approval stage

IVANO-FRANKIVSK REGION:

24.

at the approval stage

May 2021

Kosiv

KIROVOHRAD REGION:

25.

at the approval stage

20-23.05.2021

Kropyvnytskyi, KSPU stadium named after Vinnichenko

LVIV REGION:

26.

at the approval stage

at the approval stage

at the approval stage

POLTAVA:

27.

when the region leaves the "red" zone

Myrhorod

RIVNE REGION:

28.

at the approval stage

May 2021

Goshchanskyi district, village Bugrin

SUMY REGION:

29.

when the region leaves the "red" zone

Trostyanets

TERNOPIL REGION:

30.

at the approval stage

April-May 2021

m. Zbarazh

CHERKASY REGION:

31.

29.04.2021, 12.00

27-30.04.2021

Shpolyanskyi district, village Swan

CHERNIVTSI REGION:

32.

at the approval stage

at the approval stage

m. Mortgage

CHERNIHIV REGION:

33.

when the region leaves the "red" zone

Chernihiv