First League. "Agribusiness" interrupted the winning series of "Veres", "Metalist 1925" won a strong-willed victory over "Miner-Sport"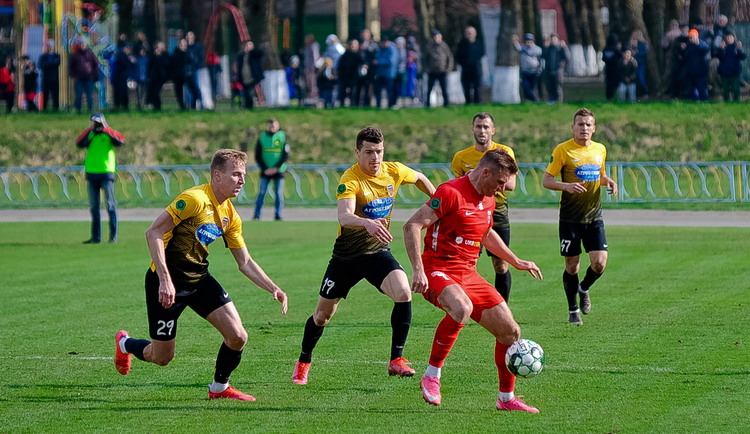 In the central match of the 24th round, the players from Volochysk did not allow their favorite, Veres, to win the 12th victory in a row, but despite all attempts to tip the scales in their favor, they were forced to sign a peace agreement - 0: 0.
In this match there was a stubborn struggle, goal moments at the opponents' goal appeared infrequently, in addition, there were goalkeepers Bohdan Kohut ("Veres") and Oleg Mozil ("Agribusiness").
"It seemed that the winner would be the one who opened the account," said the head coach of Podolia Oleksandr Chyzhevsky after the final whistle. - None of the teams managed to do that. I think that no one's result is natural. "
"In my opinion, the rivals did not play to win," said Veres manager Yuri Wirth. "But a draw away from a direct competitor in the fight for promotion is a positive result."
It is necessary to pay tribute to one of the persecutors of "Veres", "Metalist 1925". Playing in the minority and losing - 1: 2, Kharkiv in the second half thanks to accurate shots of Vitaly Ponomar and Maxim Zhychikov won a strong-willed victory over "Miner-Sport" - 3: 2.
We will also note that after today's victory of "Nikolaev" over "Prykarpattya" citizens pulled up to a leading group, instead of "Volyn" and "Obolon" considerably worsened the chances to get a pass to elite.
24 round
29.04.2021
Polissya - Volyn - 1: 0
"Metalist 1925" - "Miner-Sport" - 3: 2
"Agribusiness" - "Veres" - 0: 0
30.04.2021
Niva - Chornomorets - 0: 1
"Crystal" - "Obolon" - 3: 2
"VPK-Agro" - "Flint" - 3: 0
Mykolaiv - Prykarpattya - 1: 0
"Alliance" - "Vanguard" - 1: 1
Standings
| | | | | | | | |
| --- | --- | --- | --- | --- | --- | --- | --- |
| | | G | W | D | L | GD | О |
| 1. | Veres | 22 | 16 | 4 | 2 | 36-10 | 52 |
| 2. | Chornomorets | 24 | 15 | 6 | 3 | 37-18 | 51 |
| 3. | Metalist 1925 | 24 | 13 | 7 | 4 | 23-17 | 46 |
| 4. | Ahrobiznes | 23 | 12 | 6 | 5 | 38-19 | 42 |
| 5. | Mykolayiv | 23 | 11 | 6 | 6 | 38-19 | 39 |
| 6. | Volyn | 22 | 10 | 5 | 9 | 37-33 | 35 |
| 7. | Alliance | 23 | 9 | 7 | 7 | 28-22 | 34 |
| 8. | Obolon | 23 | 10 | 3 | 10 | 37-27 | 33 |
| 9. | Hirnyk Sport | 23 | 9 | 5 | 9 | 34-33 | 32 |
| 10. | Polissya | 22 | 7 | 7 | 8 | 22-22 | 28 |
| 11. | VPK-Ahro | 23 | 8 | 3 | 12 | 23-38 | 27 |
| 12. | Nyva | 23 | 5 | 6 | 12 | 22-39 | 21 |
| 13. | Avanhard | 23 | 5 | 5 | 13 | 20-38 | 20 |
| 14. | Kremin | 24 | 5 | 5 | 14 | 19-38 | 20 |
| 15. | Prykarpattya | 22 | 4 | 6 | 12 | 15-31 | 18 |
| 16. | Krystal | 24 | 2 | 3 | 19 | 17-50 | 9 |