Premier League. Dynamo defeated Vorskla as champions, Buyalsky scored a hat-trick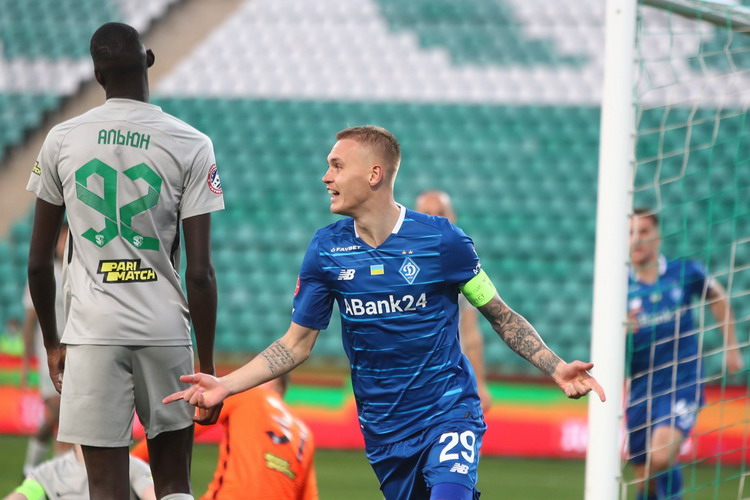 The results of the UPL matches that took place today had an impact on the distribution of seats in the "zone of the European Cups", with the exception of a direct ticket to the group tournament of the Champions League, which last round booked Dynamo.
Already in the status of champions of Ukraine 2020/2021, the white and blues today in Poltava won the ninth victory in a row. In the first half, Dynamo's Buyalsky scored his first hat-trick in his career. Twice Vitaliy was assisted by Karavayev, and once Mykolenko's shot was unsuccessfully tried to be interrupted by the Poltava goalkeeper Riznyk. Kulach, the top scorer of the current championship, scored his 11th goal in the tournament as a member of Vorskla from the 14-meter line. After the break, Rodriguez made the score over Karavaev's pass, and at the end of the game, another goal was scored by the Brazilians from Kyiv, Clayton and Sidcley.
Dynamo footballers took part in the match. called for the May harvest of the national team of Ukraine on the eve of Euro 2020: Bushchan, Karavaev (three goal passes), Zabarny, Sirota, Mykolenko (replaced in the 78th minute), Shepelev (replaced in the 46th minute), Shaparenko, Buyalsky (three goals, replaced by 67th minute), Besedin (replaced in the 46th minute), Lednev (came on in the 67th minute).
Thanks to the victory in the meeting with Dnipro-1, Shakhtar came close to securing the second place and a ticket to the Champions League qualification. In the first half, two losses of the ball by the guest player Batagov led to two goals for his team. Igor Jovichevich's wards played one ball only in overtime. 2: 1, and Shakhtar broke away from Zorya, which will play tomorrow, by seven points.
The meeting was attended by footballers who received a call from Andriy Shevchenko for the next meeting of the national team: miners Trubin, Kryvtsov, Matvienko, Stepanenko, Sudakov (substituted in the 84th minute) and Dnipro Dovbyk (replaced in the 85th minute).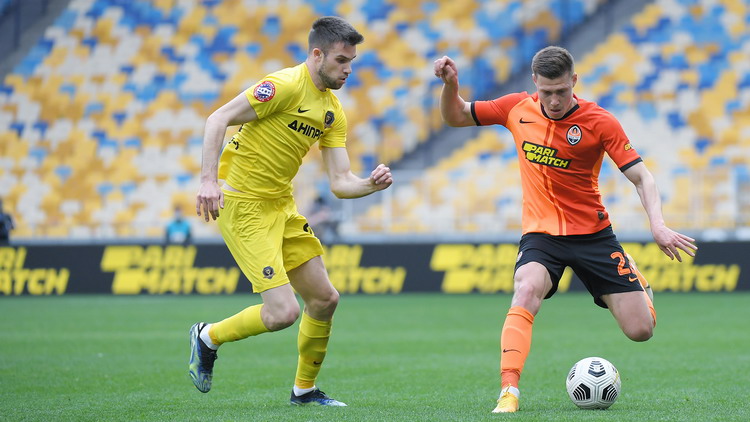 Photo by shakhtar.com
In another match, Desna escaped defeat from Kolos at home, finishing the game in a small minority. After the goals of Petrov and Churko, Kovalivka led by two goals, but the hosts reduced the gap - Kalitvintsev scored a direct free kick. Then the second yellow card was given to Chernihiv's Ogir, but thanks to Kartushov's goal, the transfer of which Kravchenko tried unsuccessfully to interrupt, Desna equalized the score. 2: 2.
24 round
01.05.2021
"Desna" - "Kolos" - 2: 2 (0: 1)
Goals: Kalitvintsev (59), Kartushov (84) - Petrov (30), Churko (53).
Sent off: Ogirya (66, "D").
Shakhtar - Dnipro-1 - 2: 1 (2: 0)
Goals: Dentinho (24), Tete (43) - Khoblenko (90 + 4).
Vorskla - Dynamo - 1: 5 (1: 3)
Goals: Fist (24, from the penalty spot) - Buyalsky (6, 15, 32), Rodriguez (65), Sidcley (84).
Standings
| | | | | | | | |
| --- | --- | --- | --- | --- | --- | --- | --- |
| | | G | W | D | L | GD | О |
| 1. | Dynamo | 24 | 19 | 4 | 1 | 56-15 | 61 |
| 2. | Shakhtar | 24 | 14 | 6 | 4 | 49-19 | 48 |
| 3. | Zorya | 23 | 12 | 5 | 6 | 40-21 | 41 |
| 4. | Kolos | 24 | 9 | 11 | 4 | 34-23 | 38 |
| 5. | Desna | 24 | 10 | 7 | 7 | 36-27 | 37 |
| 6. | Vorskla | 24 | 10 | 7 | 7 | 34-28 | 37 |
| 7. | Oleksandriya | 23 | 8 | 5 | 10 | 31-31 | 29 |
| 8. | Dnipro-1 | 24 | 8 | 5 | 11 | 35-36 | 29 |
| 9. | Lviv | 23 | 7 | 4 | 12 | 22-48 | 25 |
| 10. | Mariupol | 23 | 5 | 7 | 11 | 22-38 | 22 |
| 11. | Olimpik | 23 | 6 | 3 | 14 | 27-41 | 21 |
| 12. | Rukh | 23 | 4 | 9 | 10 | 21-37 | 21 |
| 13. | Inhulets | 23 | 3 | 11 | 9 | 20-38 | 20 |
| 14. | Mynai | 23 | 4 | 6 | 13 | 15-40 | 18 |
02.05.2021
Rukh - Alexandria (14.00)
Zorya - Minai (17.00)
Mariupol - Lviv (17.00)
"Olympic" - "Ingulets" (19.30)