Premier League. Shakhtar secured silver, Minay lost its chances of survival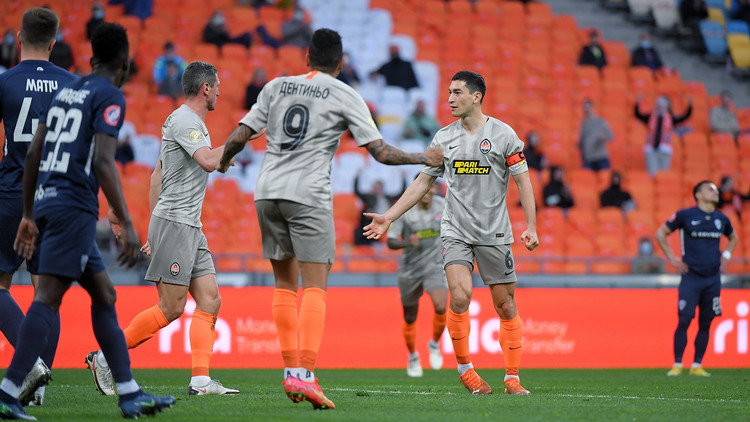 Following the results of the last three matches of the 25th round, which took place today, the answers to several tournament questions became known ahead of schedule.
Shakhtar's crushing victory over Minai guaranteed the Pitmen a second place, but this result did not leave the Transcarpathians a chance to stay in the Premier League. Theoretically, in the last round they can still catch up with "Olympic" by points, but in face-to-face meetings the advantage is on the side of "Olympic".
The match, in which Minai was the host, took place in Kyiv at the Olimpiysky National Sports Complex. The game started late due to a delay in entering the field by "Minaya". Having scored four dry goals, Shakhtar has secured an acceptable result.
The Pitmen took part in the match as players called for the May harvest national team of Ukraine on the eve of Euro 2020: Trubin, Kryvtsov, Kornienko, Stepanenko (two goals, yellow card), Sudakov (came on as a substitute in the 75th minute).
Two other matches were attended by two Lviv teams, which secured the continuation of registration in the elite. in the last round. But this time their results were the opposite. Lviv lost to Ingults, and Rukh defeated Olimpik, scoring three goals in the first half. The "Olympians", who played the first match under the leadership of Roman Sanjar, who replaced Yuri Kalitvintsev, even despite the defeat secured a place in the Premier League next season.
25 round
05.05.2021
Dynamo - Mariupol - 0: 0
Dnipro-1 - Zorya - 0: 1 (0: 0)
Vorskla - Desna - 1: 1 (1: 0)
"Alexandria" - "Kolos" - 0: 2 (0: 1)
06.05.2021
Minai - Shakhtar - 0: 4 (0: 1)
Goals: Stepanenko (29, 81), Solomon (53), Maicon (70).
Rukh - Olimpik - 3: 0 (3: 0)
Goals: Prytula (4), Boryachuk (18), Klimchuk (26, from the penalty spot).
Ingulets - Lviv - 1: 0 (1: 0)
Goal: Bartulovic (11).
Standings
| | | | | | | | |
| --- | --- | --- | --- | --- | --- | --- | --- |
| | | G | W | D | L | GD | О |
| 1. | Dynamo | 25 | 19 | 5 | 1 | 56-15 | 62 |
| 2. | Shakhtar | 25 | 15 | 6 | 4 | 53-19 | 51 |
| 3. | Zorya | 25 | 14 | 5 | 6 | 42-21 | 47 |
| 4. | Kolos | 25 | 10 | 11 | 4 | 36-23 | 41 |
| 5. | Desna | 25 | 10 | 8 | 7 | 37-28 | 38 |
| 6. | Vorskla | 25 | 10 | 8 | 7 | 35-29 | 38 |
| 7. | Oleksandriya | 25 | 8 | 5 | 12 | 32-35 | 29 |
| 8. | Dnipro-1 | 25 | 8 | 5 | 12 | 35-37 | 29 |
| 9. | Lviv | 25 | 8 | 4 | 13 | 24-50 | 28 |
| 10. | Rukh | 25 | 6 | 9 | 10 | 26-38 | 27 |
| 11. | Inhulets | 25 | 5 | 11 | 9 | 24-38 | 26 |
| 12. | Mariupol | 25 | 5 | 8 | 12 | 23-40 | 23 |
| 13. | Olimpik | 25 | 6 | 3 | 16 | 27-47 | 21 |
| 14. | Mynai | 25 | 4 | 6 | 15 | 15-45 | 18 |
26 round
09.05.2021
Shakhtar vs Ingulets (17.00)
Kolos - Dynamo (17.00)
Zorya - Alexandria (17.00)
Mariupol - Desna (17.00)
Dnipro-1 - Rukh (17.00)
Lviv - Olympic (17.00)
"Minai" - "Vorskla" (17.00)