Ukraine's U-19 futsal team successfully starts at tournament in Croatia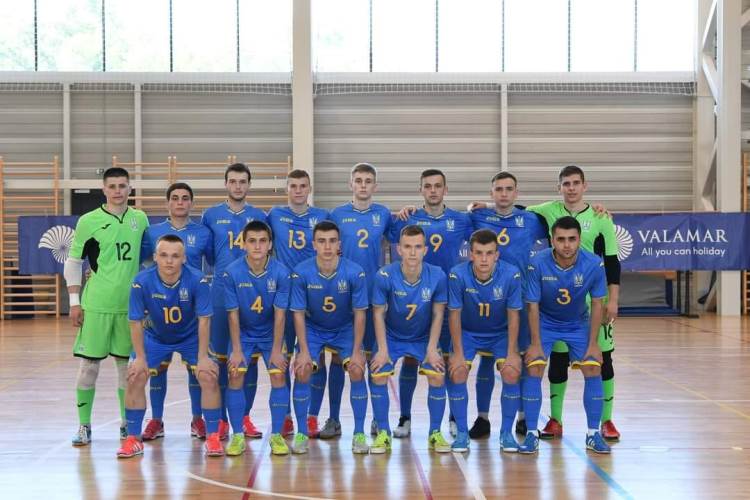 Vitaly Odegov's wards in the first match of the group stage of the international tournament Futsal Week beat peers from Poland.
The day before, in preparation for the tournament, the youth national team of Ukraine U-19 from 9 to 13 June held NTZ in Uzhgorod. To Croatia Vitaly Odegov took with him 15 players.
In their opening match, the Ukrainians missed first, to which they responded with five goals scored. At the end of the meeting, the Poles reduced the gap. The blue-yellows will start their next match at the tournament tomorrow at 19.00. The opponent will be the host of Futsal Week, the national team of Croatia.
U-19 youth futsal tournament
Ukraine - Poland - 5.: 3 (1: 1)
Goals: Dichuk (14), Kvasniy (31), Lutai (32), Kalashnik (33), Guyvan (36) - Opatovsky (10), Sendlevsky (39), Neichs (40).
Ukraine: Guyvan - Malinovsky, Britan, Dychuk, Kvasniy - Lutai, Tymtsiv, Syzyk, Kalashnik, Smetanenko, Semenchenko, Tkachuk, Luty, Dyachenko.
Warning: Lutai (9), Briton (27) - Neichs (20).
The competition in Poreč, Croatia, will take place from June 15 to 20. Eight teams take part in the tournament, which are divided into two groups.
Group A: Spain, France, Serbia, Moldova.
Group B: Ukraine, Croatia, Poland, Montenegro.
Schedule of Ukraine
15.06 16.30 Ukraine - Poland - 5: 3
16.06 19.00 Croatia - Ukraine
17.06 16.30 Montenegro - Ukraine
Playoff matches will take place on June 19 at Futsal Week, and matches for the distribution of seats are scheduled for the next day.
We will remind, blue-yellows continue to prepare for matches of the main round of Euro-2022, which will take place in March next year.