Oleksandr Zinchenko: If we make it to the playoffs, we need to change something in our game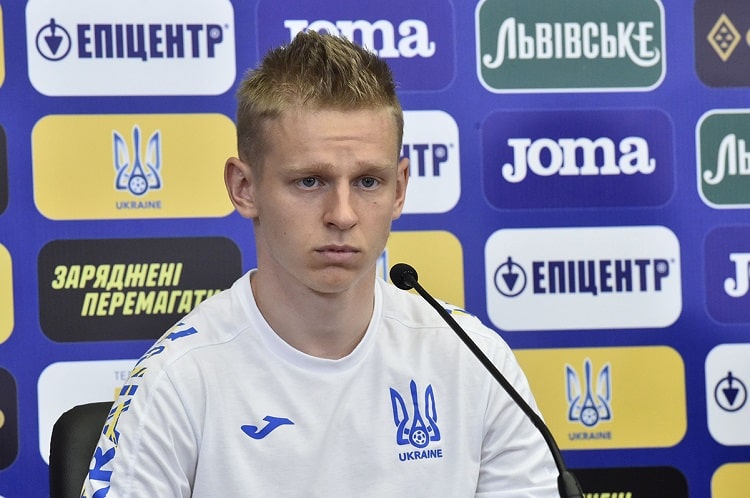 Players of the national team Oleksandr Zinchenko and Ruslan Malinovskyi took part in the regular press conference held today at the Ukrainian Media Center in Bucharest.
Here are the answers to Oleksandr Zinchenko's questions.
- After the victory over North Macedonia, Heorhii Bushchan said that there is one step from love to hate. Have you felt it now?
- We got used to such criticism, which, I want to say, we deserve. For so many years in football, I have seen that in reality it is so, everything is changing very quickly. We did not live up to the expectations of many people, including our own. But we still have a chance to fix things and reach the playoffs, to rehabilitate in front of the whole country and the fans.
- How difficult a season could have influenced the fact that the national team did not show its best football?
- I will speak for myself. I had a long season, a lot of games, I can say about some fatigue. But I do not like to look for excuses, because this is the fate of the weak ones. I always like to look for reasons only in myself. Yes, I had a difficult period after the Champions League final, it was some of the most difficult days in my football life.
But from the first day in the national team I switched my attention to Euro. The European Championship was a new goal and motivation for me. I tried and still trying to give my best. Unfortunately, these are not my best games for the national team. I feel physically normal, it's more a matter of psychology. I want to understand what the problem is, what is the cause of these failures.
I am ready for criticism, I have accepted it many times. I am sure it will make me and our team stronger. We will work to correct everything and restore the faith of the fans, which was during the Euro qualifying.
- What was Andriy Shevchenko's first reaction after yesterday's game?
- What can be the reaction of the head coach to such a result ... Everyone understands the situation very well, it is very difficult to find some words here. When we retreated from yesterday's game, we weighed everything. We still have some chances to reach the playoffs.
- If you want to know what kind of friend you have, you have to go through a difficult situation with him. You look each other in the eye, can we now say that we have a real team?
- After arriving at the hotel after yesterday's game, we gathered with the guys, and everyone voiced their opinions about the situation. We talked about it for a long time, including this morning. This is a good signal, it shows that no one in the team is indifferent and everyone wants to correct the situation.
- Why didn't the national team of Ukraine play against Austria as in its two previous matches?
- I would not say that we played well in the first two matches at the Euros. In all three matches we did not show the level at which we can play. Probably yesterday's game was the worst in the tournament. I still do not understand what the reason is. There were many different circumstances. For me personally, it wasn't the game I wanted to show during the tournament.
The way out of this situation is a hard work and in-depth analysis, which will help improve our game. This is football, this can happen to anyone. Of course, we must take responsibility for the outcome. But there is always room for development.
- How did the support of the stands during the matches at the European Championship affect you?
- It was nice to play yesterday. It seemed to me that the whole stadium was blue and yellow. I am very sorry that we could not thank our fans and show a positive result yesterday. I would like to thank them for support both yesterday and in other matches.
— In the event of reaching the playoffs, Ukraine can play France. How will you try to beat this opponent?
- You are running ahead, because there are several other rivals against whom we can play. As for France, they are world champions, there is nothing more to talk about. They have four equal squads that could reach the semifinals in any tournament. Of course, our coaches will tell us about the opponent.
But we are not talking about our next opponent now, because there are two more days of the group stage ahead. I will be happy to return to this issue if we move on.
— Now the national team of Ukraine has one of the youngest teams in the Euro. How do you see the team in the future? If before it was the team of Yarmolenko and Konoplyanka, now we can say that it is the team of Zinchenko and Malinovskyi?
- At the moment we have a very good fusion of youth and experience, so I would like to give a result right now. It becomes a bad habit to talk about some invaluable experience for us, in the future, in the next cycles.
I understand that we have not done enough to get the result. We need to understand ourselves and the team as a whole. But for some reason after each qualifying and tournament we talk about the following. I think we have a very good team today. On paper, we can get the desired result. Unfortunately, we did not demonstrate this in these three games. I don't know what the reason was, we will still talk to the coaching staff. Even if we go to the playoffs, we need to change something in our game ...