The Ukrainian beach soccer team won the 2021 Independence Cup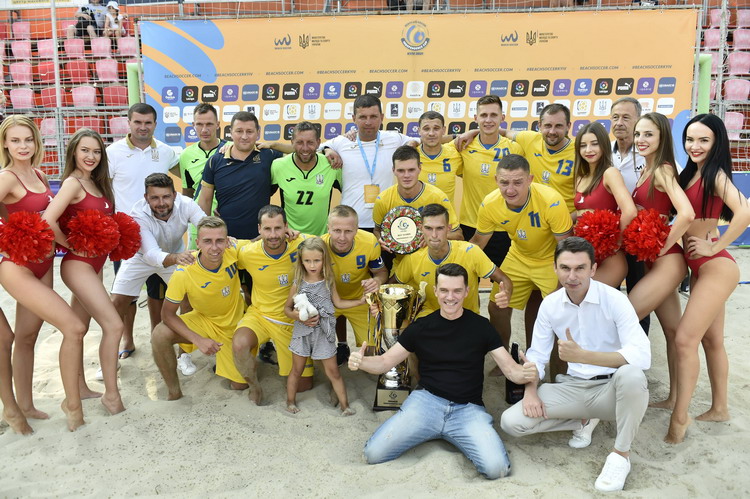 The Ukrainian beach soccer team lost in its third match at the Independence Cup, but won the tournament.
After the victories over Turkey (8:3) and Oman (3:1) today in the final match of the Independence Cup-2021 Mykola Kostenko's wards met with the team of the United Arab Emirates.
The duel was unsuccessful for the blue and yellows. Already in the first period two balls flew into Vitaly Sidorenko's goal. In the second 12 minutes, our opponents forced the Ukrainian goalkeeper to surrender twice more.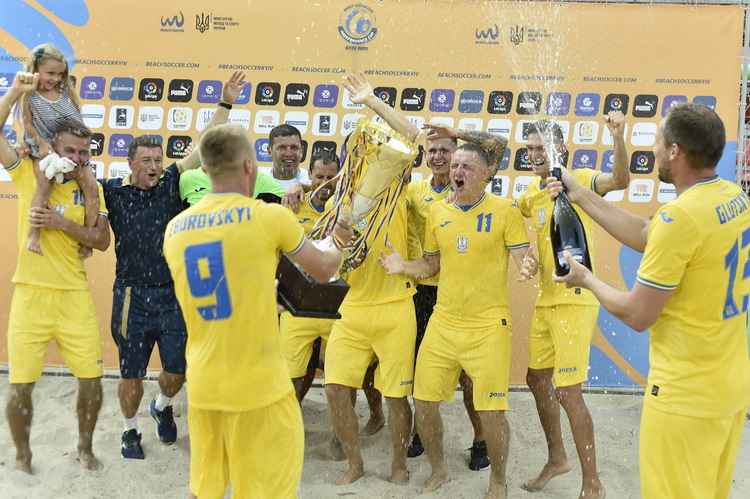 Photo by Pavlo Kubanov
In the third period, Mykola Kostenko replaced the goalkeeper with a fifth field player, and Oleksandr Korniychuk and Andriy Pashko reduced the gap between the Ukrainians within two minutes. After that, the teams exchanged goals, and then Yaroslav Zavorotny reduced the opponent's advantage to a minimum, and Oleg Zborovsky turned the game into overtime - 5: 5.
As a result, it came to a series of penalties, in which the UAE was stronger - 4: 3. But, despite this, the national team of Ukraine, scoring six points, became the winner of the Independence Cup-2021.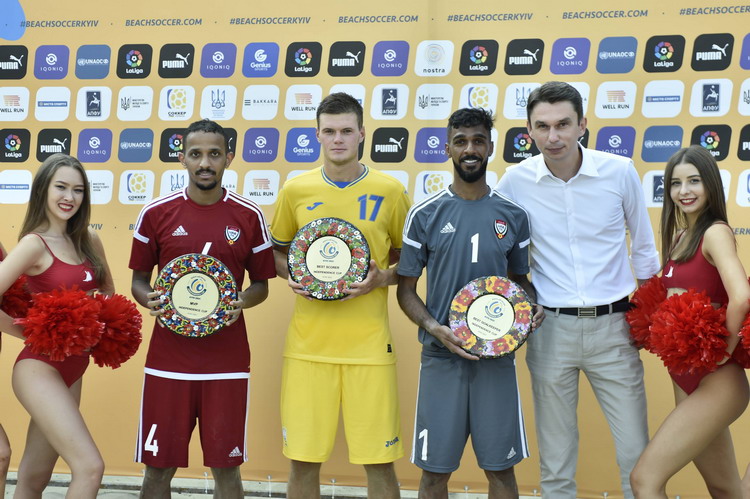 Photo by Pavlo Kubanov
After the match, a solemn ceremony of awarding the winners of the tournament took place at the Hydropark-Arena, which was attended by the Vice President and Secretary General of the UAF Yuri Zapisotsky. In particular, he said: "Despite today's unfortunate result for our team, in general we are the winners. The great tournament really turned out, we must pay tribute to the organizers.
For our part, we tried to help him and took an active part in it. But still the ideological inspirer of the competition was Serhiy Kharchenko. Thanks to Beach Soccer Worldwide and the City of Sports. Great organization, good representation at the tournament!
I think it is necessary to continue to hold such tournaments, especially since we have a growing number of arenas for beach soccer, and we will continue to work on it and attract such competitions. "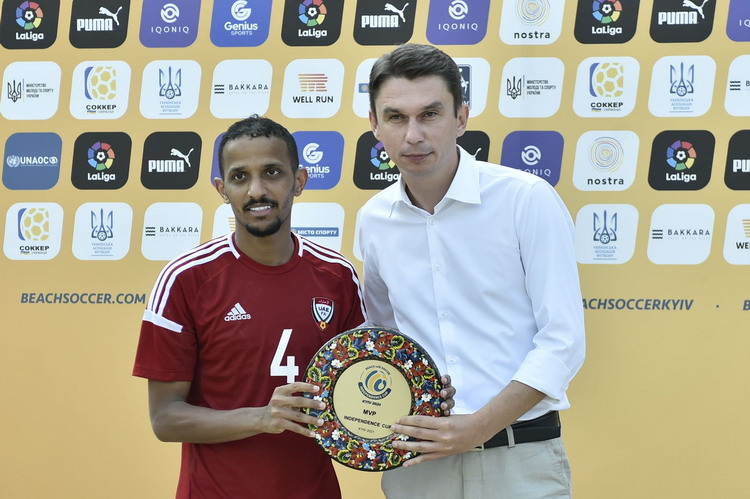 Photo by Pavlo Kubanov
Independence Cup 2021
25.07.2021
UAE - Ukraine - 5: 5, on penalties - 4: 3
Goals: Ali (6), Walid (10, 21, from the penalty spot), Rashid (16), Al-Kaabi (31) - Korniychuk (25), Pashko (27, 31, from the penalty spot), Zavorotny (32), Zborovsky (34) ).
Ukraine: Sidorenko, Nerush, A. Borsuk, Sirenko, Zborovsky, Shitnyk, Korniychuk, Pashko, Zavorotny, Medvid.
After 21 minutes excluded A. Borsuk (Ukraine).
Turkey - Oman - 0: 7
Summary table
| | | | | | | | | | | |
| --- | --- | --- | --- | --- | --- | --- | --- | --- | --- | --- |
| | | І | В | IN | EaP | PP | Software | П | М | О |
| 1 | Ukraine | 3 | 2 | 0 | 0 | 1 | 0 | 0 | 16-9 | 6 |
| 2 | OAE | 3 | 1 | 0 | 1 | 0 | 0 | 1 | 10-11 | 4 |
| 3 | Oman | 3 | 1 | 0 | 0 | 0 | 0 | 2 | 7-5 | 3 |
| 4 | Turkey | 3 | 1 | 0 | 0 | 0 | 0 | 2 | 8-18 | 3 |