Vbet Ukrainian Super Cup-2021: the winner of the trophy will be determined in Kyiv today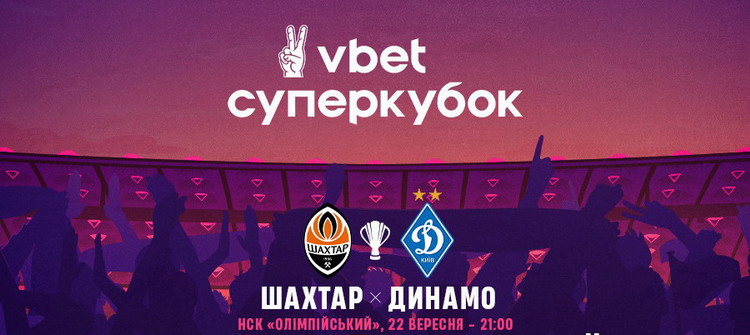 Today, September 22, Shakhtar Donetsk and Dynamo Kyiv will meet in the match for the first national trophy of the new season - the Super Cup of Ukraine (at the start of the game - at 21.00) at the capital's NSC Olimpiyska.
The nominal host of the match will be Shakhtar, which claims the trophy as the country's vice-champion. His opponent, Dynamo, is the champion and winner of the Cup of Ukraine of the 2020/2021 season. Actually, the Super Cup was supposed to be played two months ago, but due to the load that fell on the players of both clubs in the summer, and the short time to resume the match. was postponed on September 22.
Both teams are taking part in the Champions League group stage this autumn, so the status of the match is extremely high. For Italian Pitmen's coach Roberto de Derby, today's match is an opportunity to win the first trophy led by the Orange and Blacks, as well as the first meeting with the main rival in the domestic arena. Dynamo and Shakhtar currently lead in Vbet League, where white and blue ahead of the competitor at three points.
The match for the Super Cup will take place for the second time in history in Kyiv, on the main arena of the country. Last year, NSC "Olympic" hosted a match for this trophy for the first time, and then the game ended with the victory of "Dynamo" (3:1). In 2020, Kyiv won the Super Cup for the ninth time and was ahead of the Pitmen in the number of titles (eight). The eighteenth Super Cup will be played today.
We will add that the match will be judged by a team of referees led by Andriy Kovalenko (Poltava). Assistants - Semen Shlonchak (Cherkasy) and Andriy Skrypka (Kropyvnytskyi), fourth referee - Ihor Paskhal (Kherson), reserve assistant referee - Oleksandr Zhukov (Kharkiv), arbitration observer - Serhiy Zadiran (Dnipro). VAA referee - Yevhen Aranovsky (Kyiv), VAA assistant - Viktor Matyash (Donetsk), VAA observer - Leonid Yarmolynsky (Kyiv region). UAF delegate - Yuriy Tytarenko (Kyiv). UAF Security Officer - Oleg Bazai (Zaporizhzhya).