Oleksandr Kosenko: "Romania professes technical futsal. I look forward to interesting fights "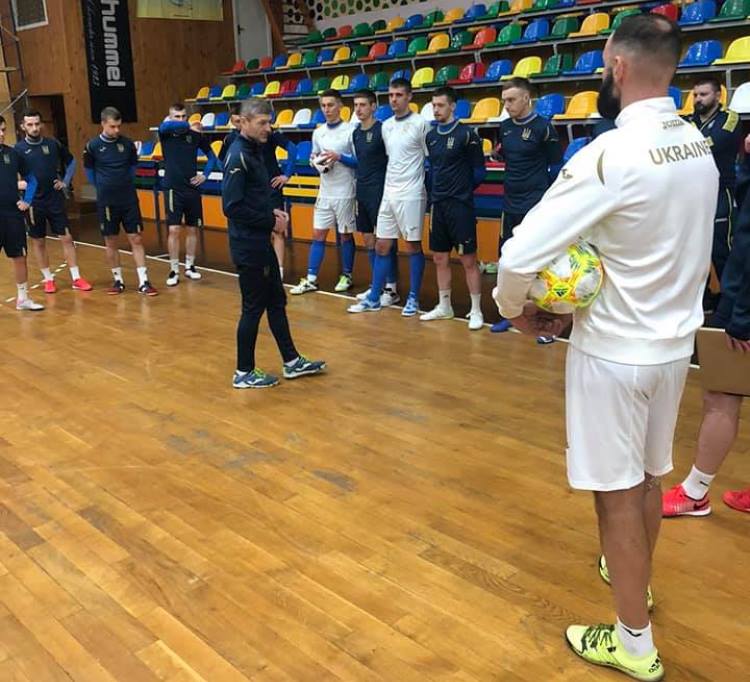 The head coach of the Ukrainian national futsal team Oleksandr Kosenko shared his expectations from the friendly matches against Romania.
In preparation for of the final Euro 2022 futsal tournament blue and yellow will hold two sparring matches in Bystrica, Romania against the local team. The matches will take place on September 25 and 26 and will be hosted by Multisport Hall Bistrita. The starting whistle in both matches will sound at 19.00.
The trip to Romania will be preceded by a training camp, which the Ukrainian team will hold in Uzhhorod on September 22-24. Head coach caused to the ranks of the national team of Ukraine 15 players.
On the eve of the meeting, Oleksandr Kosenko gave an interview to the press service Futsal Association of Ukraine.
- Oleksandr Petrovich, this weekend the national team of Ukraine will play friendly matches against Romania. How would you describe your future opponent?
— The Romanian national team is a quality team with a fairly good selection of players and Brazilian legionnaires. Although the Romanians did not qualify for the current World Cup in Lithuania and Euro 2022, they remain a serious fighting unit among European teams. Matches with them have always been quite difficult for us. The opponent professes technical futsal. I look forward to interesting fights.
— The last face-to-face matches were really difficult for our team. In the finals of Euro 2018, the national team of Ukraine won with a score of 3: 2 thanks to the comeback, and in a friendly match in Ivano-Frankivsk lost - 2: 5.
— In general, both matches were a draw. During the European Championship, the opponent went ahead with the fifth field and missed, and in Ivano-Frankivsk everything happened the other way around. These were confrontations of equal opponents. As I have already mentioned, matches with this team are always difficult. The opponent, both with the Brazilians in his composition and without them, always professes attacking futsal. There were both sensational victories and unexpected defeats at various forums in Romania.
— In your opinion, the fact that the opponent did not get to Euro 2022 will be an additional motivation for him to seek rehabilitation in front of his own fans?
— Of course, any failure is an additional motive for rehabilitation. I want to correct myself as soon as possible and prove that it was an accident. So, of course, they will make every effort to get a positive result. It is necessary to understand that futsal does not stand still, and in Europe there are more and more strong national teams. Bosnia and Herzegovina is a clear example. I think the national teams of Romania and Serbia did not expect that the Bosnians would take the first place in the selection group. Apparently, the Romanians were more focused on the Serbs. The result of these confrontations were two draws. Instead, the national team of Bosnia and Herzegovina inflicted two defeats on Romania. So, of course, the opponent will have additional motivation, but we are going to Bystritsa with our tasks.
— A few questions about the composition of our team. You called one debutant - Igor Chernyavsky. In addition, after a long break, Yevhen Siriy, Vitaliy Radevych and Andriy Tsilyk return to the national team. Why did you choose these artists?
— We want to give the guys a chance to prove themselves internationally. We do not know what will be closer to the European Championship. We strive to review those players we can count on in the future. I think that all futsal players deserved a challenge. We watched Chernyavsky during the last season. Maybe Igor lacks a little international experience, so these matches should benefit him. As for others, I will note that we are watching all the performers. Gray and Radevich had a good previous season and started the current one quite well. At the same time, Tsilyk's last season turned out to be quite ambiguous. Instead, Andriy had a surprisingly good start to the current championship. Maybe he found his team. Additionally, I note that Tsilik is a shulga. We have a certain shortage of players with a striking left foot. This point was also taken into account, because in modern futsal it is quite important. However, I would like to emphasize that this is only an additional factor. Andrew earned his challenge with his own game. So everything is in the hands of the guys. We do not stop looking for potential candidates for the national team.
— Why weren't Bila Tserkva and Eremin called up for the match with the Romanian national team?
— We talked to Mykola and Oleg. Bila Tserkva is one of the key players and is always in the national team. While we have the opportunity to view other artists, we decided to use it. As for Oleg, we considered the possibility of calling him. However, the championship of Belarus started last weekend, and already in the second round "Viten" will hold one of the key matches of the first round, in which it will face "Capital". We went to meet the club and decided not to call the player to the matches with Romania. For now, Oleg will gain form through the championship games. Of course, we are also well acquainted with its capabilities.
— Petro Shoturma is just getting in shape and will also miss future matches. Who will lead the national team of Ukraine to the matches against Romania with a captain's armband?
— We have two vice-captains - Zhurba and Tsypuna. Serhiy and Kyrylo are old-timers of the national team and captains in their teams. I think it would be fair if everyone performed this function in one of the matches.